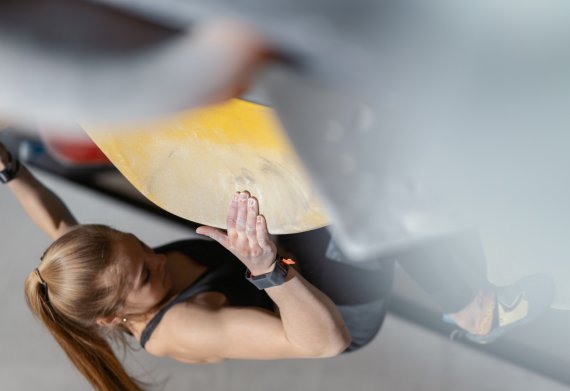 The Mammut Climbax system revolutionizes climbing, a sport that is steeped in tradition but set to make its Olympic debut this year. The world's first climbing tracker enables athletes to record and analyze their climbing data and compare it with others. Due to its outstanding innovative power, Climbax was rewarded with the ISPO Award as Gold Winner.
"There was previously no way to objectively record your activity in climbing," explains Stefan Hauser, Senior Project Manager Climbax at Mammut. "Thanks to Mammut Climbax, we can for the first time tell how many climbing meters and moves you've completed during a session, or how much time you spent actively moving."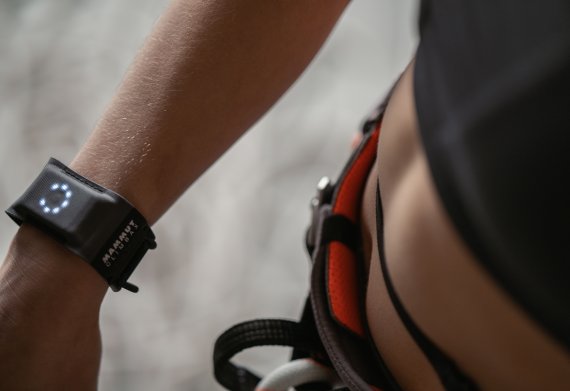 The Swiss-made tracking wristbands fasten around each wrist and feature a washable textile band, as well as a removable electronic device. Their fastening mechanism is flexible and fits to the form of the wrist. This allows climbers to focus on ascending the rock.
The Mammut Climbax wristbands record movement data, including elevation, hand use, and climbing and break times. After exercise, users connect the wristbands to their smartphone via Bluetooth, allowing climbers to compare their performance with others in the Mammut Climb app.
"Based on the information we collect, we've been able to set up a whole world of features," explains Stefan Hauser. "You can interact with the community via a feed or comments and you can compete with others with challenges and a leader board. We've also integrated a game that constantly presents the user with new tasks." Thanks to a built-in NFC chip, you can even find out which difficulty level you climbed for how long in the climbing hall.
The Swiss outdoor company Mammut developed the tracker with the help of professional athletes and the international climbing community, drawing inspiration from on a wealth of experience. Mammut has climbing in its DNA: Almost 160 years ago, it produced ropes for pioneers in the Swiss mountains that delivered greater safety, ushering in a new era of climbing. And now, Mammut is leading the sport into a new age with the introduction of the Mammut Climbax.
"Our approach was to stay agile, create hypotheses and test them together with consumers," explains Stefan Hauser, describing the development process. "In the beginning, we didn't even know if we were targeting coaches, end consumers, professional athletes, and outdoor or indoor climbers." As a result, Mammut Climbax is now suitable for all climbers. "It's all about motivating people and encouraging them to climb," Hauser says.
Coincidentally, this means that the Mammut Climbax is also a perfect tool for the COVID era, when it is impossible to climb in one place at the same time. Mammut Climbax makes it possible: "One of my development partners is based in England," Hauser states. "Thanks to Mammut Climbax, we can virtually compete against each other climbing." He also tells of a high-risk patient who has been climbing daily at home, in isolation, on a small climbing wall, and has kept in touch with the outside climbing world via Mammut Climbax.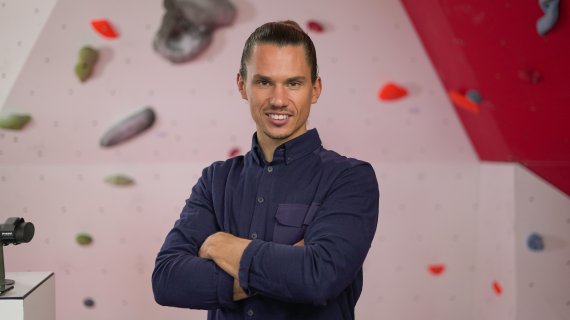 The key question in the products development was will climbers want to wear a wristband? Flexibility and breathability were the decisive criteria that the wristband had to meet, which is why Mammut gave it an open neoprene structure on the underside. "That's one of Mammut's core competencies: developing products that don't interfere with the customer's activity, whether it's a jacket, pants or shoes," says Stefan Hauser. A special patented closure mechanism was developed for the product. "When even critical athletes told us, 'Wow, you can't feel the wristband at all!', that was a huge praise for the entire development team," Hauser says.
Another advantage of Mammut Climbax is that you can start climbing immediately after putting on the wristbands. You don't have to press a start or stop button, as the Mammut Climbax works automatically. The Climbax won the approval of a range of climbers, of different ages, disciplines and skill levels, during prototype testing. Whether it was the 14-year-old talent, the 35-year-old amateur climber, or a 74-year-old Scottish woman who still gives Hauser input via email, the enthusiasm among the testers was unanimous.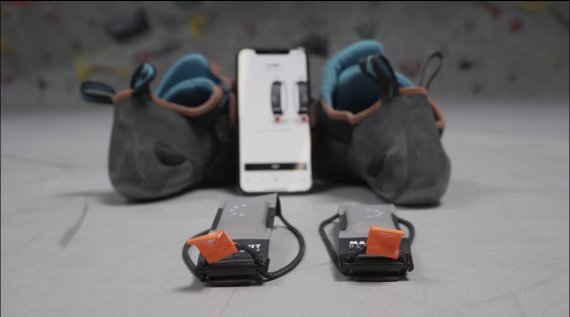 Mammut's pro athletes supported the development process of the product with their know-how alongside various departments of the company, including the Innovation Department, IT, Product Department and Marketing.
The developers benefited from the fact that Mammut also manufactures the Barryvox avalanche transceiver; an electronic mountain tool that meets the very highest quality standards. That's why it made sense to involve the Barryvox production and development departments in the creation of Mammut Climbax. The software for the mobile application was built in collaboration with an external team specializing in motion analysis.
Mammut Climbax will be presented at ISPO MUNICH ONLINE 2021 and the climbing tracker launched to the consumer in summer 2021. "For us, it's a success when people are motivated, have fun climbing, interact with each other and push their boundaries to go all out and get better," says Stefan Hauser, seeing the best prospects for the product. Its applications are endless, from therapy climbing to climbing safety: "We have many ideas that we will still implement," signs off Stefan.