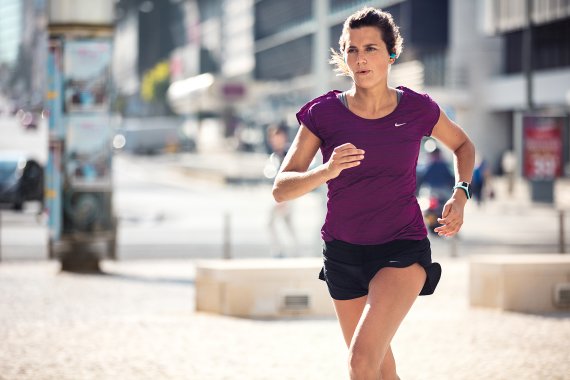 Price of the new multi-sport watch: 249 euros
With the successor to the Runner 1, TomTom is entering new terrain in the wearables sector, and supplying runners with musical entertainment. Even though the TomTom Runner 2 Cardio + Music doesn't look anything like its predecessor at first glance, it offers some improvements and essential additional functions.

At a price of 249 euros, the new multi-sport watch by TomTom could be interesting for many ambitious hobby runners and bring some real action to activity trackers and pulse sports watches in the lifestyle segment.
Read here: How the Wearable Market Will Evolve in the Future
TomTom Runner 2: Music and heart rate
At 51 grams, the GPS watch is very lightweight and can be adjusted to your wrist with varying width armbands in three color variants. What's noticeable is the improved display on the resistant Gorilla Glass. But the prominent changes are in the housing: The TomTom Runner 2 Cardio + Music has an integrated MP3 player and measures heart rate with an optical sensor on your wrist. Female runners especially will be happy, since sore spots from abrasive chest straps will now be a thing of the past.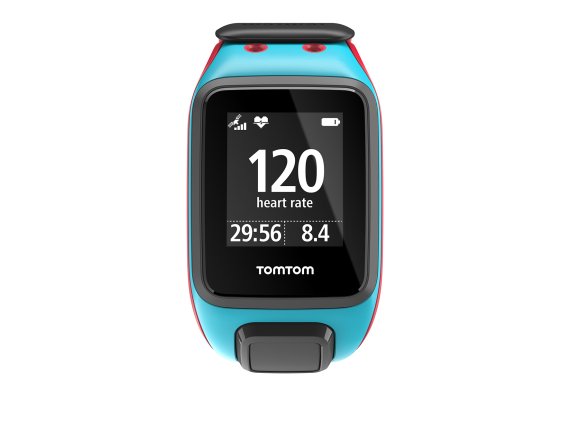 Heart rate measurement: comfortable and always more precise
Until now, optical sensors for heart rate measurement while running were often unprecise and failure-prone. How well optical heart rate measurement ultimately works on the wrist depends on a few factors:
A wearing position too close to the wrist, and above all too loose a fit can likely lead to irregular measurements during sports and physical activity.
The type of activity can also lead to interruptions in heart rate measurement. While swimming for example, if water gets between the skin and the optical sensor, the stream of light gets diverted and no longer reaches the bloodstream.
Exterior conditions, especially very low external temperatures, can lead to the heart rate no longer being reliably determined. Blood flow is slower in colder temperatures, which can cause difficulties for the optical sensor. 
TomTom's GPS watch: compatible with other manufacturers
By modifying the underside of the housing, TomTom has reduced exterior light incidence and integrated the optical sensor in a smaller ridge and deeper in the housing. As a result, the TomTom Runner 2 Cardio + Music no longer needs to be worn as close to the body as the previous model. In addition, it now uses a sensor by Osram, which evaluates heart rate data through a new algorithm. 
Walter Hermsen, VP Product Marketing Sports at TomTom, explains: "The new HR algorithm makes it possible to combine movement information and sensor values in order to better measure heart rate during various activities. Furthermore, we can thus also carry out continuous, 24/7 evaluation."

You can hook up any chest strap
The whole thing is technologically complex, and it's therefore remarkable how well TomTom has this central function in hand. Those who nevertheless prefer heart rate measurement via chest strap can hook up almost any chest strap with the watch via Bluetooth Smart.

"For some activities, athletes still prefer to use a chest strap. While bicycling for example, when the watch can be mounted on the handlebars. Many athletes also wear their watches over their clothing in the winter, making heart rate measurement on the wrist impossible," says Walter Hermsen.

All sensors by other suppliers can likewise be used for measuring speed and cadence when biking.
Read here: These are the wearables of the future: Health monitoring is becoming especially important.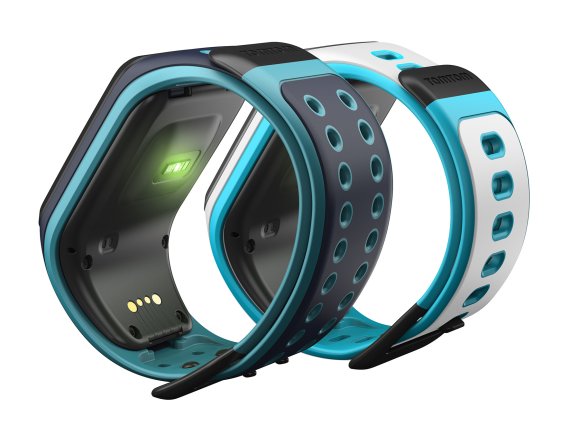 TomTom's strength: reliable GPS reception
Notable: The only button for menu management is below the display. It's also where the GPS sensor is built in. "As a result of the button being below the screen, we were able to make the watch design smaller and very slim," says Walter Hermsen, "The one-touch control makes for an intuitive and simple operation."

With the separate placement of the GPS sensor, measurement is said to be improved and disruptions avoided. That's how it usually displays upward when running, which improves reception. Position is found quickly, positing assisted GPS data by synchronizing via computer or smartphone.

With tracking, the TomTom engineers focus on a combination of GPS and GLONASS, the Russian alternative. The special satellite data is transferred to the Runner 2 Cardio + Music via MySports Connect or the MySports app.
Music without smartphone or headphone cable
That leaves the music: Some swear by the motivating effect, others absolutely cannot run with music. Some runners don't care about the music's rhythm at all, while for others the beats have to match up with heart beat or stride frequency. If you like it, running with music makes perfect sense.

For this purpose, the TomTom Runner 2 Cardio + Music offers a 3 GB memory for playlists and 500 songs. It can be linked to the accompanying headphones wirelessly via Bluetooth, and all running aficionado music fans can train with the rhythm of their playlist without an unwieldly smartphone on their arm. 
Running with music increases motivation and personal wellbeing; many runners use it to unwind more easily. If your training plan has long or fast-paced runs, music increases stress tolerance and commitment to perform. Naturally, music is especially well-suited to running on the treadmill.
TomTom supplies the GPS watch together with a pair of Bluetooth headphones. They do look a bit awkward, but in practice they work flawlessly and offer some full bass. Three buttons on the headphones control the link with the watch, as well as volume. The linking is easy, fast, and takes place manually before each start of activity. In addition, the TomTom Runner 2 Cardio + Music can also be used with any other Bluetooth headphones or speakers. The accompanying headphones are charged via a micro USB port. 
Read here: Why smartwatches are securing the future of the watch industry