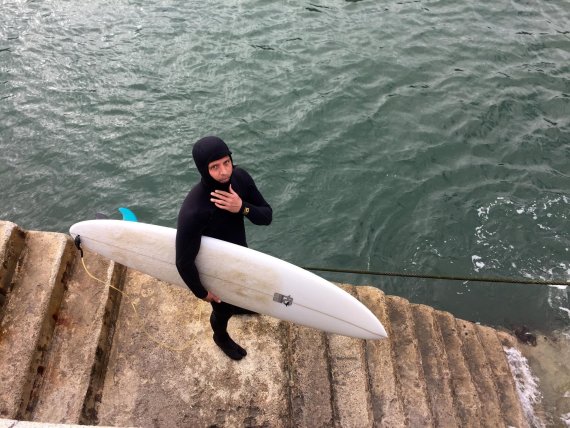 The global market for neoprene wetsuits was worth 800 million US dollars in 2014, according to Grand View Research. This is expected to rise to 1.18 billion US dollars by 2022. The expected rise is based on the assumption that the rising popularity of various water sports will continue into the future. 
ISPO.com spoke with Hub Hubbard, in charge wetsuit development at Patagonia, about the challenges of developing an eco-friendly wetsuit and how the difficulties in getting the surfing industry to change its thinking.
ISPO.com: You are convinced that wetsuits are more environmentally friendly when they don't contain neoprene. How is neoprene traditionally produced?
Hub Hubbard: In order to create neoprene, all the components are mixed together in a giant vessel. You end up with large lumps which are a bit like chewing gum. These lumps are baked in an oven at high temperatures, becoming flat in the process. The neoprene is peeled off from this in the desired thickness and laminated on one side with fabric. The pieces of laminated neoprene are sown together to create the wetsuits.
How damaging is this process to the environment?
In order to create Neoprene using this method, you need crude oil or limestone. Neither are renewable resources and both require large amounts of energy to be extracted. The manufacturing process also consumes a lot of energy. This is to say nothing of the many synthetic substances that are used in the further processing stages of traditional neoprene wetsuits.
#GoodbyeNeoprene – drop-by-drop. Using natural rubber is a process that cuts carbon emissions and reduces the use of synthetic materials. It's a radical step forward in the surf industry, but it didn't happen overnight. Learn more about this 10-year-long effort: http://pat.ag/GoodbyeNeoprene

Posted by Patagonia on Thursday, August 25, 2016
In the manufacturing of your wetsuits you work closely with the Yulex Cooperation.  How did this partnership come about?
We caught the attention of the team at Yulex through a post on our blog, "The Cleanest Line". In the article we claimed that there is no eco-friendly alternative to neoprene. This gave the developers at Yulex an idea. They got in contact with us and said they had a solution. At our first meeting they showed us a small piece of rubber, no larger than a Scrabble tile. That was the beginning of our dreams of a "green" wetsuit. 
Sustainable Production: 80% Fewer Carbon Dioxide Emissions
How much will a Yulex wetsuit made of natural rubber reduce my carbon footprint in comparison to an ordinary, neoprene wetsuit?
Yulex and the scientists at Patagonia have calculated that the usage of natural rubber reduces the carbon dioxide emissions associated with the production of a wetsuit by 80%. This is a huge decrease! And this is only a conservative estimate. 
How exactly does the process of turning liquid rubber (which is obtained form the rubber tree) into the material used to create wetsuits work?
After the latex has been processed, purified and reinforced, it is processed in the same way as neoprene. From that point onwards the production process is the same as that of traditional wetsuits.
How much latex do you need to take from a rubber tree for a single wetsuit?
We need just half a kilo of latex to produce a wetsuit.
The label states that the wetsuits are 85% natural rubber and 15% synthetic material. Why is it still not possible to make a wetsuit entirely from natural materials?
At the moment we need to use the synthetic materials so that the material has the required strength. We are already able to produce wetsuits using 100% natural rubber. But they would not be as robust and would be susceptible to UV radiation. The performance would therefore not be satisfactory.
What about adhesives, colors and imprints - can these components, which are also often damaging to the environment, be replaced as well?
For a while now we've been testing water-based substances so we can replace precisely these components. In addition we use a waterless printing process and our wetsuits contain only textiles certified by Bluesign.
Patagonia Wants to Completely Go Without Synthetic Materials
Will there be a wetsuit in the future made only from natural materials?
There are already substances based on biological materials, which we could one day use instead of synthetic materials. There are also other components such as Carbon Black and foams used in the production of rubber, which we hope to replace. The next step is finding alternatives for these materials.
Since you developed neoprene-free wetsuits with Yulex, you have offered the process to other wetsuit manufacturers as well. But so far, the only other brand to use Yulex's material is Soöruz. Why don't more manufacturers use it? Surely that would be better for the environment?
Natural rubber was very expensive when we introduced the first wetsuits with the technology into the market and the surfing-market is resistant to change. But I'm excited to see that it's slowly starting to change.
Other manufacturers such as Vissla, Picture Organic and of course Soöruz have wetsuits in their ranges which they advertise as being "eco-friendly". Is there a difference between these wetsuits and the new Yulex wetsuits from Patagonia?
There are two essential differences: Our rubber plantations have been awarded FSC-certification from the Rainforest Alliance and Yulex's purification process for the treatment of latex is different. In our process we eliminate all proteins which could cause allergic reactions. 
Sustainability Guaranteed in FSC-Plantations 
Why is the FSC-certification so important to you?
In terms of sustainable production, there are vast differences between those latex plantations which are certified and those which are not. This we ourselves learned when we first searched for plantations in Guatemala. The FSC-certification guarantees among other things that no rainforests are cut down in the establishment of rubber plantations.
It also stands for fair and acceptable working conditions for workers. A very interesting article was published in the National Geographic Magazine which shows how damaging the global rubber industry is. It's very important for us to know which plantations the rubber for our wetsuits comes from and what the working conditions are like there.
Recently the global neoprene producer Sheico started offering a material called Natural Prene™. How does this differ from the Yulex material in Patagonia wetsuits?
In terms of performance, there is no difference. But for us the FSC-certification in the production of raw materials is extremely important, even when the rubber is a little more expensive.
What does it mean to you to be an ISPO AWARD Gold Winner and to have won the Eco Achievement Award at ISPO MUNICH 2016 for your R3 Yulex FZ Wetsuit ?
It's always great when your own product developments are recognized by the industry and I hope that it will inspire other brands to use Yulex material.
In which areas of wetsuit production do you see the most potential for innovation?
A clear ethos lies behind the development of our products and all new developments must match up to it. We are constantly working to improve the sustainability of our production methods and this also drives our innovation process. When our wetsuit project leads to other brands become involved in these areas, that's a positive outcome for all of us.