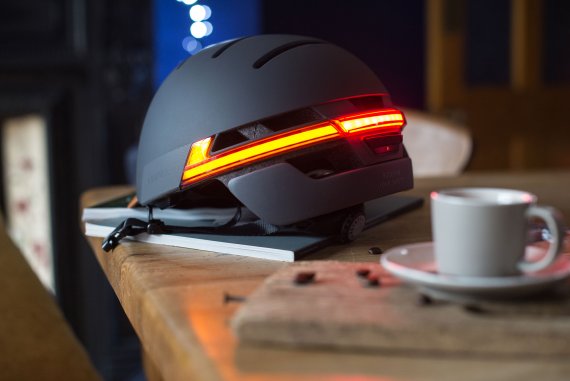 With the popularity of smartphones among urban cyclists, the habit of wearing in-ear headphones on the bike has also increased in recent years. The dangerous downside: Noises of the environment and traffic are completely suppressed.
This problem has been addressed by many helmet manufacturers in recent years. LIVALL has developed a particularly stylish and comprehensive solution. Built-in speakers in the helmet allow cyclists to hear the sounds of traffic while on the phone, follow the GPS navigation system and listen to music, podcasts or an audio book. Integrated, remote-controlled flashing lights and a built-in SOS alarm also improve the safety of cyclists.
ISPO.com spoke with Fiona Tung, responsible for Overseas Sales and Business Development at LIVALL, about the helmet concept and winning the ISPO Award.
ISPO.com: Mrs. Tung, what was LIVALL's approach to the BH51M? How do you see your target group?
Fiona Tung: With the entertainment benefits we are able to target both customers who are already helmet wearers as well as those who are traditionally not, this factor makes our market wider than any previous helmet product.
What features of the Livall BH51M do you think ultimately won the jury over?
The goal for LIVALL was to create the world's safest cycling helmet and the features of the BH51M really respond to this. We have redefined riders safety and created a world-first product, incorporating 270° LED lighting, remote controlled indicator lights and a unique SOS alert.
Where do you still see potential in the bike business? Where is the market heading in your segment?
The excitement surrounding wearable and connected technology in the sports industry is continuing to grow and LIVALL is at the forefront of innovation in the bike business. We also manufacture smart accessories such as a Nano Cadence sensor which connects to smartphones to provide real time cycling data maximising performance training.
"A very innovative product. The integration of the indicator in the helmet increases safety for cyclists. This helmet is fully equipped."
ISPO Award 2018 jury
Where is your ISPO Award trophy now?
In the awards cabinet at the LIVALL headquarters in Shenzhen, China. We're proud to say that LIVALL has won 5 awards in the last 12 months.
Being named "Product of the Year 2018" in the Urban segment of this years' ISPO Award the products developers of LIVALL manufacturing from Shenzen, China are just as proud as our UK distributer, Second Chance Ltd who exhibited the product at ISPO Munich 2018.