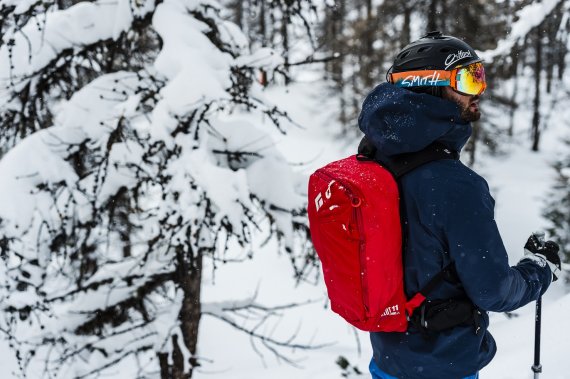 Ryan Guess: "We were looking for a new approach"
ISPO.com: What was the impetus for Black Diamond and Pieps to develop their own airbag system with JetForce?
Ryan Guess: Both brands, Pieps and Black Diamond, are established brands in winter sports for safety products. It immediately suggested itself that we develop our own backpack with an avalanche airbag. For over 23 years, the market has been dominated by systems where the airbag is filled by gas cartridges. We were looking for a new approach.
Development picked up the pace through our partnership with Pieps, and the first tests proved that an airbag system with nozzle blowers was a real option. That's how we came closer to our goal of developing a reliable and more sustainable airbag backpack for freeriders, step by step.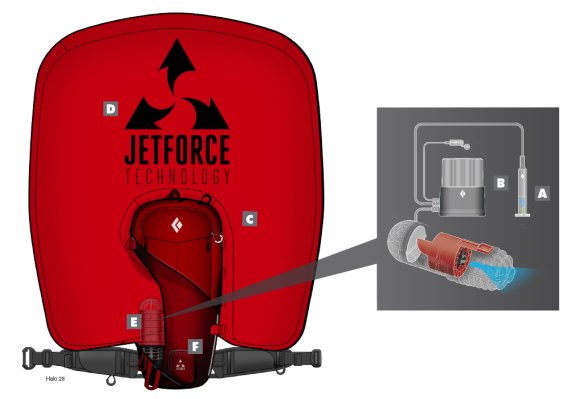 How long did the development work last up until series maturity?
Development began in 2010, and the first products were on the market in winter 2014/2015. In total, we developed for three years and spent one year on production and marketing.
Were there setbacks in the development process as well?
The entire project was a big challenge, since it was necessary to develop an entirely new technology. Our product distinguishes itself considerably from the airbag backpacks up until this point. The CE certification was definitely one of the biggest hurdles. To do that, we had to completely redefine the established standards and supplement them with parameters for airbag systems with nozzle blowers.
The JetForce backpack was distinguished at ISPO MUNICH 2014 with the ISPO Award, and was available for purchase for the first time last winter. How was the product received?
We're satisfied, and have approximately 15,000 JetForce backpacks on the market. In several cases, the backpack has already saved lives in avalanches. The system has thus shown that it works reliably and safely.
Skeptics see a possible source for error in the electric blowers, and fear that the trigger won't work reliably in the cold. How can you clear up these doubts?
There will always be skeptics. People should know that we've tested the system very extensively in various situations. Both with dummies in real avalanche situations and in the lab and in cooling chambers of up to -30 °C. Only once all tests were passed through problem-free did we begin sales. Those who have doubts should also have a look at what high requirements are necessary to receive a CE certification.
All the same, there was a recall for JetForce backpacks in June of 2015. What was the issue?
A system error in some models from the first series caused an involuntary deactivation of the blower or an erroneous trigger. This malfunction can be solved via firmware update in one of our service centers. Only backpacks with the serial numbers 4275 to 5077 that were sold between November 15, 2014 and July 7, 2015 were affected. Through the recall, we've since installed the software update in nearly all of the affected backpacks.
But aren't systems without electric components fundamentally less failure-prone?
I wouldn't say that, since the backpacks that work with gas cartridges aren't free of errors either. For example, airbags didn't trigger because the cartridge wasn't connected properly, or the airbag was folded up incorrectly.
Our system runs a self-test before each use and signals to the user if everything's in order or not with a green or red light. The nozzle, the battery's charge, and the electronic control are reviewed in doing so. Systems with gas cartridges can't signal to the user if everything is functional.
Are there other differences from a conventional airbag backpack that works with gas cartridges?
In addition to the self-tests, the multiple triggering for practice purposes is a major benefit. That way, users can really familiarize themselves with the system. Up to four triggers are possible with a full battery. That's an additional safety reserve when freeriding. Even if the airbag has already been triggered once before, the system stays functional.
The system also empties the airbag on its own after three minutes. This creates an air pocket that's essential for survival in the case of a possible full burial. No gas cartridges also means that bringing the airbag backpack with you when traveling by plane isn't a problem, either. And the battery can be charged in any power outlet, while I have to swap an empty gas cartridge at a retailer.