At ISPO MUNICH 2016, the 52-year-old was named "European Adventurer of the Year 2015". She even once came sixth in the Miss Germany competition, being named "Goddess of Love to the Seas." Following her dangerous expedition, she is now back to coping with the adventures of everyday life.
Hoffmeister Runs Ice Cream Parlors in Germany 
Freya Hoffmeister has a lot to do. The renovation of her ice cream parlors and the poor weather at the beginning of the summer demanded a lot of her energy. "I slept four hours a night at most," says the world famous adventurer.

She has two ice cream cafes on the go, with the pistachio flavor selling particularly well this summer. "I've settled back into normal life. It's also an exciting adventure, but a completely different story because you have so much responsibility for other things," Hoffmeister told ISPO.COM.
Her spectacular 27,000 kilometer tour around South America in a sea kayak came at the midpoint of her life, between August 30, 2011 and April 30, 2015. But after her great adventure she has returned to her main job: "There are thousands of things to do and the stresses of a normal day are quite a lot."
Read the top water sport stories here
Hoffmeister Just Circled Ireland with Her Kayak
What remains is of course the recognition for her unique achievements as the best long distance kayaker in the world. At the World Paddle Awards she was named "Sportswoman of the Year" and National Geographic gave her the title of "Adventurer of the Year".

Furthermore, at ISPO MUNICH, the 52-year-old received the "European Adventurer of the Year 2015" award, which she now has at home with her. "Fueled by immense courage and determination (and powered by a paddle) the 51-year-old German Freya Hoffmeister is by far one of the worlds most adventurous sea kayakers," wrote the jury.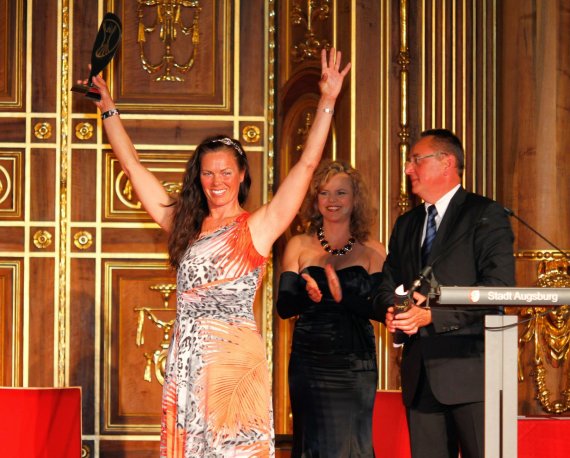 On September 9, her new book was released, titled "Kaap Horn wird dir nicht geschenkt" (Cape Horn will not come easily). Just before the book was published, Hoffmeister had once again set off in her red Lettmann Speed LCS 100 and made a trip that was, by her standards, relatively short: Kayaking around Ireland in under 50 days.
On her Facebook page, Freya Hoffmeister diligently kept a diary of her experiences in the Atlantic. The highlights of her Ireland trip can hardly compete with what she wrote in her book. And the most dramatic moment in her 27,000 kilometer journey? Navigating the dreaded Cape Horn. As a stormy westerly wind blew in at over 100 kilometers per hour, Hoffmeister had to make an emergency stop in a rocky bay. Otherwise, she could well have been pulled out towards Antarctica.
Hoffmeister Was Once a Miss Germany Contender
For five days she had to wait there alone, with only her kayak, loaded with food and water for her journey. She received awful news by satellite telephone that an Argentinian kayaking buddy had drowned a little to her west.
"I wouldn't wish the experience on anyone. But I've also experienced the most fantastic things in my life. I wanted to do things nobody else had ever done, let alone a woman," she said. She was first a bodybuilder, who came sixth in the Miss Germany competition and then became a skydiver. Hoffmeister even skydived over the North Pole. She describes her training as a civil servant as completely irrelevant to her life.
She was born for adventure. In 1996, when she was pregnant with her son Helge, skydiving became too dangerous, so she switched to kayaking. Of course, she chose kayaking of the extreme variety. In 2007 she circled Iceland and the southern isle of New Zealand, the "Mount Everest of sea kayaking", both in record time.
"Nobody is going to do this trip again any time soon."
In 2009 it was time for Australia: She covered 13,790 kilometers in 322 days, having to fend off quite a few sharks along the way. "It felt like I'd conquered all the mountains in the world when I finished this trip," she said. Yet she then reached a new high, starting her South American trip afterwards under the motto "think bigger." "I'm sure that nobody is going to do this trip after me any time soon."
What should we expect from Freya Hoffmeister next? Has she already planned her next extreme adventure? "I've got a lot of things to think about at the moment," she says. "But if I were planning something, I wouldn't be revealing it just yet."
The most enduring kayaker in the world told us that as a long distance kayaker, she had never won a medal at the Olympics, because they only cover short distances at the games. Perhaps Hoffmeister could become the first person to paddle from her hometown of Husum in Germany across the Arctic Ocean to Tokyo, where the 2020 Olympic Games are set to take place!