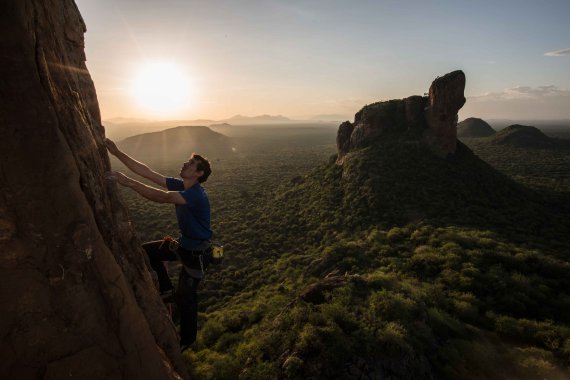 Alex Honnold has lived in a camping bus since the beginning of his career. He says it's what's most practical for him. In his van, he can travel from climbing area to climbing area and remain independent. At the start of his career, he drove in his family's old bus.
Nowadays he owns a bus that's a bit bigger and somewhat more comfortable. It also has an integrated campus board for climbing-specific strength training.
In 2012, when Alex Honnold was 27 years old, he founded the Honnold Foundation. His foundation supports small social and environmental organizations that have concrete and sustainable project goals.
Honnold says he spend around a third of his income on his NGO. Five years ago, he was said to have already donated 50,000 dollars. Sometimes he also participates, as can be seen on the Honnold Foundation homepage where Honnold is installing solar panels on mud house rooves in Angola.
One of the reasons he started free solo climbing was his shyness, says Honnold: "As a teenager, my parents, who also drove me to climbing, were mostly the ones belaying me." When he was out and about alone, he didn't have the confidence to ask other climbers if they would climb with him.
"I preferred going on a different wall and attempting it free solo," says Honnold. Nowadays that's changed though, he adds with a smile.
Alex Honnold has become known for his free solo successes. In 2008, he had already astonished the climbing community with a free solo of the route "Moonlight Buttress" in Utah. Numerous spectacular free-solo successes followed, most recently the "Freerider" on El Cap.
Yet Honnold estimates that he climbs no more than just five percent of his routes free solo. That's why he also received one of the most prestigious awards in mountain sports, the Piolet d'Or (Golden Ice Axe), not for a free solo route but for the Fitz Traverse in Patagonia.
Together with Tommy Caldwell in 2014, he crossed several peaks in the Andes. The route is over five kilometers long and has a combined altitude difference of over 4,000 meters.
If you ask Alex Honnold if he's ever been scared of death, he'll tell you that yes, he was scared of dying when he was 19 years old and he slipped on his first snow shoe tour. "And then a few other times climbing," he says and quickly adds to that, "but never free solo."
Alex Honnold is a purist. He needs very little for climbing. But what the 31-year-old does always have is music. "The songs all last roughly between three and four minutes so I can estimate how long I've been on a route," says Honnold.
"I listen to mostly rock and punk rock – in shuffle mode." But "Lose Yourself" by Eminem is always included. He only turns the music off on difficult passages.
The "Freerider" on El Capitan was Alex Honnold's life-long dream. The news of the free solo on the 1,000-meter wall spread like wildfire worldwide in summer 2017, taking the whole climbing scene by surprise. Honnold was already looking for solitude again then.
Instead of allowing himself to celebrate, he took things to Alaska. He was happy, he says, to be able to relax in peace there in his camping bus. Whilst the world was talking about Honnold's unbelievable free solo, in climbing areas from the USA to Greece, he was sitting in his bus and reading.
Honnold had already attempted to climb El Capitan free solo at the end of the 2016 season, but aborted the attempt. To be sure that everything would run smoothly with the next attempt, he trained even more intensively. He climbed very long routes and had hardly any breaks in training.
He also didn't tell many friends about his training goal of climbing El Capitan free solo, so Honnold had to listen to a lot of sayings and tips. He didn't want to reveal the reason for his adjusted training though. "Finally the success meant I had been right," says Honnold.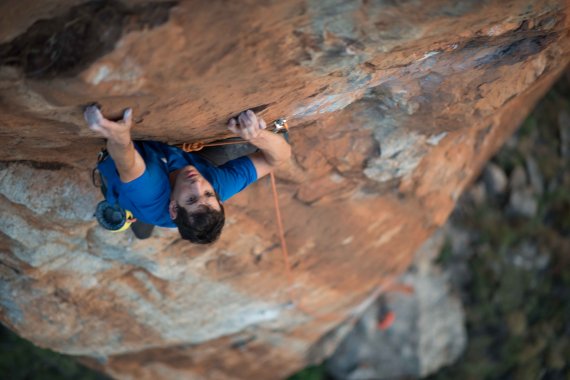 Honnold also adjusted his diet in preparation for the free solo on El Capitan. His weakness is desserts, which he banned himself from having. "It might have helped a few percentage points," says Honnold, "but maybe not."
Much more important for him, however, was the mental component: "I just didn't want to be on the wall and think: Oh man, I really shouldn't have eaten those biscuits."
In general, Honnold is vegetarian. In preparation for the "Freerider", he went almost completely vegan. He just didn't give up eggs.
Alex Honnold tends to tell hardly anyone before big challenges, in order to completely concentrate on climbing. With the free solo on El Capitan, only Jimmy Chin and his film crew were there (the film premiered in summer 2018.). The film "Free Solo" even won an Oscar for best documentary.
"My girlfriend left the Yosemite National Park about a week beforehand," says Honnold. In that way, he could concentrate more easily.
In Summer 2020, Honnold could focus solely on his partner Sanni McCandless when they married in California. Honnold shared some impressions of the wedding on Instagram.