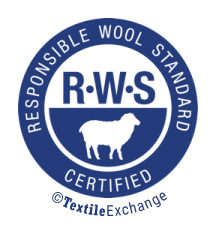 The priorities of the RWS label relate to animal welfare, sustainable farming and soil protection, full transparency in the supply chain with an integrated traceability system. In the area of animal welfare, for example, the standard prohibits the particularly controversial practice of mulesing.
The standard was created to provide a global benchmark for animal welfare and agriculture in the sheep sector. Other objectives are to promote committed sheep farmers worldwide by recognising them as examples of best practice and to increase transparency in the global value chain. Furthermore, the aim is to provide assistance in the management of sheep farms worldwide. This also includes improving the networking of farms and promoting communication between brands and consumers.
Since its publication, the introduction of the standard has steadily increased in the main wool producing and processing countries. There are now RWS certified farms in Australia, New Zealand, South Africa, the USA, Argentina and Uruguay, as well as certified producers around the world.
The scope of the Responsible Wool Standard covers the entire value chain: from farms to wool producers and clothing factories. The main focus is on traceability, not on how the wool is further processed in the value chain.
Following in the footsteps of RWS, Textile Exchange 2020 has also published the Responsible Mohair Standard (RMS).