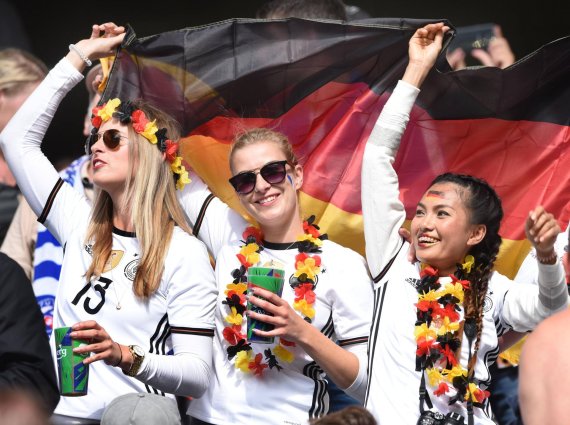 With a year's delay, the time has finally come: from 11 June to 11 July, the first major event of this sporting summer awaits us with the European Football Championship.
It's time for public screenings and the shared excitement of watching the continent's best footballers play in best summer weather. But it is also clear that in times of the COVID pandemic, public screenings in 2021 will be a bit smaller than usual.We answer the most important questions about watching football together during the European Football Championship in the official UEFA fan zones and in Germany.
Many of the eleven host cities have a UEFA-organized Fan Zone with big screens and all matches live. The UEFA Fan Zones at a glance.
Amsterdam: cancelled

Baku: Heydar Aliyev Centre

Bucharest: Palace of the Parliament

Budapest: City Park Ice Rink and Boating

Copenhagen: Football Village at Ofelia Plads

Glasgow: Glasgow Green

London: Dan Zone in Trafalgar Square and Football Village in Potters Fields Park

Munich: cancelled

Rome: Fan Zone in Via dei Fori and Football Village in Piazza del Popolo

Saint Petersburg: Fan Zone in Palace Square and Football Village in Konyushennaya Square

Sevilla: cancelled
In addition to the two major UEFA Fan Zones in the host cities of London and Glasgow, many other public screening facilities are also open. In addition to bars, pubs and cinemas, stadium operators such as those in Plymouth also offer screenings. Stadium atmosphere guaranteed.
Because of the ongoing pandemic, there are no plans for big events so far. In many cities, the large public events in the city centre have already been cancelled, including Germany's otherwise largest public screening: the "Fanmeile" at the Brandenburg Gate in Berlin. The well-known public screening on the Heiligengeistfeld in Hamburg will also not take place.
Yes. At present, outdoor gastronomy is allowed to reopen in all federal states depending on the respective incidence value on site. Thus, watching the Euros in beer gardens and outdoor areas of restaurants will again become a community event.
In Bavaria, it was unclear for quite a while whether the late games with kick-off at 9 p.m. could be watched until the final whistle, as beer gardens had to close at 10 p.m., due to COVID regulations. Since 7 June, however, beer gardens are allowed to stay open until midnight. So nothing stands in the way of a balmy football night.
But: Incidence-dependent contact restrictions, proof of negative test, recovery or vaccination and other COVID rules of course do apply, and do vary from state to state.
Thanks to the falling infection figures, indoor catering is also allowed to open under certain conditions in many places. By now, all federal states have decided on this in their regulations. However, depending on the local incidence rate and the federal state, a negative COVID test may be necessary.
ARD and ZDF broadcast 41 of the 51 European Championship matches on free TV in Germany - including all matches with German participation and the entire knockout phase. MagentaTV will broadcast all matches live, ten of them exclusively.
Up to an incidence of less than 100, COVID measures are a matter for the states. The current regulations of the federal states at a glance:
As soon as incidence rates rise above 100, the "federal emergency brake" laid down in the Infection Protection Act applies. Among other restrictions, this includes indoor and outdoor restaurants being closed.