Diversionary tactics or attempts at bribery? They are among the legal tricks for taking children on a joyful bike ride. Because without motivation, the youngsters won't activate the powers that lie dormant in them. Awakening the joy of the ride is the most important task of adults. These ten things contribute to the success of a bike tour with children.
Find the right destination with the bike
The right route for health
Considerate of the age and fitness
The right equipment on the bike
Don't forget the sun protection
Rain protection
Provisions for the bike tour
Daily stages by bike
Toys on the bike
Health comes first
When you're looking forward to the tour, it's much easier to pedal. This applies to children as well as adults - and for all of them the right destination helps. Sentences like, "We're going to the playground, the riding school, the swimming lake..." can work wonders. With older children, it might be the mountains, the sea or the amusement park. The advantage: there's a nice inn for the parents almost everywhere and the exercise not only keeps the children fit, but also improves the fitness of the adults.
The route must not be too long and must be varied. This applies equally to young and old children. Even if older kids like to boast about their daily kilometres afterwards, it takes some cunning to reach them. The right route is one of them. It may be hilly, but it should not be steadily uphill. Steep climbs are the worst possible way to start.
River bike paths are a good idea for all age groups, as this promises variety along the way. If there is a "motivation hanger", a short game or a bet will help: Who will hit the tree trunk over there with a stone? Small prizes can't hurt.
A bike tour with children always depends on the youngest passenger, his or her age, fitness and ability on the bike.
Babies and toddlers
Children who are still too young to ride on their own should be put in a bicycle trailer or a special child transport bike, strapped in, given toys and off they go. When awake, they should not be ridden for more than 90 minutes at a time. After that, they must take a break of at least half an hour. A meadow, playground or bathing area are ideal destinations for the stop.
Beginner riders on the bike
For children who can and want to ride a bike on their own, but who may not yet have the fitness for a bike ride due to their age, you should take a trailer or a bar to hitch the child's bike to the adult's bike. Tandem bikes are also a great way to let the child pedal hard themselves or take breaks as needed. Frequent breaks and lots of praise are especially important for beginner riders. For children of kindergarten age, the daily tour should not exceed 20 kilometres, while primary school children can sometimes cope with stages of 20 to 50 kilometres.
Olderchildren on the bike
With older children, the problem is more one of motivation than of fitness. They could often outrun their parents, but don't really want to. Then it's a matter of tricks. The ambition is reliably awakened by an own speedometer. If there are several children, they can compare themselves. Otherwise, they try to beat the daily workload or the average speed compared to the previous day.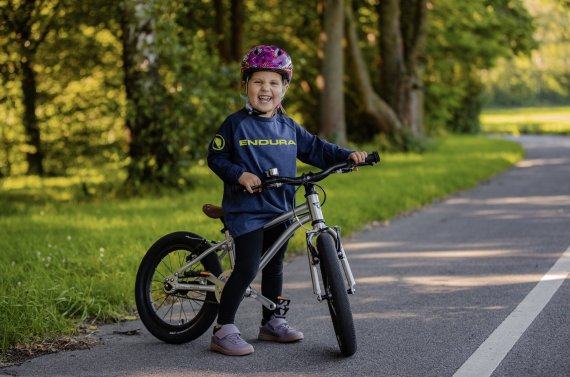 It goes without saying that all bikes should be in working order and roadworthy. Tools for emergencies and repair kits belong in your luggage, as does a first aid kit with plasters and bandages. The same applies to suitable cycling maps. Children should always wear a bicycle helmet on the bike tour. Models worn with pride avoid frustration and discussions. Kids should therefore be allowed to choose their own helmet - and the adults, even if it's hard, should just keep quiet and pay.
Children's skin is sensitive and is best protected in summer with thin long clothing. Airy cycling gloves and a light cap without seams under the helmet are ideal, possibly with extended neck and ear protection. For the face, use a sun cream with a high sun protection factor and renew it regularly. Once all this is done, you just have to convey to the child that it is an uber-cool outfit.
Practical cycling clothing for children is nowadays often functional clothing, i.e. breathable and yet wind and waterproof. Long rain pants with side openings can be quickly pulled over if necessary and at best also cover the shoes. Just in case, remember to bring a change of dry and warm clothes. The wrong clothing should not be an excuse for anyone to abandon the tour.
The best way for children to start a bike tour is with a balanced and healthy breakfast in their bellies. Every 30 minutes, children should then drink something on the bike tour, for the sake of their health. Water is ideal, about two litres per person or take refillable bottles with you. Dextrose, energy bars, bananas, biscuits, chocolate, jelly bears or a cola help against hypoglycaemia. Otherwise, provisions should be light and low in fat: Breads, fruit and vegetables. Packed as a picnic, the break is even more fun.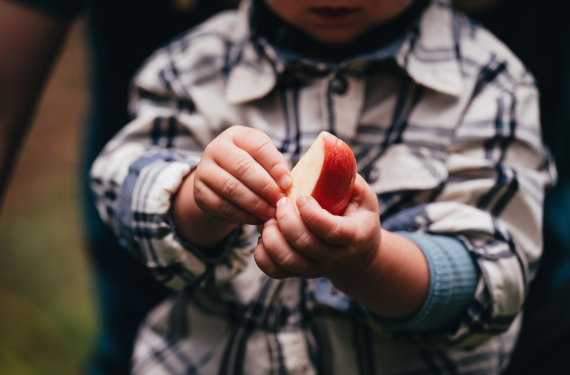 On tours lasting several days, the day's destination should not be reached too late with children, and in any case not before dark. It is better to start early in the morning, take several breaks and return to your accommodation for the night in the afternoon. On the spot, you might want to explore the city, the cinema or the dinosaur museum. Hotels with swimming pools are particularly popular.
Toys don't have to be taken on tour, but your favourite cuddly toy does. Depending on the age of the child, it is ultimately a full-fledged participant in the journey.
Play on the road with everything that nature has to offer. Good cycling maps show forest playgrounds and bathing places. If you want to play a nice game together or read a book to your child before going to bed, you should consider transporting the luggage on the bike. A bike tour with children brings a lot of things together. A bicycle trailer can be helpful, bicycle bags for all bikes of the larger family members are worthwhile in any case. In many regions, luggage transport from hotel to hotel is also offered.
Exercise is important for health - especially for children. But if everything turns out differently than expected, due to illness, a fall, permanently bad weather or persistent lack of fitness, the bike tour with children should definitely be interrupted or abandoned. Ambition is a bad advisor and spoils the next tour with the bike for the children. Then everything starts anew, for which anticipation is needed.