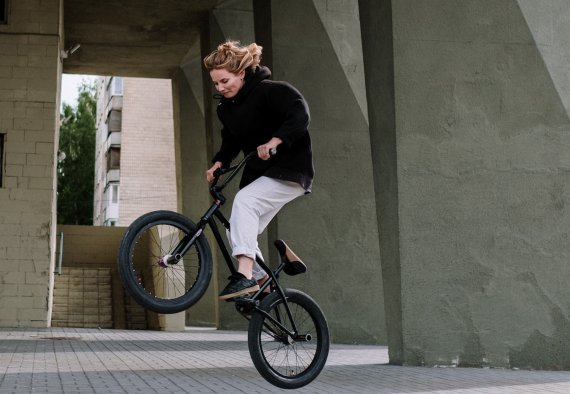 With the move to Munich and a brand-new concept, the former automobile trade fair IAA becomes the IAA MOBILITY mobility trade fair. A core element is the bike section, which will be presented in the Open Space in Munich City and with over 50 exhibitors in the two large exhibition halls B5 and B6. The Open Space Extended on the exhibition grounds is likely to be an Eldorado for all bike fans.Here, visitors can do much more than just watch new bikes and exciting shows: They have the opportunity to get up close and personal with bikes from numerous brands, try out the two-wheelers on the course and push their limits.
Test your own dexterity, go for a spin on an e-bike for the first time and learn how to better control each bike: Be there at the Open Space Extended at the IAA MOBILITY from September 7 to 9, 2021 and get to know all the new bike trends!

Whether with a day ticket or three days on site: a visit to the Open Space Extended is a must for bike fans! Guaranteed!
A 4,000 m² bike, pedelec and micromobility course has been set up in the outdoor area, where you can try out the exhibitors' latest models on various test tracks. One of the highlights is the "Mercedes-Benz Mountain Bike Experience", a test track with bends test track with curves, jumps and drops.. Three times a day there will be a dirt jump show to marvel at.
In addition, in the Open Space Extended there is the opportunity to try out e-bikes or pedelecs and to get tips from experts for your first attempts at riding. This is certainly also an interesting offer for older bike fans. The outdoor area on the exhibition grounds will be open from 9 a.m. to 6 p.m. on the days of the IAA MOBILITY from 7 to 12 September.
With the Experience Ticket of the IAA MOBILITY visitors can also get to know the latest trends, topics and products of the bicycle and mobility industry in the exhibition halls from Friday (10 September/14 h) to Sunday (12 September/18 h). There will also be testing opportunities here.
In hall B6 (stand number B6.D99) there will be a

skill course for children of the nationwide competition series "Fette-Reifen-Rennen" will be set up.

In the Bike Content Hub (stand number B6.D51) there will be daily product presentations from the exhibiting brands from 2 to 5 pm.

In the Retro Mountain Bike Exhibition (stand number: B6.D01)

you can also take a look at the

"History of Mountain Biking".

In hall B5 (booth number: B5.D91

) the focus in the

Vintage Roadbike Exhibition is all about the "History of Road Cycling".

Here go in the

Micromobility & Bike Content Hub, presentations of the latest bike innovations will take place daily from 2 to 5 pm.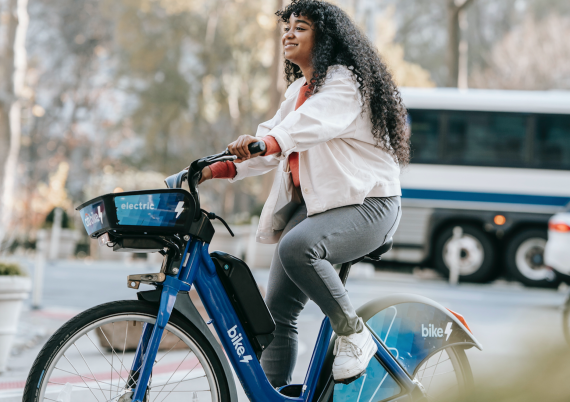 The interest from the two-wheeler sector in the new IAA MOBILITY is huge. Over 50 exhibitors are presenting the latest products from e-bikes and pedelecs to classic bicycles and mountain bikes.
The list of manufacturers ranges from A to Z and reads like a Who's Who of the industry. Among others at the IAA MOBILITY from the bike sector are:
ABUS, Akkurad, Asfalt,

Bergamont, Bikester, Bulls,

Cannondale, Canyon, chike, Coboc, Conway, coolmobility, Cratoni,

eflow, EVOC,

fahrrad.de, FAZUA, Fit e-bike, Fixie Inc, FLYER, Flyer,

Gasgas,

Hartje, Hepster, HERCULES, Husqvarna,

i:sy, Internetstores,
KETT-LER,

Messingschlager, MTBcycletech, myStromer,

Ortlieb,

Pegasus, Pendix, Pierer Mobility, PowUnity,

QiO, QWICR Raymon,

Rebike, Riese & Müller, Rock Shox, ROSE, Rotwild,

sblocs, Schwalbe, SCOTT, Sharea, Simplon, Specialized, SRAM, Steereon, Stromer,
tern,

uebler,

VOTEC, VSC,
ZEG, ZIPP.
During the IAA MOBILITY you can test to your heart's content in Munich's city centre - whether on four or two wheels. 20 prominent bike manufacturers will be offering their new products for test rides at Hofgarten and Marstallplatz. E-bikes and pedelecs can also be subjected to an everyday test completely free of charge.
Renting a bike is child's play: a ticket or pre-registration in the IAA MOBILITY app is not necessary. All that is needed is a valid ID card, which is deposited at the stand as a deposit. And the dream bike, e-bike or pedelec can be tested right away! On the Marstallplatz there is also a pump track for hot action.