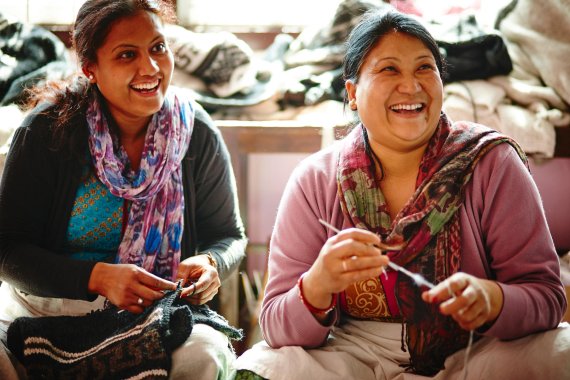 "Competitive outdoor products made in Nepal, home to the roof of the world. Tried and tested by genuine Sherpas. This also allows us to contribute to social responsibility," says Wolfgang Jahn, a veteran in the business and now Sherpa Adventure Gear's Sales Manager for Europe. "You can't beat our story."

In fact, his company has a unique selling point others can only dream of: 85 per cent of Sherpa products are manufactured in Nepal (the remainder in Vietnam), the pinnacle of any mountaineer's career, home to Mount Everest – and of course the Sherpas.
Descendant of legendary Sherpa
The company was founded in 2003 by a descendant of one of the most famous Sherpa dynasties in the Himalayan region. Ang Gyalzen, company founder Tashi Sherpa's uncle, was a member of Sir Edmund Hillary's historic expedition up Mount Everest in 1953. Hillary rose to historic and global fame as part of the first expedition confirmed to have reached the summit of the world's highest mountain.
However, as is so often the case with mountaineering expeditions to the Earth's highest peaks, the true heroes were the Sherpas. Over the years, many guides and carriers died doing their job. This largely left their families alone and destitute.
Tashi Sherpa founded his company in part to give them and the many unemployed in Nepal a new and improved outlook on life. In 2015, Sherpa Adventure Gear employed 1532 people in Nepal. 25 cents of every item in the collection sold goes to a fund that grants children living in poverty access to education.

Made in Nepal always sells better
So far the fund has helped 26 children, with more to come. An increasing number of Sherpa products "made in Nepal" are sold each year. In Germany, the jackets, sweaters or hand-knitted hats are already available from more than 100 speciality retailers, with a turnover of 2.5 million euros.

Meanwhile, the company has also found itself a private sponsor, helping to push sales and actively expand the business. The plan is to make Sherpa a trend in Europe, says Wolfgang Jahn. "We are well on the way to our goal and aim to continue with healthy and sustainable growth."
"As the most important trade fair in the world, the ISPO MUNICH is key to our business and the ISPO Award helped us improve our brand marketing. In a time in which many quality goods have become exchangeable, our Nepalese heritage gives Sherpa products a special touch. They look good and allow buyers to do good. Everyone knows the Sherpa name and associates it with outdoor experiences and uniquely beautiful natural landscapes," says Jahn.

Aftermath of the terrible earthquake in 2015
However, Nepal is not only associated with Sherpas and colorful prayer flags. In 2015, this poor Himalayan country was devastated by a catastrophic earthquake. Almost 9000 people lost their lives.
"Most Sherpa employees were affected in some way – they lost relatives or belongings. It was a great shock for Nepal, and our production ground to a halt for four to six weeks," Jahn reports.

However, the natural disaster also triggered a wave of support and aid: In Europe, Sherpa Adventure Gear collected more then 250,000 euros in donations, channelled directly to those in need in Nepal by Tashi Sherpa. "The country is still suffering from the decline in tourism. All I can say is: Come to Nepal and help us rekindle the economy," says Jahn.