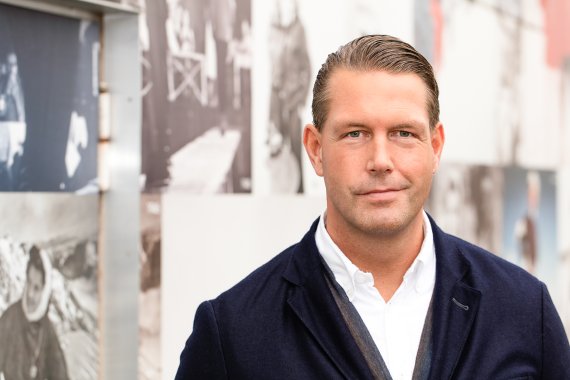 ISPO.com: Mr. Wirth, you've been with Bogner for nearly a year now, and both CEO and chairman of the board since September. Time for a first balance of accounts: Where will the journey go from here for Bogner?
Alexander Wirth: We'd like to be seen as "the sports fashion brand" and achieve a market-leading position within the next five years – with our nearly 85 years of tradition, we've always been a pioneer in this territory. Bogner is virtually predestined to profit from the growing trend of sports fashion, and also clearly stands out from the growing number of competitors, because I've discovered a company that can very distinctly pull clear in the market through highly outstanding, unique selling points. Just think of Bogner's unique heritage, or its equally excellent position in ski fashion.
The goal of market leadership is the one pillar of your strategy – but in the short term you've carried out restructuring measures in your new position. In doing so you also gave some people notice. To what extent?
It's not about expansion versus employment; that would be an incorrect view of things. It's about the future viability of the company in global competition; a competition with new and constantly changing rules. That means, for every market participant, creating streamlined and integrated corporate processes and structures across every division that, in addition to efficiency and synergies, also guarantee the greatest possible flexibility and ability to react. That starts with administration and goes all the way up to global sourcing.
What exactly does that mean?
Part 1 of the restructuring was the reframing of distribution: The goal there was to leverage synergies with the reorganization of national and international distribution structures, to establish distribution even more efficiently and powerfully, and to set up and expand new distribution channels. The previous divisional structure with independent subsidiaries was dissolved bundled into three divisions subordinate to the Chief Sales Director. Over the course of this, eleven positions were removed. Part 2 was the optimization in the areas of procurement and production/reduction of complexity. Here, 23 positions were dismantled.
"We can't preclude further reductions"

In total therefore, 34 positions have been removed to start with. Does that mean that this process will continue? To what extent and why?
We will continue to work on process and structure optimization in 2017 to position the company for the future. For this reason, we can't preclude further reductions. Bogner currently employs 879 employees worldwide, including retail.
Your job is to secure and shape the future of the brand: What are the requirements for the turnaround?
An essential requirement is, for one, that we can implement the restructuring measures without major irritations, and for another, that we do our homework quickly and properly in terms of operation. And of course, we can't weaken our brand, its contents, or its attractiveness during the continuous revitalization.  We've filled another essential position with appointment of Andreas Baumgärtner as the future Chief Officer of Design and Marketing, in order to further promote the reframing of the Bogner brand.
Bogner: Focus on D-A-CH, Europe, and the USA
Which brands, which segments will be the focus of the future alignment?
Our "Strategy B 23" comprises essential components of new collection contents, the accelerated development of the online and social media sales sectors, and the targeted expansion of existing markets, with priority on the D-A-CH region (Germany, Austria, and Switzerland), Europe, and North America.
You're very active in North America with Bogner of America. Will that stay the case? And how do things look with the expansion market of China?
We see lots of potential in the USA, but also in Canada. We're working intensively on a further expansion there. The Chinese market is generally interesting for us, but nevertheless that isn't the current focus.
Will you back out of other international markets?
Bogner is not going to back out of markets, but to start with will not promote any expansion strategies in other countries.
On the topic of retail and franchising: What changes are pending under your leadership?
We haven't currently planned on expanding in retail, but we would like to concentrate more strongly on franchise expansion and continue to grow there.

Bogner wants a new approach to 35- to 55-year-olds
What target groups does Bogner want to re-approach? What plans do you have to win over the younger customer base?
In the future there will be a clear price segmentation that Bogner wants to use, among other things, to position itself more clearly in the premium sector. A younger target group, which for Bogner will be the 35- to 55-year-olds, will get a new approach in the future, also. In the past, many customers haven't come in contact with the Bogner brand simply due to the fairly high price positioning. We'll continue to focus on the development of innovative, luxurious novelties – in the luxury segment, for example, with capsule collections like Sônia Bogner.
Skiing still in focus
How will you reframe your product line in the future? A specific example, please.
Take the alignment of the collection for sports fashion – this collection is characterized by the central idea of positioning Bogner products more functionally and, at the same time, more fashionably than the competition. The brand new "B-Athleisure" sector acts as the bridge between sports and fashion. Here, Bogner continues to establish itself in the heavily growing athleisure market. 
And in the established segments?
We'll remain firmly rooted in the well-known Bogner environment of skiing in the future, as well: We are continuing to focus on our top-positioned ski collections and, in the summer, will expand the product range with multi-sports like mountaineering and B-Fit. Here, we still adhere to everything that represents our company history – elegance, innovation, functionality, and quality. In addition, the established "essentials" in the shirts, knitwear, denim, and outwear sectors represent an important component.
Willy Bogner remains active as an adviser
Finally: What role will Willy Bogner have in the company in the future?
Willy Bogner is still the sole owner of the Bogner company, and as such will support the management team with his immense wealth of experience for a long time. However, he has stepped back from the operative business. His wife Sônia represents the Bogner family in the company's supervisory board.
Read here: Maria Höfl-Riesch explains the Maria brand.