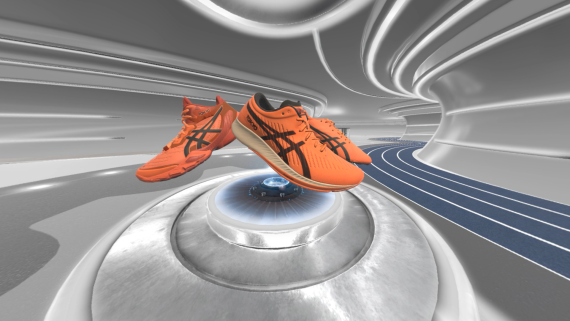 Originally planning to announce its new shoes at an Asics Innovation Summit in Tokyo, the company has taken its shoe innovation into Virtual Reality, for Asics' first product preview in VR, through its Virtual Innovation Lab at the Asics Institute of Sports Science. Available on YouTube, the Virtual Innovation Lab highlights the new engineered design and ingredients used in shoes that will help wearers go that extra mile.
Media, athletes and shoppers around the world can experience the three new shoes up close and personal – in the virtual innovation lab of the ASICS Institute of Sport Science. The Institute is the home of Asics innovation in Kobe, Japan, with scientists, engineers and designers constantly working to develop technology that helps athletes to perform to the best of their abilities.
"We believe that now, more than ever, it's important to remember the positive impact of sport for individuals and society: exercise uplifts people, so they achieve a sound mind through a sound body. And what better way to showcase Asics innovation than taking people to a virtual innovation lab that brings our technology to life," said Yasuhito Hirota, the President & Chief Operating Officer of Asics.
What is interesting with this, is that at the moment for launches of new products they have no choice but to go virtual, which in turn may lead to a new approach on product launches in the future. Rather than having a physical launch out of the typical trade show schedule, a VR one has global reach.
In addition, the sustainable impact of a VR launch is far less than a physical launch. In the future VR could become a suitable option for many brands to create their launch, however it won't eliminate the stronger trade shows, as VR may be efficient, but you still need the tactility and fit experience that these offer as well as human communication.
The three new shoes to power and protect athletes – Metaracer an advanced racing shoe for long distances, Metarise, a volleyball shoe and the spike less Metasprint track shoe for elite sprinters.
The advanced engineering in design includes mesh for cooling, as research has shown for every degree less, wellbeing is improved. In addition, a unique light foam for comfort has been incorporated with the design of the Metarise shoe allowing for a 3 per cent extra lift.
The three new shoes will be available in the Sunrise Red color scheme, which is a symbol of athletes' hope, passion and dedication and celebrates the city of Tokyo. "The three new shoes keep with the best Asics tradition: they help athletes to perform better, but also keep them safe at the same time," said Kenichi Harano, Executive Officer and Senior General Manager at the Asics Institute of Sport Science.