This is nature at is best as it continues to influence, be incorporated and inspire a new generation of fabrics and trims through natural resources as well as being taken on board by the synthetic side. The increased interest of the inherent benefits that merino wool, cotton, silk, cashmere as well as the new cellulosic offerings, including seaweed, nettle, milk, can elevate a product to a new luxurious level. A much more balanced approach is being embraced on between the traditionally opposed sectors as they merge to form a high functioning union.
For enhanced performance and protection, synthetics are crucial and the continued hybridization of teaming the best of both worlds, from the natural and synthetic sources is key. The core inspiration is to take on a much softer hand, whether it be knits or wovens. Brushed surfaces, velvet touch and a strong natural nuance work perfectly for base layers, when worn sensually against the skin. For second and outer layers, a softer approach is also taken without neglecting the essential protection of the shell-like facade, essential for eco-friendly membrane and coating technologies.
Sustainability takes a particularly strong direction here, with synthetics being pulled from a recycled source and more efficient virgin productions throughto bio synthetics. Clean technology in the textile process pushes this trend, delivering the ultimate in natural touch with added technicity. There is a renewed balance on the ingredients, but one area that needs to be updated is the color, again a natural pool of inspiration but move away from the obvious neutral tones and embrace a more eclectic and organic direction.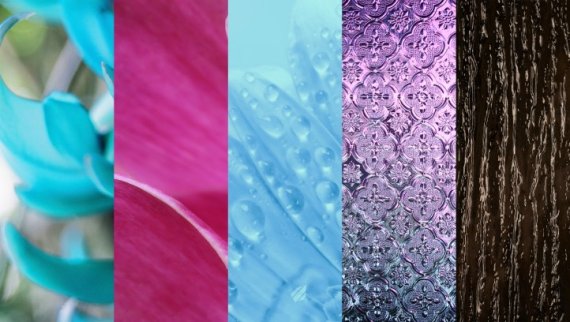 BCI cotton and merino wool
Noble fibers - naturally anti-bacterial silk and cashmere
Recycled nylon and polyester
Micro acrylic for thermal aspects
Alternative cellulosics - modal, milk, nettle, cooper, kapok
Bio synthetics
Hybrid insulation - natural and synthetic team up
Traceable down
Hollow fibers for lightweight and warmth
Adaptive treatments that react to the change in temperature
DWR treatments
Recycled insulation
Nano-technology for eco-friendly high functioning finishes and coatings
Thermal base layers with a super soft touch on the technical side of the fabric for a luxurious feel
High-level performance in the form of thermal regulation, moisture management and anti odor
Recycled membranes
Recycled metal and plastic for trims
Nano-technology for eco-friendly high functioning finishes and coatings
Bio mimicry inspires structures and prints but also a new takes on color
Synthetic biology - reengineering the genetic code
Water and energy reduction, dyes and additives
Reflective yarns, prints and coatings
TEXTILES & TRIMS
Sensational touch to base layers - we are talking sublime in silky aspects with natural ingredients
Mono and bi-stretch woven for performance denim, canvas and gabardine structures
High performance denim - comfort and power stretch, thermal, moisture management and anti-stress
Natural touch down proof ripstops
Glossy membranes update bases to a natural shine
Multi colored melange, heather and space dyed - one-dye batch circularand warp knit through to seamless for interesting tonal effects
Air textured yarns or brushed surfaces add a natural velvet touch to fabrics
Lightweight fleece in new hybrid blends
Double knits with contrasting textures and performance - finishwith a DWR treatment on the face of the fabric for greater flexibility, eliminating the need for multiple layering
Double sided knits with wovens
Organic structures inspire jacquards in power stretch natural/synthetic blends
Semi-bright fluid jerseys for greater flexibilityat the garment development stage
Bright fluid jersey with a natural glam and super soft touch
Featherweight knits - as fine as 50 gauge, hosiery-inspiredbut still delivering performance and a natural touch
Waterproof, windproof, breathable laminated fabrics for apparel and equipment
Trims take on a matte appearance, molded, smooth and organic indesign derived from sustainable synthetic and natural resources
TARGET MARKETS
Lifestyle - the continuation of athleisure combined with a strong style moving through to travel wear
Outdoor/leisure all aspects
Base, second and outer layers
Yoga with a high level of technicallybut maintaining a natural touch
High performance base layers forwinter sports including skiing,cross country skiing and hiking
Seamless base layers
Active intimate apparel
IMAGINE
BALANCE • HYBRIDIZATION • SENSATIONAL TOUCH • CLEAN TECHNOLOGY • BIO MIMICRY
Innovation at its best is the concept of this trend as precision performance comes into play. Body mapping technology and targeting key points anatomically within a garment ensures a heightened response with the action and friction of the body with the fabric. Perfection is a key element to this engineered direction, not just in compact high compression fabrics but also through textured alternatives, where there is an acute sense of delivery, for a seamless and smarter performance.
Matte through to bright surface effects feature, with graduated and zoned contrasting function not just being applied to the seamless sector but to at bed textile manufacturing too, which leads the way for a more efficient product manufacturing process. Multiple function and contrasting textural effects can be applied within a single textile construction, engineered for a higher level of morphing of the complimentary functions and contrasting textures and tones.
Clean-cut and heat bonded seams also feature for a smooth and efficient finish, requiring the flexibility of adhesive tapes. Trims feature, again with reduced applications as a smoother, high functioning application is key to the trend. The zoned and targeted direction is a modern approach from the foundation of the textiles to the final products, ensuring a much more efficient manufacturing process and productive performance. This trend is geared for high endurance and enhanced performance, ensuring the wearer achieves their personal goal.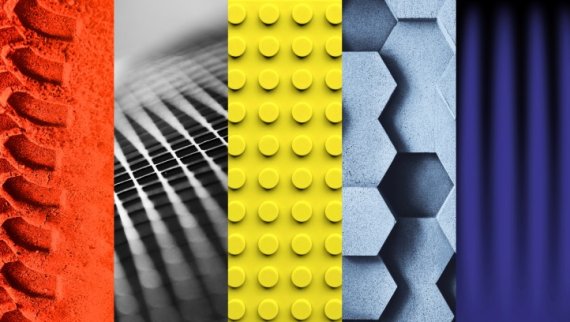 FIBERS, YARNS & FINISHES
New generation high performance nylon and polyester yarns for intelligentdelivery
Matte/bright yarns contrast for surface detail
Heat generating hollow yarns
Polypropylene
Super strong aramid fibers
Thermo-chromatic prints, trims and coatings - built in function and detail
Aramid yarns - super tough but light to touch for targeted anti-stress use
High powered spandex for compression
Textured relief rolls through to smooth and compact surfaces
Far Infrared Yarns - FIR for enhanced circulation and wellbeing
DWR finishes
Printed membranes
TEXTILES & TRIMS
Featherweight fabrics with powerful protection andperformance
High compression warp and circular knits
Micro light rip stops - anti stress and tear resistant
Perfect surfaces - compact and precise in rigid and stretchqualities
Flat bed knits and wovens with pivoted
Precise textured jacquards and ribs
Honeycomb structures and rounded precise blister effects
Optically striated ribs with compression zones
High performance stretch mesh with graduated compression
Coated finish via membranes
Dual finishes - functionality and fashion
Calendared wax finishes in decorative aspects
Silicone prints and transfers for locked-in support in strategicareas of stretch fabrics
Embossed warp knits
Compact constructions seamlessly moving to openwork orpunch-out in single knitted fabrics
Optically illusive aspects with a strong sense of exactness inrelief
Zoned performance - an accurate delivery of moisturemanagement, muscle support, anti stress and anti rip in key areas of the same fabric eliminating the need to insert contrasting performance fabrics within a product
Traditional cut make and trim garment manufacturing is inspired by the seamless sector for a more efficient manufacturing process
Trims and zippers take on a cleaner and more sophisticated line
Accurate mesh fabrics - stretch or rigid with built-in performance
Laser punch out effects for ventilation
Double knits
Contrasting knits
Variable modulus fabrics with selvedge finish or clean cutfeature
Micro light rib stops
3-layer outer shells
TARGET MARKETS
High performance base layers
Running
Cross training/gladiator sports - hardcore and high endurance
Performance denim
Protective outer shells
Aerodynamic and anatomicallydesigned garments
Lightweight soft equipment with anew level of performance
IMAGINE
BODY MAPPING • ACUTE PERFORMANCE • STIMULATION • PRECISION • HIGH LEVEL PERFORMANCE
Fashion industry and style takes a stronger stake. It is time to break the rules, not conform and delve in to the heady delights of unruliness. Texture comes to the foray whether it be micro or macro, as touch is further enhanced through innovative structures and a playfulness when it comes to design.
The mood for this rebellious spirit sees fractious prints feature, deliveringan optically deceptive surface effect. Breaking free from the constraints of normality leads to a renewed fluidity, liveliness and softness, as well as taking on board the graphical options available. Touch is crucial, ranging from crude to supremely soft but all with an impulsive structure. Let the creative license run abound, anything is possible in delivering boundless products full of imagination.
On the ingredient front, performance yarns feature. This is very much a dynamic direction, teaming innovative structures with the top performance yarns on the market. The phrase 'less is more' is no longer valid and adhered to, instead itis a case of breaking through boundaries and embracing the core ingredients available in creating collections that have an element of fun and freedom. Fashion and functionality go hand in hand. This trend is set to inspire a strong wellbeing mood and feel good factor.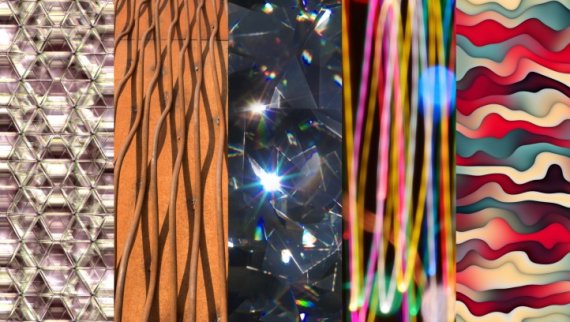 FIBERS, YARNS & FINISHES
Bright tri-lobal yarns catch the light when incorporated into fancy jacquardsor classic twill blends
Aramid fibers for super tough, high tenacity fabrics
Thermo chromatic yarns and prints for color changing dazzling aspects
Micro acrylic
Recycled synthetics
hermal yarns
Lightweight natural and synthetic insulation
Hollow synthetic yarns
Temperature regulating yarns and finishes
Phosphorescent yarns
Day-Glo prints and heat transfers
Merino wool for a natural touch
FIR yarns for a strong sense of wellbeing
CI cotton
TEXTILES & TRIMS
Foil prints and reflective prints and coatings
Macro high performance fleece - verging on a more shearlinglook
Performance denim - knit and woven - incorporate high levelperformance yarns in hybrid blends
360o stretch in knits and woven
Blistered surface effects especially in second and outershells
Go crazy and contrast unruly structures and printed plainsurfaces for innovative 2 layer fabrics
Openwork jacquards and high performance micro mesh withirregular construction
Water repellant faux fur
Emboss sponge like structures
Bi and multi colored floating effects in jacquard spacers
Spongey 2 and 2.5 layers - malleable and soft with addedprint of innovative changing yarn effects
Snug and fleece knits boded with erratic openwork mesh forcontrast
Prints are wild and optical, 3D in application, finish with amembrane for added protection for outer shells
Ombre effects from initial intelligent yarn or through printsand coatings
Cut, bouclé and eyelash yarns for unrivaled textural surfacesin micro through to macro for a more exaggerated look
Print over textures for a distorted look
Optically illusive outer shell fabrics - prints and printedcoatings creates a 3D effect
Digital printing
TARGET MARKETS
Snowboarding
Base, second and outer layers
Skateboarding and street sportsespecially with high tenacity,comfort fit performance denim
Lifestyle and sportswear collide with functionality and a highfashion styling
High performance workout wear forthe gym and running
IMAGINE
RULE BREAKERS • TACTUAL EXPERIENCE • 3D SURFACES • IMPULSIVE • CRAZY
Basics are updated as a fresh direction comes through. We have the ingredients and it is time to up the ante in developing refreshing new products that maintain the integrity of their predecessors. A new lighter weight delivery is expected higher performance than seen before. This isn't an optically fancy trend for apparel, it is about quality and durability, it is taking what sells season after season to a new level of functionality and performance. As much as today's modern sports fabrics are a modern option, this trend is an opportunity to unearth old classics from the outdoors sector, reworked and revived to provide on-trend products for the 21st Century.
The focus is now geared towards a multi functional offering, incorporating a feel good mood teamed with a revival in a retro styling for a reassuring spirit. Keyto this trend is a natural touch from pure content, elevated through functional finishes through to highly sophisticated multi-blends and membrane finishing. An organic influences also inspires structures and prints. This is about tweaking what we have and taking bestselling basics to a new level.
The continued trend towards casualization and a higher functionality sees the need for comfort, performance and duality, fueling the 'lifestyle' trend, originally outlined by the athleisure market, but now set for a sharper and sophisticated delivery. There is a sharing of knowledge from the past and present, a continuing crossover of sectors in the mood of a kindred spirit, as new materials and trims embrace a feel-good factor combined with the high performance values the we all know in the sports industry.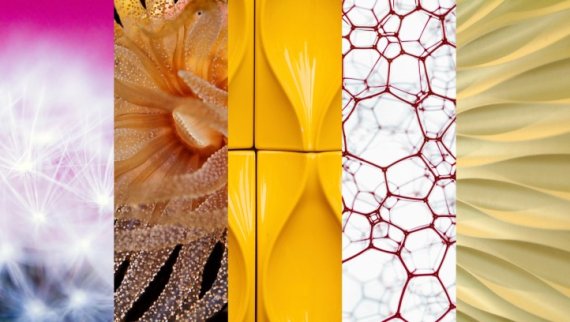 FIBERS, YARNS AND FINISHES
Natural fiber base, including: merino wool and BCI cotton
New sustainable natural sources: Lyocell, modal, cupro and kapok
Noble fibers: silk, cashmere
Recycled synthetics
Micro acrylic for lightweight warmth in blends
Air textured dull synthetic yarns for a grainy touch and natural appearance
High tenacity yarns release a new level of strength in blends for classicfabrics in lightweights
Low-heat settable spandex/elastane for comfort t when blended with thelow heat natural fibers
Cooling yarns and finishes
Heat generating yarns
Lightweight thermal for warmth
Functional finishes - update basics with thermal regulation, cool touch,anti-bacterial for modern-day function
TEXTILES AND TRIMS
Update basic bestsellers - inject a new lease of life
Natural touch lightweight knits for base layers with a high level ofperformance
Double knits
3-layer outer shells, contrast knits with wovens with multi functionalmembrane technology
Lightweight features in and accessories and trims
Look to a retro mood for elastic narrows and trims
Corduroy is essential but incorporate hi-tenacity yarns for a tough finish andconsider comfort stretch qualities
Performance denim gets tough for urban sports and general longevity -consider cotton/spandex and high tenacity nylon hybrid blends but maintainan authentic look
Traditional country tweeds are brought back in to the fold, updated throughinnovative blending, eco friendly membranes and colored coating for a twist -age old classics revisited and more importantly revived
Yarn dyed shirting - consider hollow synthetic yarns blended with cotton forlightweight warmth
Brushed woven for a moleskin finish
ry touch fleeces and interlock
Authentic-look high tenacity performance denim
Traditional yarn dyed plaid with high level performance
Water repellant faux fur and shearling
DWR finishes on classic gabardine and twill - add high tenacity yarns andspandex for lightweight comfort fit
Lightweight outer shells with powder touch coatings and protection
Cotton-touch jersey using new generation synthetics
Eco-Friendly membranes and coatings
Reduced water dyeing processes
Reflective aspects are reworked in prints, coatings and trims - consider a highperformance tweed printed re ective technology
Soft and reassuring touch to snug fleeces and wovens
TARGET MARKETS
Base, second and outer layer plussocks and accessories
Lifestyle
Urban sports
Casual outdoors
Country sports
Ski/snowboarding
Soft Equipment, tents and sleepingbags
IMAGINE
REASSURANCE • CLASSICS UPDATED • FUNCTIONALITY • SAFETY
The innovation in artificial intelligence and the pioneering developmentsin IT inspires this direction to deliver what was previously regarded as the unthinkable. Anything is possible in our data-laden world, as smart technology inspires materials and trims. We need to open up to new ideas, a new way of thinking for the industry to create opportunities for the future. As automation manages many tasks in our lives, we now need to look at how textiles and trims can become automated. Consider fabrics that self-heal/repair, self-clean, react to extreme circumstances or connect to other systems. This isn't a dream, the reality is underway, but until micro robotics become integrated into the actual textiles, for now the development in a more intelligent approach to textiles with the ingredients we have and the latest machinery. We are getting closer than expected.
Smart textiles feature in a gallant style as fabrics react to varying situations offer the highest level of protection and performance in the lightest of weights. There is a reactive synergy between the wearer and the garment and safety equipment. This is about developing a strong defense system that can be layered up, offering energizing and comfort aspects in responsive base layers to outer layer textiles that lock and protect on impact. Tough yet technical, wovens in micro light structures for down-proof outer shells to lightweight options for tents, sleeping bags and soft equipment feature in the lightest of weights.
Micro encapsulated yarns and finishes take on a revival, working new energizing and clean ingredients that deliver a sense of well-being to the wearer and enhancing the wearer in the peak of their performance or through recovery stages. Thermal regulation also undergoes a new look, emerging in innovative yarns and finishes in super light featherweight knits. SYSTEMATIC is just the start of this textile revolution, expect to see developments that will take us one step closer to automated garments and accessories.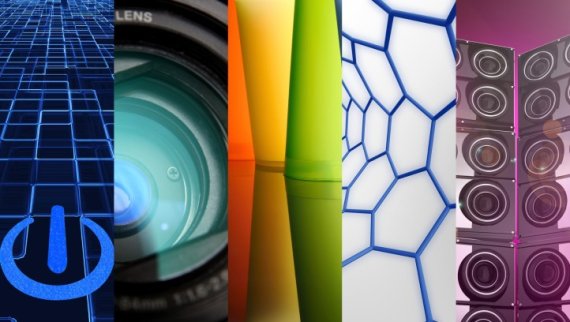 FIBERS, YARNS AND FINISHES
Fine denier synthetics - going very lightweight but still packing in theperformance and fit
Micro fiber synthetic spider silk with embedded technology
Color refracting yarns and coatings
Rainbow reflectivity - trims and finishes
Tone-on-tone reflectivity
Digital camouflage/striated effects through coatings and jacquard spacers
Digital prints
Sensory technology applied to heat transfers or embedded in trims -tracking the temperature of the wearer
High tenacity yarns
Deluster prints and coatings - take the bright bases down a level
Phosphorescent yarns
Colored reflective yarns
Micro encapsulated yarns delivering ingredients and enhancement to thewearer
Micro sensors embedded in fabrics and trims
TEXTILES AND TRIMS
RFID accessories - embedded into trims
Metallic and neon prints and yarn - especially in trims
Wearable technology
Embossed double layers for decorative protection - faux channels andforms eliminate the need for top stitching through heat sealingtechniques
Sensors to stimulate the wearer - enhance circulation, massage orposition in key points that need warmth or alternative protection
FIR insulation - warmth and wellbeing
Intelligent fabrics - responsive, reactive, protective
High gloss synthetics through to patina effects
Silicon coatings and foam - locked protection on impact
Iridescent coatings and membranes
Pure and compact structures
High tenacity super light fabrics
Optically illusive surface effects
Molecular structured jacquards and mesh in hosiery—styled synthetic knits
High performance base layers
PU tapes for heat bonded seams
Smart fabrics that react to the body's movement - protecting, cooling,warming whatever the wearer needs
uper tear-resistant and anti abrasive fabrics
Micro sheer, super power stretch mesh
Lightweight spacer fabrics
Ultra lightweight shells
Responsive and reactive finishes to warmth and activity
TARGET MARKETS
Protective apparel andhardware Outdoor protection
Elite level performance
Luxury level lifestyle and skiwear
High level team sports - soccer,rugby, ice hockey
Road cycling
Wearable technology
Impact resistant sports helmets andbody equipment
IMAGINE
CONFIDENCE • NEW IDEAS • CUTTING-EDGE • FUTURISTIC • TOP LEVEL
These 5 textile trends are described in the very detail and can be downloaded in English language free of charge.