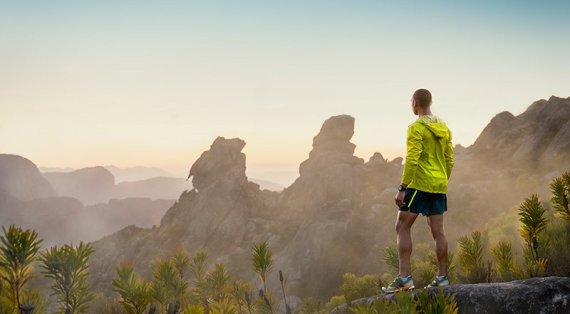 GPS watches are the number one necessity for outdoor people. Take a look at options from Garmin such as Fenix 6, which includes features like wrist heart rate technology, colour TopoActive Europe maps, and advanced performance metrics. To enable a full relaxation in the nature without any distracting notifications from the mobile phone, Fenix 6 offers features as playing your favorite music via streaming services and Garmin Pay ready contactless payment solution.
Another cool device for a hike is the Suunto 5. It is an excellent all-in-one solution, which tracks steps, calories, stress, sleep and more around the clock in addition to the impressive built-in GPS navigation. This classic Suunto device also allows connecting the smart watch to the partnering network to analyse activity, find training tips, and even create 3D videos of the hikes!
A Headlamp is one of the hiking gadgets we recommend taking with you if you are planning to stay outdoors late or even overnight. Some of the best gadgets that let you enjoy the road when it's dark can be found from Black Diamond equipment.
The waterproof Storm headlamp guides you through all weather conditions, and includes impressive features for instance 350 lumens of power, three-color RGB night vision and improved peripheral lighting for close-range tasks.
Actik Core from Petzl is a little pricier than the Storm, but it has its benefits. It is very light, rechargeable, and offers 450 lumens of power. The mounting accessories make it possible to attach this lamp to any kind of helmet or bicycle, which makes it suitable also for other outdoor activities such as mountaineering.
GoPro has been the king of all portable cameras for quite some time, so it is also a very good recommendation for hiking. Not least thanks to the new Hypersmooth function in the GoPro Hero 7, which can filter out shakey shots caused by walking. Videos on hikes over uneven ground no longer look like a roller coaster but a professional camera ride. 
Ramona Socher is Project Lead at WT | Wearable Technologies, a leading innovation and business development platform for wearables, and updating ISPO.com readers about latest trends on digitalization, wearable tech and IoT in sports, fitness and well-being. More information about WT at www.wearable-technologies.com