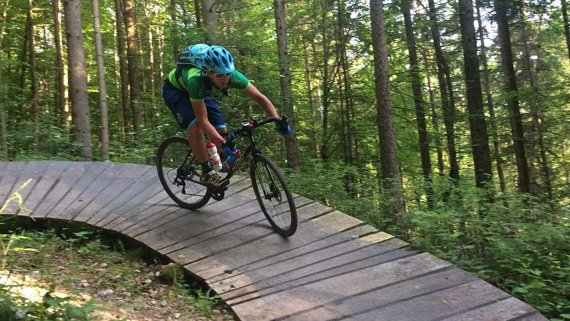 Actually, the main principle of bikes is fully developed: Frame, two wheels, disc or rim brake, handlebar, crank, pedals, saddle - that's it! So the latest development from the manufacturers, the gravel bike, was sometimes viewed with skepticism, even after its official market launch around four years ago. 
But the great popularity in the USA proves the fact that the manufacturers have hit a nerve with their artificially created trend. Also in Europe bikers slowly get a taste for the gravel bike, or as it was exclusively called at the beginning: adventure bike.
After all, that's what it's all about: not letting your adventure with your friends end on an unpaved road. That's where the fun actually starts. On a mountain slope, the sun slowly rises above the summit and the crispest meters of altitude with the following reward at an alpine pasture are still tempting.
With ISPO Open Innovation you have the unique opportunity to support a manufacturer in the advancement of a gravel bike.
"It's great that gravel bikes are now available to the masses," says ex-professional cyclist Dave Zabriskie, who has won stages in the Tour de France, the Giro d'Italia and the Vuelta a Espana during his career: "The experience on a Gravel bike is simply freer, less contact with cars and more contact with nature. Some gravel roads are a bit boring on a mountain bike, but with a gravel bike you can have a lot more fun. Plus: On asphalt you can also ride really fast. At the moment it seems to me to be the only real growth market besides e-bikes."
So what makes a gravel bike? Which characteristics are typical and where do you feel most comfortable with them? ISPO.com answers the most important questions about the gravel trend and gives an outlook on what's new in 2019 and gravel events.
Longer wheelbase than a Cyclo-Crosser: more comfort, better climbing characteristics

disc brakes

Lower bottom bracket: more stability, better directional stability

Rather upright sitting position in order to ride longer distances

racing bike handlebars

Tyres up to 47mm possible for more comfort

Eyelets on frame and fork for additional equipment on multi-day tours
As the above mentioned features already suggest, the gravel bike should be used especially in easy terrain - gravel roads, forest roads and not too technical trails - and on longer tours.
The bikes also feel comfortable on asphalt and are used more and more by commuters on their way to work or even bike messengers.
Here are some of the most beautiful Gravel Grinders in Europe and the rest of the world for those who already have experience with Gravel Bikes and want to measure their skills with other bikers: