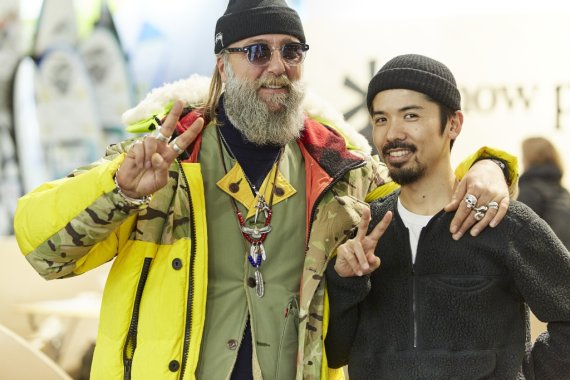 Collabs between brands have been commonplace for some years now. At ISPO Munich, there were even collab exhibition stands. The Norwegians from WeNorwegians have brought three partners on board for their exhibition space that suit them. WeNorwegians are merino specialists from athleisure to skiwear. Their stand also featured representatives of the Swiss brand Inuikii, whose boots match the style of WeNorwegians. The founders met at ISPO Munich a few years ago. Cap specialist Varsity Headwear provided unusual decoration, joining the stand with a Piaggio Mobile. This special "exhibition village" was completed by Stereo Skis.
UYN came to ISPO Munich almost directly from Milan Fashion Week. Among other things, the Italians presented the UYN Urban Shoes by Patricia Urquiola. The shoes are made from recycled materials and merino wool. 
Merino in general - the natural fibre has always been at the centre of the supernatural collection and namuk also relies on the famous wool. The brand has been around since 2016 and is the first Swiss children's outdoor brand. In the meantime, the products are available in German-speaking Europe and even in the USA. The aim is to combine durability, design and innovation. At ISPO Munich, a monochrome capsule collection was presented that bridges the gap between top performance and top design.
Buff is celebrating its 30th anniversary. The Spanish specialists first gave the tube scarf its name. The exhibitor Descente, for example, can look back on a much longer company history. The Japanese company has been around since 1935.
Other brands with a long history in the hall are, for example, Steffner, Löffler, Think Pink or Sportalm. "Hall B1 is so exciting because it also shows the great diversity in the sports fashion sector. The different brands also have very different focuses. Some focus on innovation, tradition or, of course, certain aspects from the topic area of sustainability," says ISPO Director Lena Haushofer. "We hope that retailers in particular will be able to gather inspiration here.