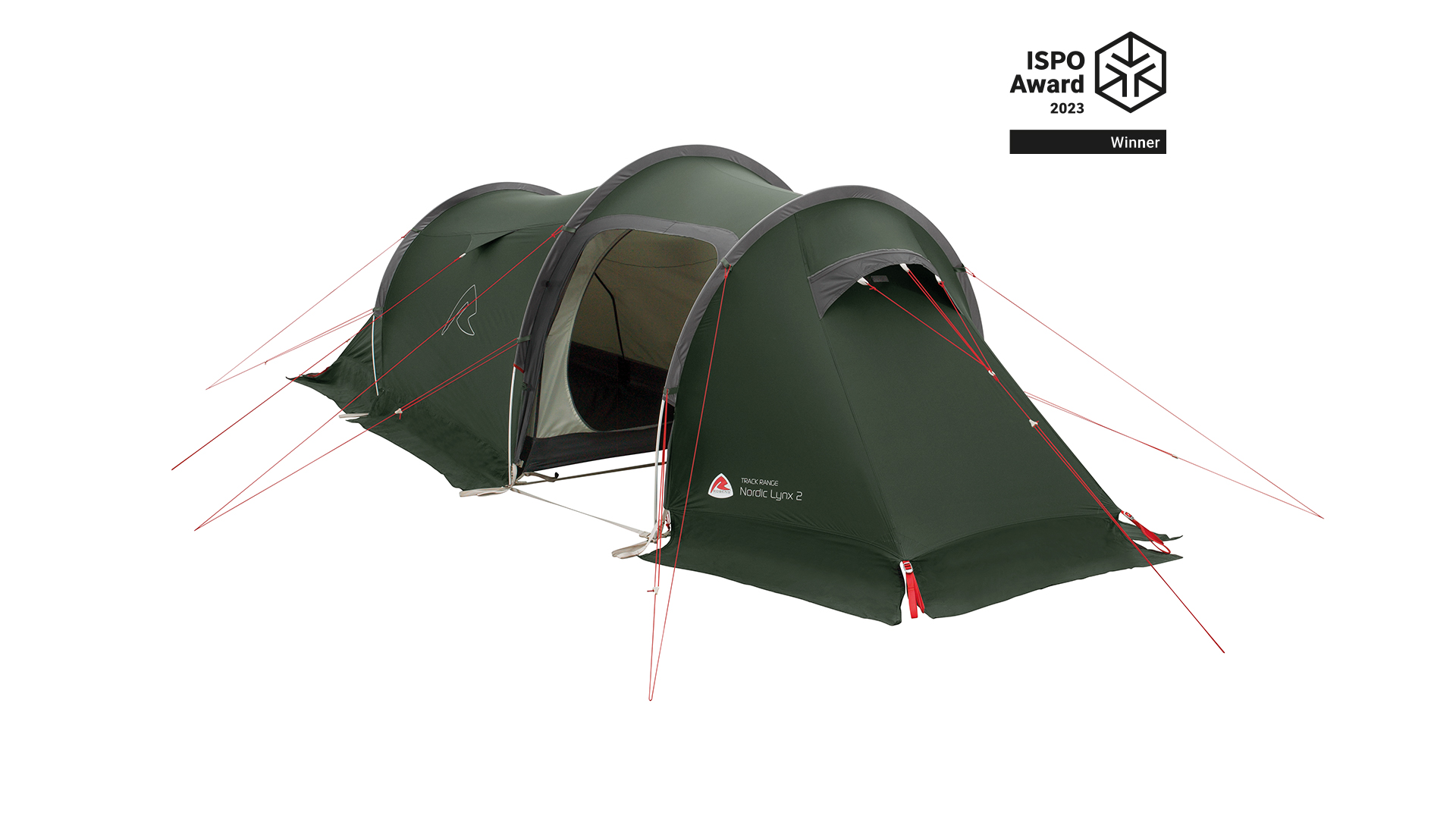 The two-person Robens Nordic Lynx 2 tunnel tent is designed for winter conditions. While gliding through fresh powder during the day or proving your survival skills while ice fishing, the Nordic Lynx provides a safe and functional base to relax in during the night. Robens product manager explains the tent's design concept this way, "As an outdoor enthusiast, I wanted to create a fully featured winter tent, but one that could be used year-round thanks to its classic design, natural color, and space and weight savings. Based on this idea, we developed the Nordic Lynx tents. They are reliable borderline year-round tents that, once purchased, also leave enough money in the wallet for outdoor adventure."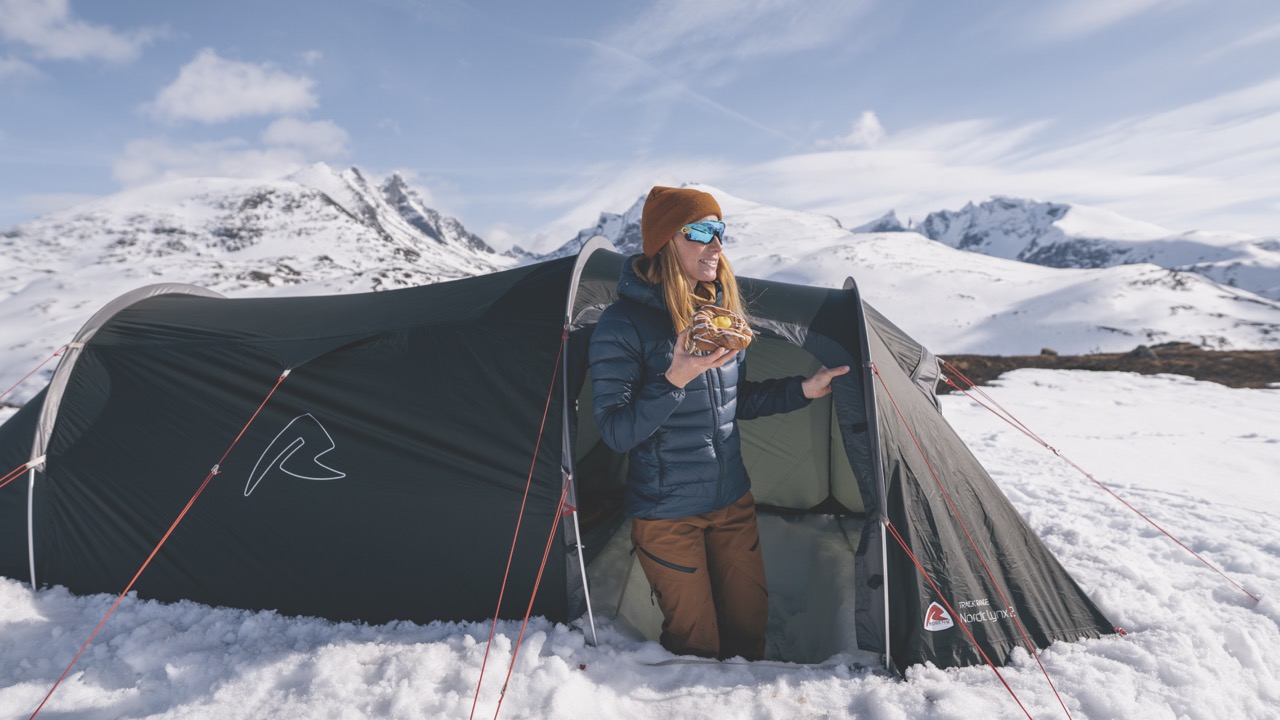 A combination of smartly designed features ensures easy handling and functionality of the Nordic Lynx tent. Thanks to large pole channels and long peg loops with additional guy ropes, the tent is easy to pitch. Long snow guards keep the snow out and the interior dry. The long zipper pulls are easy to use even with gloves on. A side door with double zipper for flexible ventilation provides access to the large extended vestibule. The cleverly designed ventilation system protects the front and back from snow and insects and can be regulated from the inside in any weather.
An expedition tent like the Nordic Lynx 2 should have an optimal balance between the necessary stability, a low weight and the smallest possible pack size. To meet this requirement, the product designers of the Nordic Lynx 2 decided to use high-quality anodized #7001 T6 large diameter alloy poles in combination with Robens 20D 380T siliconized rip-stop nylon with PU coating on the inside. This construction also allows the seams to be bonded, improving durability.
All in all, the Nordic Lynx is a very durable tent with many features for a perfect winter adventure. The tunnel tent is available in three sizes. The Nordic Lynx 2 sleeps two and weighs 3.3 kg, while the Nordic Lynx 3 sleeps three and weighs 4.1 kg. Four people can sleep in the 4.6 kg Nordic Lynx 4. At under 5 kg, all three tents are light enough to carry in or on a backpack. If you're traveling with more luggage and hauling your gear behind you on a pulka, you can safely stow your tent in the Robens Sled Tent Bag, available as an accessory.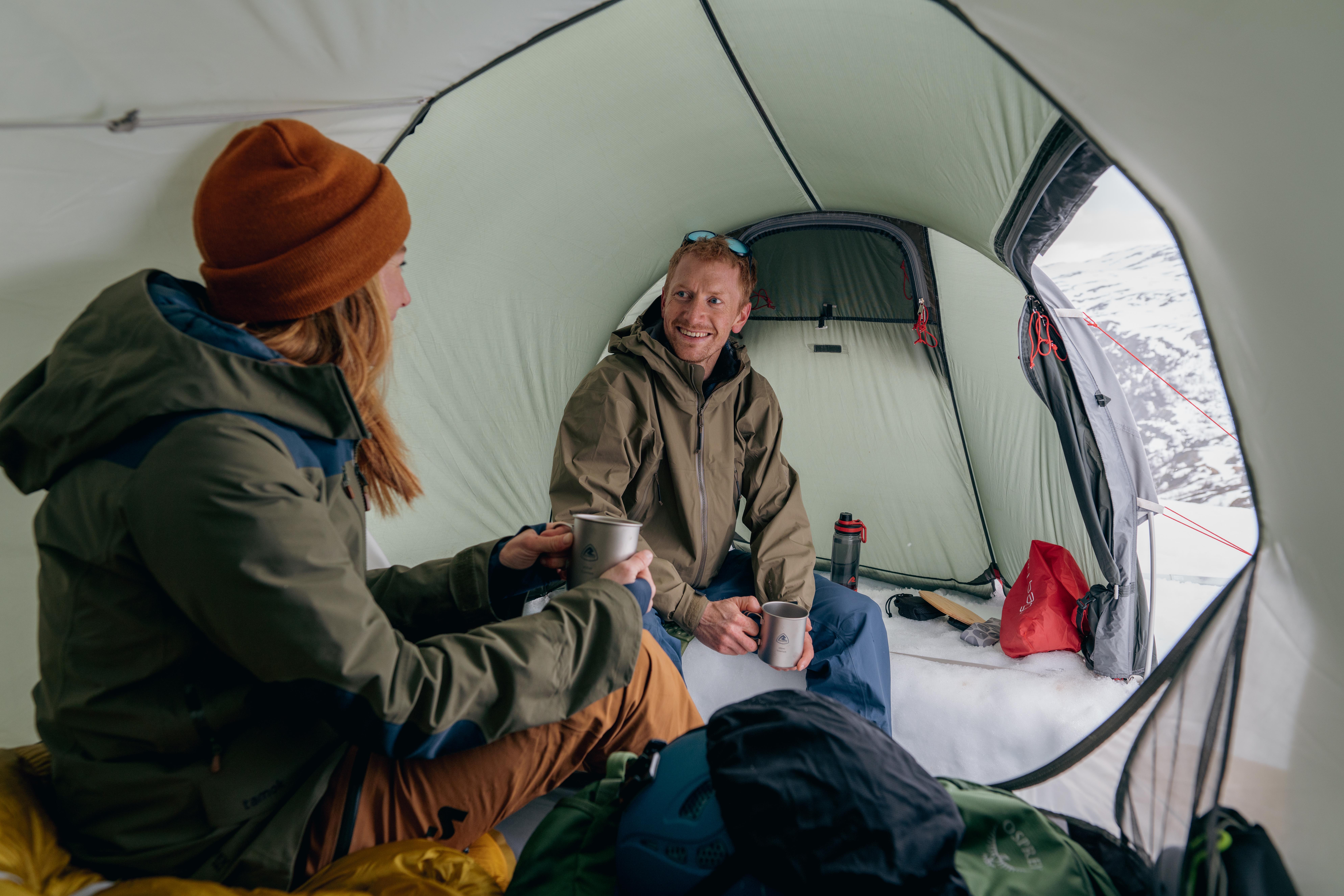 This convinced the jury:
All door sides zippered for convenient access and optimal ventilation.

Bottom door clip secures entry door in high winds

Internal zippered vents close mesh panel and fabric panel

Extra-long peg loops for additional belay options, such as with skis

Pole channels provide space for two poles for added stability in extreme conditions

Extended vestibule provides storage, cooking and dining areas

Adjustable main guy points with durable light metal buckles
"The jury was particularly impressed by the many well thought-out details that make the tent particularly suitable for winter camping. You can see that this is a product made by outdoor professionals for outdoor enthusiasts."
ISPO Award Jury
Specifications:
Pack size: 44 x 16 cm
Weight: 3,3 kg
Price: 634,95 €