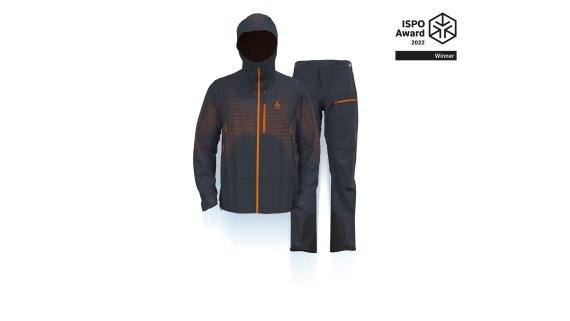 More and more innovative knit technologies are conquering the sportswear industry: with the ODLO X-Alp Performance Knit 3L ski touring jacket and pants, ODLO is extending its expertise in seamless knit base layers to ski outerwear for the first time.
The PFC-free, waterproof and windproof combination of jacket and pants is the highlight of ODLO's new, ascent-inspired Performance Knit collection and consists of a knitted outer fabric that is extremely elastic in all directions thanks to its innovative knitting construction. The material is supported by a waterproof and highly breathable elastic membrane. Overall, the particularly quiet and soft hardshell material weighs only 120 grams per square meter and can be packed smaller than conventional hardshells.
The zoned functions knitted into the face fabric provide further weight reduction, enhanced breathability and, combined with an underlaid colored waterproof membrane, deliver a unique optic never before seen on the mountain.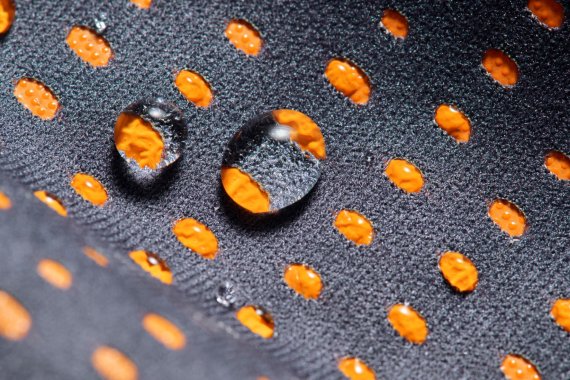 The X-Alp PK 3L jacket and pants were designed to meet the specific needs of a growing group of ski tourers. They offer optimal elasticity, mobility, lightness and packability for long ascents, combined with full 3-layer protection for the ultimate descent or when the weather turns.
Fit, form and function are also suitable for many other winter sports, making the combination an extremely versatile winter sports performance garment. The outfit is available for men and women and will be launched in fall 2023.
dynamic elasticity and freedom of movement thanks to knitted outer fabric

waterproof and windproof

PFC-free

lightweight with soft touch and feel

low noise

improved packability
"Our new Performance Knit collection has been purposefully designed to bring the next generation of ski touring apparel to the growing number of everyday athletes taking to backcountry sports. ODLO has long been trusted as an expert in seamless base layer knitting and we're proud to extend this craftsmanship through to ski outerwear. With the X-Alp Performance Knit 3L jacket and pants we've employed innovative warp knitting and waterproof membrane technologies to deliver new levels of comfort and freedom of movement, while still delivering 3L protection from the elements. This enhanced performance experience, combined with a distinctive design optic, really sets these pieces apart from what's come before. We're excited for snowsports lovers to experience ODLO's Performance Knit." Timo Pape, ODLO Product Director
"Knitted fabrics bring a high degree of elasticity and air permeability from the outset, without having to accommodate stretch components in the fabric. Performance Knit is an exciting new area in the field of functional fabrics, which ODLO has innovated perfectly here." Jury ISPO Award