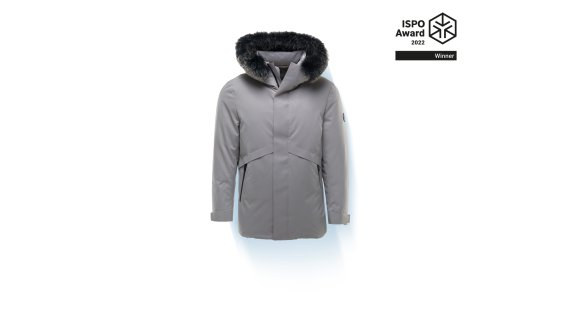 Much more interesting than the pure fabric function is the equipment with wearable technology. For example, Sundance has integrated graphene heating. The temperature of the graphene heating foil and the heat-conducting inner lining can be regulated in three stages by a button on the jacket's inner pocket. An integrated vibration massage on the back and waist can also be adjusted there. So, you can enjoy a unique massage service anytime and anywhere.
Another highlight is an inflatable neck pillow on the collar. For this, a small, thin tube protrudes from the inner pocket, which can be stowed there again after use. The neck pillow is not noticeable even when inflated, because it is covered by the voluminous hood.
In addition, the jacket has various ports for multifunctional charging of electronic devices, such as smartphones and watches. The necessary power for this is provided by a lithium battery.
All these functions are so cleverly integrated that they remain invisible to the outside world and are not at all noticeable when worn. The jacket is nevertheless lightweight and slim-fitting, making it perfect for urban life. The jacket is designed for men and has been on the market in China since fall 2021.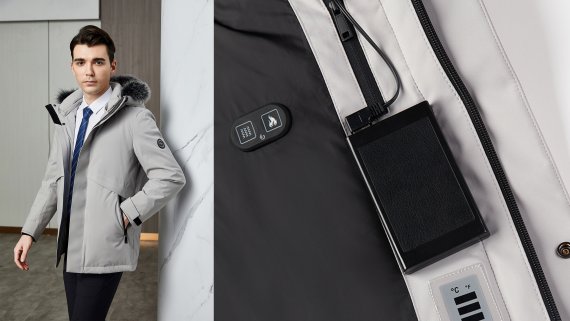 waterproof down jacket with many additional functions

integrated massage function

integrated heating function

integrated charging function

classic, versatile look for long-wearing comfort
"The down jacket follows the design concept of "clothes make the man", without exaggerated design, but with functional effect, so that people are no longer afraid of the cold wind in winter. The jacket is an excellent choice for middle-income male target groups such as civil servants, self-employed people, teachers, doctors, etc., to keep a warm style anytime and anywhere." Fenghua Zhou, Sundance
"A jacket that can actively heat and massage, with an inflatable pillow and charging function to boot, sounds like science fiction. All the more impressive is that you don't see the inner qualities of the jacket at all." Jury ISPO Award