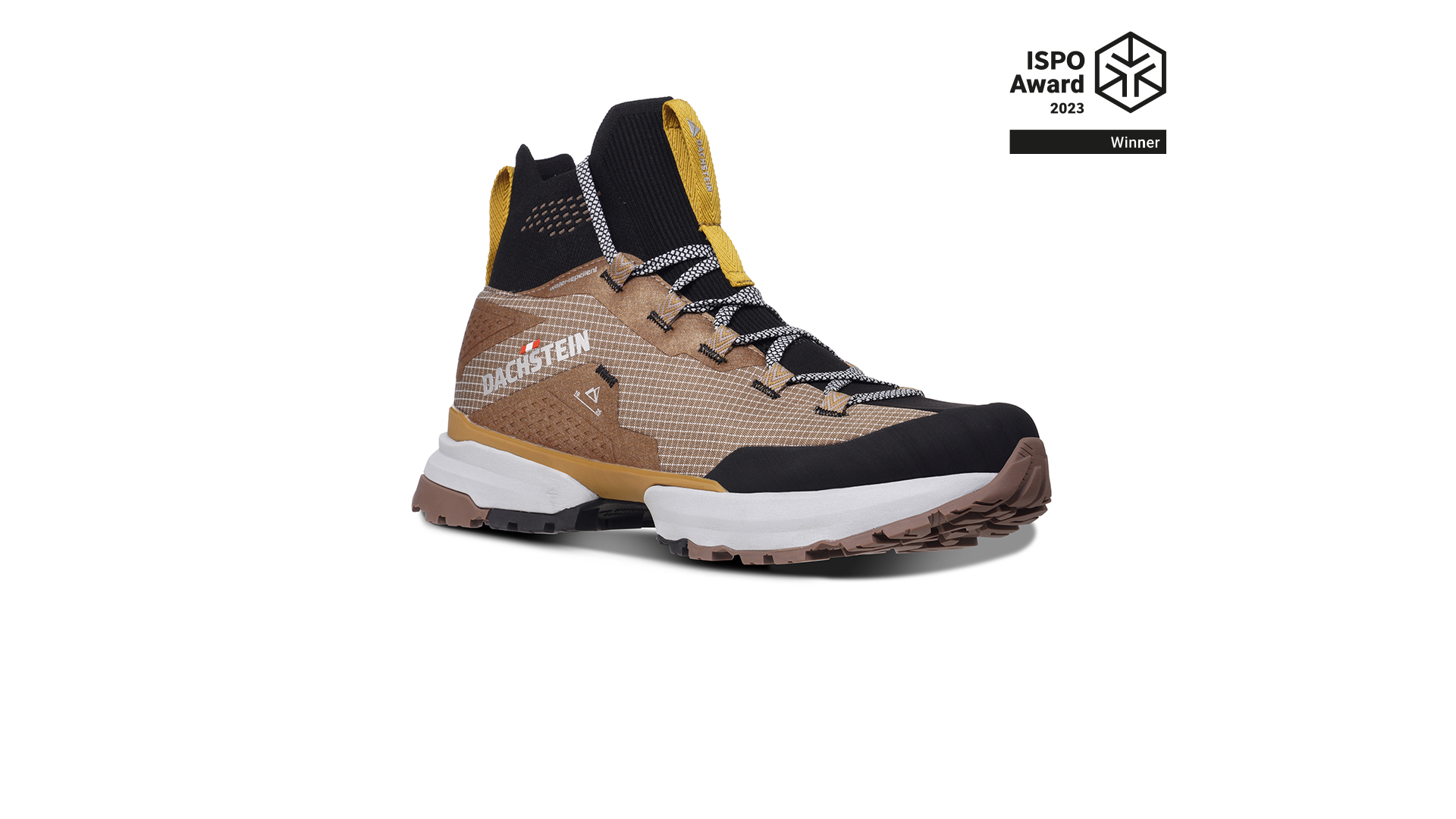 Dachstein, the Austrian company offering outdoor and urban footwear from the heart of the Alps, can celebrate receiving the ISPO Award 2023 for their new SF TREK hiking shoe. At their jury meeting for the second round of the ISPO Awards 2023, the judges were impressed by the elaborate details and sustainable features of the shoe. The SF TREK incorporates the latest technology and recycled materials to provide hikers with a pleasant experience on the trail. With a new outsole unit, the boot ensures increased stability and rugged durability while maintaining lightweight comfort. Whether for easy hikes or technical ascents, the SF TREK delivers a new feeling for outdoor adventures. 
Designed for modern hikers, the SF TREK is made of the most technical and lightweight materials, with the new outsole unit being at the core of the innovations. It features the HIKEPLATE, a TPU molded shank adding stability and control for a perfect stride on every step. The lightweight and durable EVA midsole provides cushioning, rebound, and ground feel, while the "trail-compound" rubber outsole delivers a robust lug pattern that Dachstein specifically designed for hiking and trekking adventures, allowing for good traction on any surface.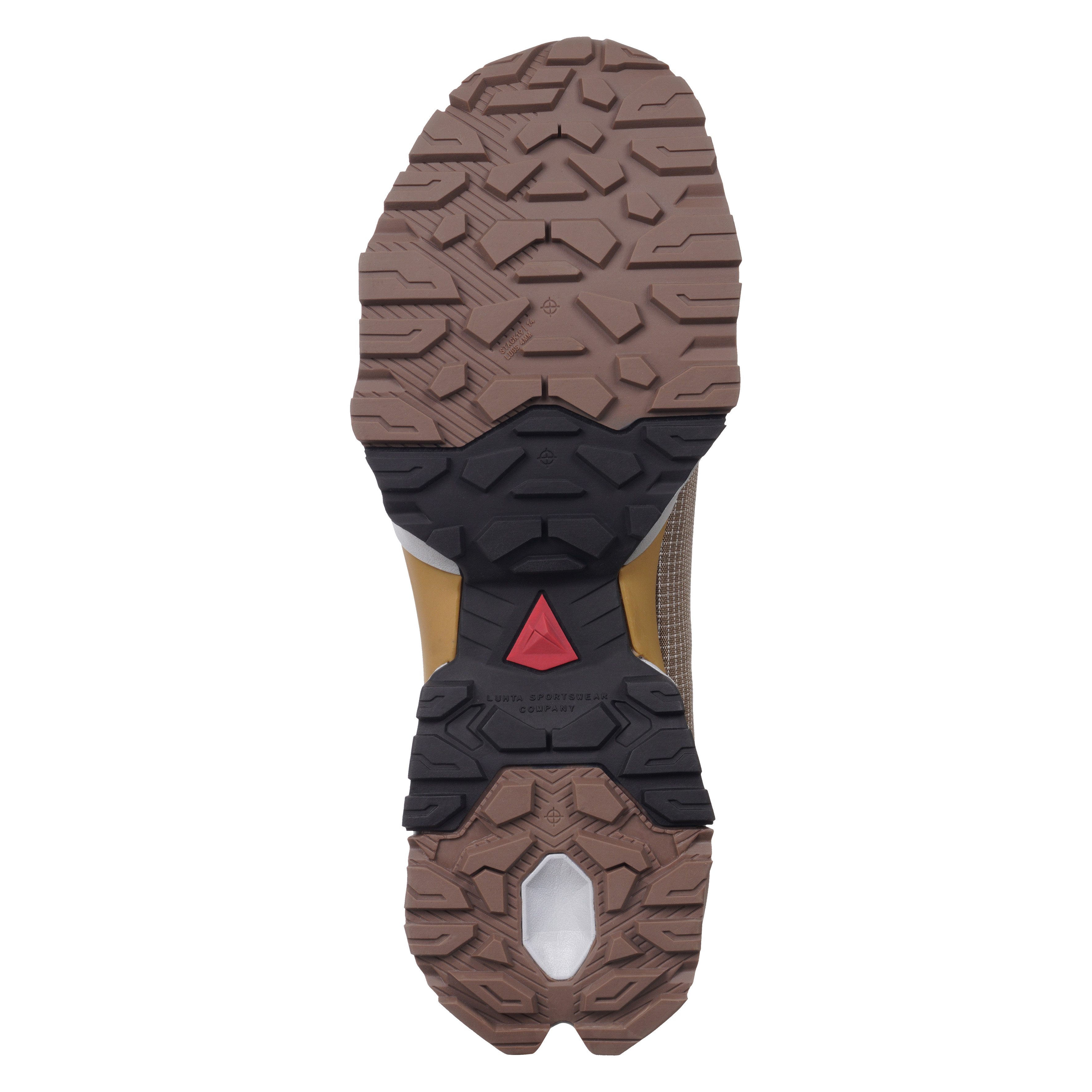 On top of these and other features, the SF TREK provides a fresh and modern look that targets younger outdoor enthusiasts with its combination of straightforward design and up-to-date technology. With a knit collar that allows for easy entry and a custom sock-like fit, the SF TREK ensures to keep rocks and dirt out of the shoes. The quick-drying and breathable mesh upper delivers abrasion resistance and moisture management. For those who like a more rugged feel, Dachstein also offers a leather version. It features the new AWS membrane developed by the Salzburg-based company for a waterproof and breathable outdoor experience.
Available in a mid-cut style and a range of colors (coyote, gray, green, and blue), the SF TREK is perfect for technical hikers seeking modern equipment. The intended usage is for hiking, technical ascents, and treks. Dachstein says they crafted the SF TREK to inspire adventure and fuel people's desire for the outdoors. Christoph Döttelmayer, Head of Design at Dachstein, points out: "The SF TREK is our vision of a modern hiking shoe which combines a clean, simple design and new technologies. Its shape and contours go beyond a traditional hiking shoe shape, and they perform amazing and look cool." 
Priced at €149 for the mesh version and €169 for the leather/AWS membrane option, the jury of the ISPO Awards 2023 found the SF TREK a suitable solution for discerning hikers and thus agreed to give Dachstein the coveted award. The shoe will be available in the summer of 2024.
"The Dachstein SF TREK Hiking shoe is a lightweight and futuristic boot that redefines the modern hiker's experience. Its focus on sustainability and recycled materials are a plus."
ISPO Award Jury
"The target consumer of younger outdoor enthusiast was the starting point out of which we created this new style in a 2-year-long process. Whether you are enjoying the surroundings of the outdoors or looking for a new personal record up your local summit, the SF TREK is made for all these kinds of quests."
Christoph Döttelmayer, Head of Design Dachstein
HIKEPLATE shank for increased stability

Knit collar for easy entry

Windproof

Waterproof (leather version) / Water repellent (mesh version)

Lightweight
Key data:
Style: mid cut 

Sizes: 36 - 47 

Colors: coyote, gray, green and blue 

Target group: Technical Hiker who seeks modern equipment. Age group 19-49. 

Intended Usage: Hiking, technical ascends, treks

Price: €149 for the mesh version and €169 for the leather/membrane option