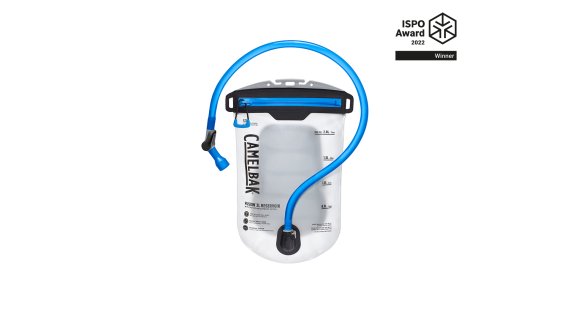 A day in summer. It is hot. The sun shines brightly and tirelessly from the blue sky. Just as tirelessly, a mountain biker rolls and races through the terrain - another trail, another steep climb and another gnarly descent. Sweat runs down her face from her forehead. "Water! Water!" her body screams. And with just a flick of her wrist, it's already pouring into her mouth and through her body. The "CamelBak Fusion 2L Reservoir" makes it possible.
Up to two liters fit into the bag, which is located in a backpack that can be quickly and easily strapped to your back. And which with this filling quantity is also a good companion for mountain bike tours. So you don't need to carry a water bottle or even drinking bottles, you also don't have to carry them awkwardly in a backpack or on the frame of your bike. The CamelBak is almost like a second skin on the back. About a tube you get his refreshment delivered.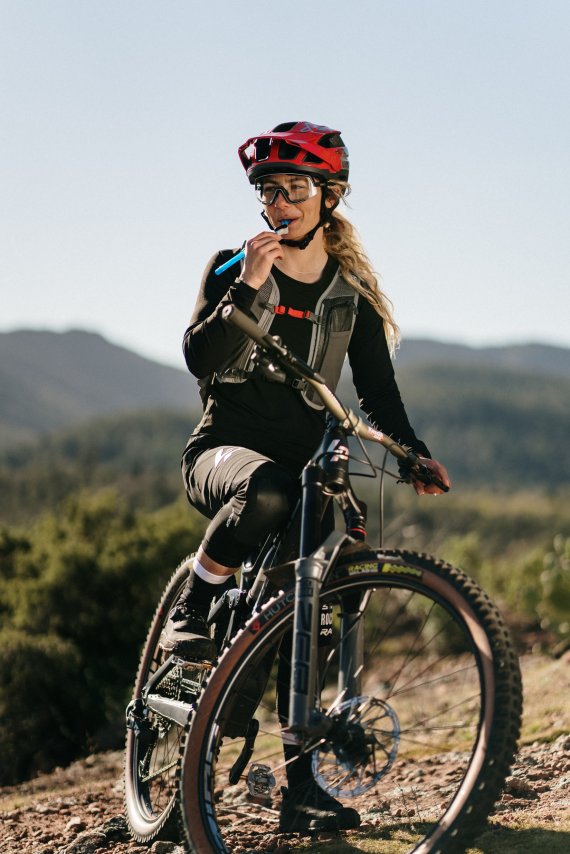 "The Fusion is a hydration solution we've improved with an integrated handle and pinch handle design for one-handed filling at sinks and refrigerators," says Tony Vontz. He is director of product management at CamelBak. The Fusion also features a durable and waterproof TRU® Zip for a remarkably easy and secure closure. It also features an universal attachment that is compatible with all CamelBak backpacks and even those of many other brands. 
A highlight in this CamelBak drinking solution is the "squeeze handle". This allows for smooth filling and cleaning. "The squeeze handle is really fun," Vontz says. "It makes filling the hydration pouch completely effortless and spill-free. It's just enjoyable."
A quick look back: for 33 years now, it's been all about hydration packs and water bottles. In 1989, when CamelBak founder Michael Eidson participated in the "Hotter 'n Hell 100" bike race in Wichita Falls, Texas, the whole thing got rolling. Eidson was actually a paramedic and had the idea of filling an IV bag with water. He tucked it into a long sock and attached it to the back of his jersey, pulled the infusion bag's tube over his shoulder and secured it with a clothespin. Within a few months, Eidson took the idea to a scientist named Roger Fawcett, who tested it in trials. Sales of the first CamelBak product - called the ThermalBak - then began. After initial difficulties, the hydration packs are now popular not only among athletes. CamelBak also supplies the US military.
The CamelBak Fusion 2L Reservoir has literally everything you need when you're thirsty. The hydration pack is fast, lightweight and convenient to use. In addition to the TRU® Zip, the waterproof zipper system, also scores points for its revolutionary design. Because CamelBak brings here heavyweight features in a lightweight package.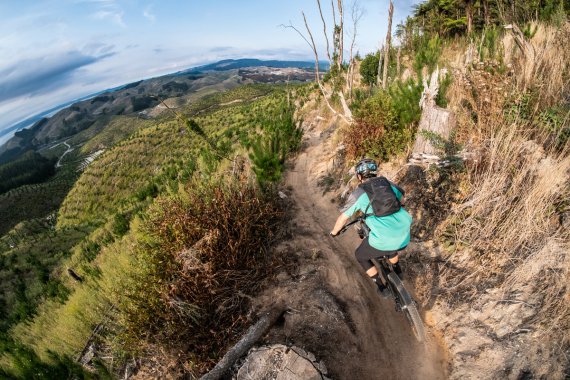 The whole thing can also be cleaned well and thoroughly - through the large opening of the zipper. The rigid back panel of the backpack serves primarily to ensure that the hydration bladder remains slim and does not collapse even without a divider. And the Hydroguard technology, which inhibits the growth of bacteria in the reservoir and hose, also ensures clear and clean conditions. The integrated handle and pinch-grip design make filling comfortable and easy with one hand.
It goes even further: the Big Bite valve delivers 20 percent more water per sip to the mouth. The Quicklink system makes getting the reservoir, or hydration bladder, out of your pack very easy and quick. "The CamelBak Fusion 2L Reservoir convinces with new technologies and systems that are a step forward for all outdoor enthusiasts and professionals," said Vontz. Here CamelBak can use its vast experience with hydration systems specifically.
"It's great to see our efforts to bring an innovative new reservoir to market appreciated.  It was a great team effort. And it's nice to have our hard work rewarded like this."
"The new hydration bladder from CamelBak is a good example of how a proven product becomes even more user-friendly through innovative detail improvement. Every athlete who uses a hydration bladder for fluid intake will appreciate the easy filling and cleaning as well as the practical zipper." ISPO Award Jury
TRU® Zip is durable and waterproof.

Hydroguard technology inhibits the growth of bacteria in the reservoir and hose

Big Bite valve delivers 20% more water per sip

Quicklink system for easy removal of reservoir from backpack
Product Specifications:
2L and 3L reservoirs are available

Price: 53,00 Euro

Available: May 2022