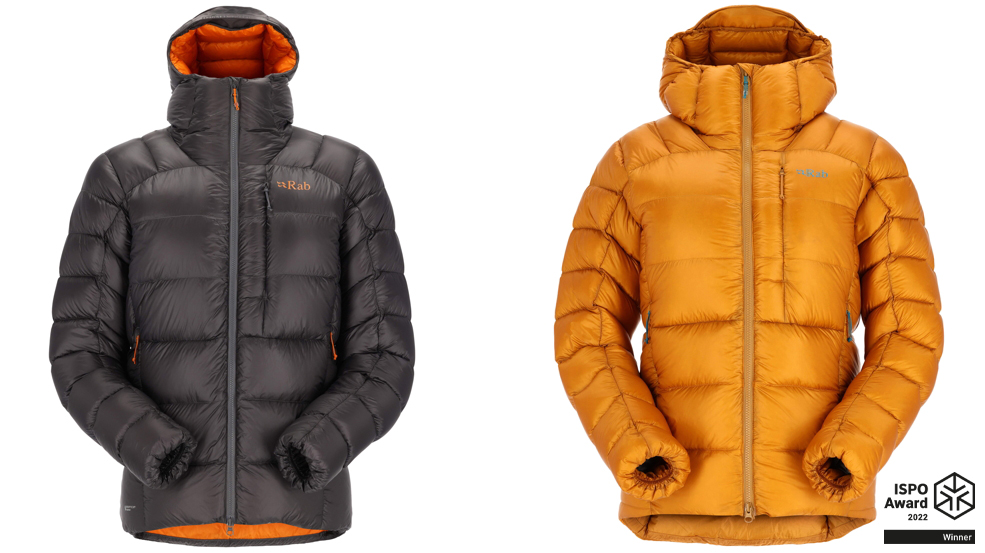 "Research and testing were completely key when we were developing the Mythic Ultra – and we actually surprised ourselves with the combination we came up with", reports Gemma Dyer, Product Marketing Manager at Rab, from the development phase of the British outdoor manufacturer's new down jacket. Its combination of low weight and high heat retention Due to the very good weight-to-warmth ratio and the fit, which allows freedom of movement even in very cold conditions in very cold conditions in alpine regions, they gave the coveted award to the Rab Mythic Ultra Jacket.
The jacket is Rab's new top-of-the-line model for pro alpinists, mountaineers, ice climbers and climbers who need a warm and functional down jacket for winter and ice climbing or mountaineering in cold conditions. In the Mythic Ultra Jacket Rab combines the heat-reflective TILT technology with an outer fabric made of one hundred percent recycled Pertex® Quantum fabric and a 900FP down filling. Thanks to offset box wall baffles on the torso and stitch-through construction on arms and hood, the jacket optimizes heat retention. "We've used the TILT technology in sleeping bags previously but this is the first time we've ever used it in a jacket, which is why we went through such a level of testing just to make sure we've got the right construction." She said this outperformed the next best combination in terms of thermal performance by 44 percent.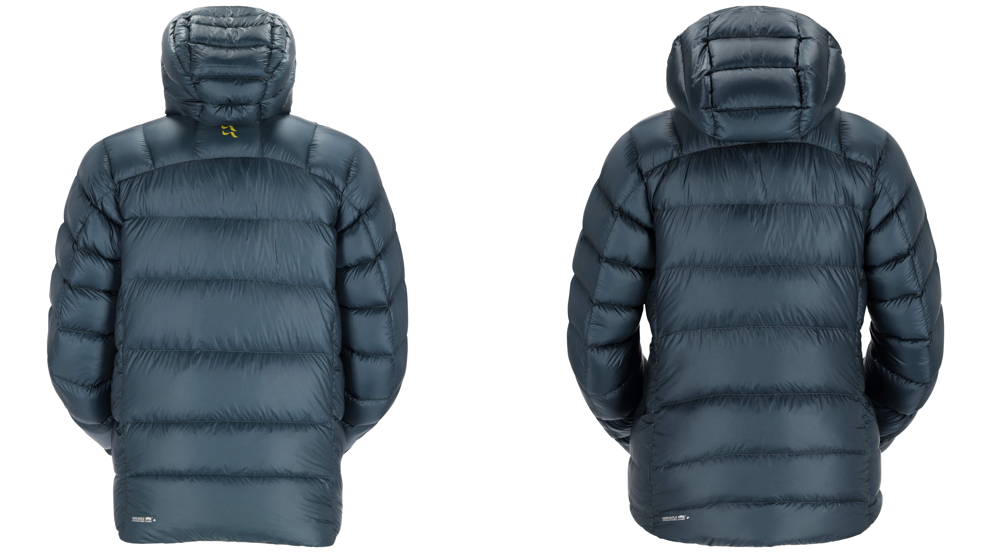 TILT is short for "Thermo Ionic Lining Technology" and refers to a heat-reflective fabric treatment on the inside of the jacket lining that reflects heat released by the body back to the body. While Rab uses a titanium coating for this purpose in its Mythic Ultra sleeping bags, it opted to use aluminum in the new Mythic Ultra Jacket. Thanks to the TILT treatment, which weighs in at just 15 grams per square meter, the jacket can be fitted with a thinner down filling, which saves weight and increases freedom of movement - while maintaining the same level of thermal protection.
""Insulation jackets for extreme conditions usually need a lot of filling. That adds weight and restricts freedom of movement. On top of that comes the bellows effect. For this, Rab has developed new solutions and combined various high-end technologies for an optimal weight-to-warmth ratio."
Regina Henkel, Jury Member and Editor ISPO.com
In their tests, the Rab designers found that the TILT fabric needs to be positioned close to the body to reflect heat as effectively as possible.They also determined where a body-hugging boxwall construction or stitched-through baffles would provide more warmth on the upper body as well as more freedom of movement on the arms. "We knew that adding TILT technology would improve the thermal efficiency of the Mythic Ultra Jacket, but in combination with precise TILT positioning, body mapped baffles, and the exceptional insulating properties of goose down, the end result has exceeded our expectations," Gemma Dyer recalls.
The Mythic Ultra Jacket also shows that even an extremely technical product doesn't have to compromise on environmentally conscious material choices. For the insulation, Rab uses 900FP European goose down that is certified against the Responsible Down Standard and which is extremely puffy and has a hydrophobic DWR coating.
The outer material consists of one hundred percent recycled "Pertex Quantum" polyamide and is also coated with PFC-free DWR impregnation. The Mythic Ultra Jacket is available in gender-specific cuts; the men's model weighs 537 grams in size M, the women's model weighs 499 grams in size 10.
"The Mythic Ultra Jacket is 25% lighter than our Positron Pro, with the same warmth, that's huge! And 150% warmer than our Neutrino Pro but still 10% lighter. It got to that point now that his is our best warmth-to-weight ratio down product that we've ever produced."
Good warmth to weight ratio

High freedom of movement

Low weight

TILT technology combined with offset boxwall and

stitched-through

chamber construction reduces heat loss

Water repellent and abrasion resistant outer material

100% recycled polyamide shell and lining with PFC-free DWR coating

RDS-certified down fill with PFC-free DWR coating
Due to its low weight and high thermal performance, the Rab Mythic Ultra Jacket scored highly with the ISPO Awards jury in the categories of material selection and weight. According to their verdict, the jacket is very well suited for use during winter mountain expeditions. The use of recycled Nylon earned a high score in sustainability. The function-oriented, straightforward design also appealed to the jurors, who ultimately gave the Rab Mythic Ultra Jacket the ISPO Award 2022.
The Rab Mythic Ultra Jacket will be available in stores from September/October 2022 in sizes S to XXL for men and 8 to 16 for women at a price of EUR 450.
"I suppose Rab has always managed to create products that have an amazing warmth-to-weight ratio.  But we knew that we could take it one step further with this new heat reflective radiant technology. And it was just about trying to find a way that we were utilizing all of the resources to the ultimate, making sure that we were using the right level of down, in the right construction, with the TILT scrim internally. We hadn't expected to end up with such good results."
Gemma Dyer, Rab Product Marketing Manager