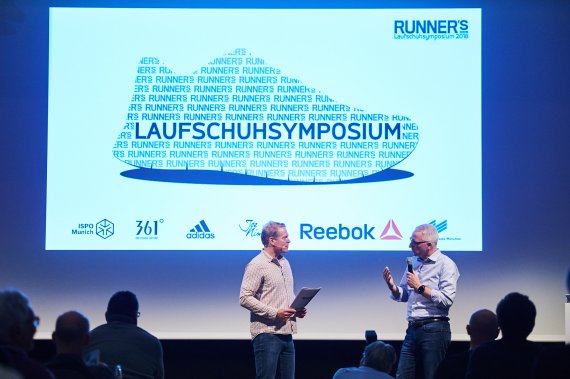 Runner's World has organized its Symposium in partnership with ISPO Munich for the fifth time now. Here, retailers, manufacturers and running coaches all get together to exchange ideas and share their experiences. And they all agree on one point in particular: It's not about the shoes, really. Running is not defined by the shoes chosen, but by emotions, dedication and passion. That became quite clear during the final panel discussion on Monday, entitled "Running and Money: What's the real deal?" And above all: What does this strong attachment of emotions to products mean in practice for manufacturers and retailers?
"You are selling more than a mere product," Runner's World's Martin Grüning said to both groups. He acted as presenter at the event, alongside Urs Weber. "You are selling people emotions." Of course the range of tools available to us these days enables us to measure every aspect of a runner's performance and recommend the ideal running shoes, Grüning continued. "However, I head to a retailer because their specialist knowledge extends beyond simply taking a few imprints."
"It's important to offer more than just a product," said Jurian Elstgeest, General Manager Europe at Chinese sportswear manufacturer 361º. "That is the key. We have many products to offer, but the real question is: Which stories can I offer alongside them, who do I share them with, when, why and how much energy do I invest?" Elstgeest is well aware that selling running shoes is an art - that retailers are as highly specialized in the field of running shoes as a good sommelier in his/her wines.
Düsseldorf-based running shoe consultancy Bunert also wants to go beyond selling a mere product. "These days, we are tasked with creating an emotional connection," said Marc Böhme, who works in the Essen branch. This connection can be achieved in various ways, such as using stores as a proving ground for new models. "We simply asked our customers: Would you be interested in this model? Is it something you would go for?" The range is adapted accordingly and customers are pleased that someone is paying attention to their requests and opinions.
"Getting customers into the store is most of the battle."
Götz Hohaus, Adidas
Another bonus for customers is that staff in their running shoe stores are becoming increasingly knowledgeable. Sebastian Bär from manufacturer Joe Nimble explained that active staff training is a key part of their corporate culture. "It's extremely popular with our employees and you can really tell that they want to learn." The only matter that remains open for Bär is whether in future, this expertise will come at a price.
"It is always important to weigh up the freebies against the price tags." It's a real balancing act. "We will have to wait and see in which direction our business takes us," said Bär. He continued that for the moment, however, one thing is certain: Customers are very happy with the authenticity and passion of each expertly trained member of staff.
How long each customer remains in store was a further discussion point at the event. Adidas' Götz Hohaus explained that these days, shopping as an activity must keep up with the entertainment and leisure industries, especially given the emotive nature of running. Marc Böhme commented that Laufsport Bunert has fared well integrating drinks stations in their stores, which they run with a local partner. A trip to a running store needs to be a real shopping experience, avoiding the all-too-common "bored companion" situation.
Adidas' Götz Hohaus is confident about retailers' strategies. "The question is: What's the best way to get the customers to come to your store?" How do we get them to take a proper look at our shoes? That's because: "Getting customers into the store is most of the battle."