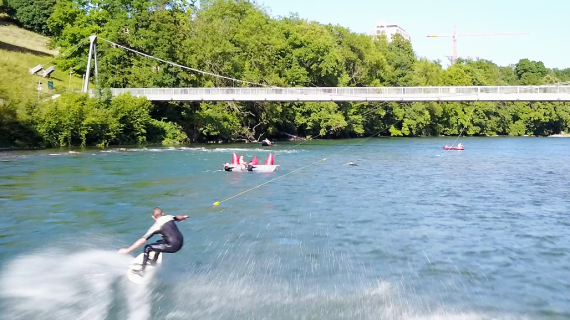 The participation in the final of ISPO Brandnew 2016 was a first highlight. Now the next one follows. Up Stream Surfing opens its first location on the Inn in Innsbruck.
All surfing fans can expect a spectacular mixture of river surfing, surfing and wakeboarding.
It starts this Friday, April 6th. At 12 o'clock, the spectacular rope pull system at the Inn Bridge will be presented to the public for the first time - at the Ottoburg, ergo, in the middle of the city centre, not far from the Hofburg and the Hofgarten.
"With our UP STREAM SURFING system you can now integrate surfing into everyday urban life", explains Simon Ra Garben, founder of UP STREAM SURFING GmbH.
And this is how the system works: The body is attached to a bridge with three ropes. Surfing requires at least two people.
A rope fixed to a bridge connects the surfer with the underwater sail in the river. The underwater sail absorbs the current energy, and the surfer is pulled upwards by pulley up to 300 meters against the current.
Another peculiarity: The system works without any further energy input, completely in the sense of sustainability.
Interested parties can now book sessions in Innsbruck individually or for group or company events with a trained team. And prove theirselves in this spectacular variation of Surfing.