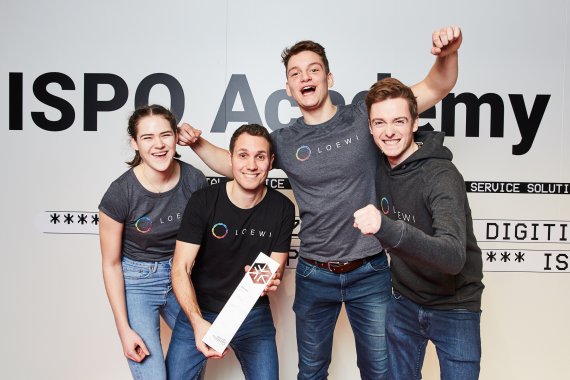 The focus in 2019 was clearly on fitness apps, with several start-ups presenting concepts designed to make the workout more effective or entertaining for the user.
The finalists were:
The sports community actinate

The BergsportApp

whympr
The PersonalTraining App KERNWERK
FitS, an app for a healthier lifestyle
bFAN SPORTS, which is supposed to help clubs to connect better with their fans
froggypix, a program that simplifies the color design of clothing
Ball Designer, enabling balls to be be printed more aesthetically
Loewi, providing users with optimal nutrients
The winner of the evening was the Munich start-up Loewi. The idea of the founders: personalized nutrients that are optimally tailored to the needs of the athlete. The users receive a home kit and send in a blood sample, which is evaluated in a laboratory for sports medicine. Afterwards, they receive optimised nutrition plans and dietary supplements tailored to their needs. If a vitamin D deficiency is found, for instance, the mixture contains more vitamin D. In this way, athletes should be able to improve their health and individual performance.
Founder Adrian Kapsalis received the award from TengFei CEO Linda Zhang. "A great honor, we're totally happy," Kapsalis said to ISPO.com after the award ceremony. "ISPO Munich is a milestone for us. The product will start into the beta phase immediately after the trade fair." It is clear to the co-founders of the Munich start-up that it is important to build trust for their idea. Users send in a blood sample, after all. "Data protection enjoys the highest priority with us. Our page loewi.eu is as secure as a banking website."