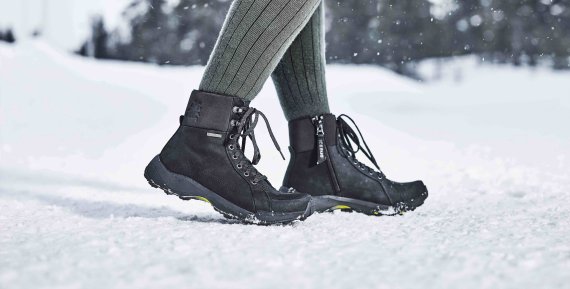 Jonsered is just 15 minutes from the center of Gothenburg by train, so when David Ekelund and his team are looking for new inspiration, they don't have to go far. Two minutes away from the ICEBUG designers' desks, there are fantastic hiking trails, a lake, and a beautiful river, all waiting to be explored.
It was from here that they conquered the hearts (and feet) of Scandinavians with their special shoes. "We want to help our customers to go out as much as possible and enjoy their lives in the outdoors. It doesn't have to be extreme — we believe that 'outdoors' starts the moment you leave the house," says David Ekelund, CEO of Icebug and Chairman of the Board of the Scandinavian Outdoor Group.
"The simplicity of life, that's a Scandinavian theme. And it's what ICEBUG is all about," says Ekelund.
The men and women behind ICEBUG and their shoes, emblazoned with their unmistakable logo, have won numerous prizes for their innovative sole concepts and the dynamic, skid-proof, studded soles. They were winners of the ISPO Award, runner-up in the Volvo Safety Sports Design Award, and winner of both the Sportfack Gear of the Year and the Scandinavian Outdoor Award.
They now want to win over the "DACH" market with their ICEBUG products: retailers and customers in Germany, Austria and Switzerland. In an interview with ISPO.com, CEO David Ekelund outlines ICEBUG's unique selling point, the advantages of the excellent traction, and explains how the innovations enable its customers to experience new things.
ISPO.com: David, the sports shoe market is always growing and becoming more diverse. Consumers needs orientation; they only take notice of a pair of shoes if the brand has an unusual USP. What makes ICEBUG shoes so special?
David Ekelund: Since founding the brand in 2001, it has been our goal to supply shoes with the best traction possible. It's a real wow-moment for each one of our customers when they test out our BUGrip® sole technology with dynamic studs on ice for the first time and realize: "This really works, these shoes offer completely reliable grip in all conditions!" I've experienced this myself — and, without exaggerating, I can say that everyone who wears Icebug for the first time experiences this moment. 
Your target group isn't only athletes —  what sort of customers is ICEBUG made for?
Icebug caters to a broad group. From the best athletes in the world involved in extreme sports such as orienteering, steeplechase, or fell running, to people who can no longer leave the house without walking aids. And in between, there are normal runners, hikers, walkers, dog owners... The common denominator is that all users have recognized the advantage of excellent traction and use it for their personal activities.
And they are more active with it?
That's right. For fit and active people, that means that they can easily walk their favorite trails in the winter too, without having to worry about slipping. They can continue with their sporty lifestyle. And others, for whom a fall could have serious consequences — for example older or disabled people — have the opportunity once again, with ICEBUG shoes, to simply get out the house. With studded soles comes safety and even an improved quality of life.

What lifestyle do the customers "buy" with ICEBUG?
We want to help our customers go out as much as possible and enjoy a balanced life. It doesn't have to be extreme — we believe that "outdoors" starts the moment you leave the house. The simplicity of life, that's a Scandinavian theme. And it's what ICEBUG is all about.
Greater safety, better quality of life — with ICEBUG, these are more than just slogans. Anyone can see that when they look at the bottom of the shoes — and compare that with regular products from other manufacturers. But do they really understand it?  The best thing would be to hear from the inventor himself. Who better to explain the benefits of the ICEBUG soles than the founder, the CEO, who lives and breathes these innovations?
"The innovations lie in our soles, which are specially developed for different seasons and activities," says David Ekelund. "For the coming season, we are equipping a few models with a new sole technology that can cope with everything from wet asphalt in the city to frozen gravel tracks in the forest. In collaboration with Michelin Technical Soles, a sole was developed whose rubber adapts to winter conditions and won't lose grip above -22 degrees Fahrenheit. With this special winter compound, customers will be able to safely get out and about in all seasons in the future. Another advantage is that shoes with these soles can also be used on parquet flooring." 
ISPO.com: Please describe the possibilities that ICEBUG shoes offer for all seasons.
For spring, summer and fall, there is RB9X® rubber. This combines high wear-resistance with extremely good grip. In terms of grip on both wet and dry surfaces, RB9X® is in a league of its own. It possesses perfect characteristics if you are walking on wet rocks, for example.
For muddy or soft ground, there is our tractor design tread. In order to achieve high performance, the mud is channeled to the sides via the specially designed tread. The principle is similar to what happens with tractor tires.
ISPO.com: And if you are looking for the best possible grip on ice?
Then studded soles are the answer. That's where our BUGrip® comes into play. If you look just at the outer sole, it's the combination of three functions that makes the BUGrip® so unique.
Firstly, there are the dynamic studs. On hard ground, these are pushed into the rubber by the weight of the person wearing them. On soft ground or ice, they push into the surface underneath the sole and provide grip. 
Secondly, the material: the tips of the studs are made from tungsten carbide, a material that is 25 times harder than regular steel and shows no sign of wear — regardless of whether on running or hiking shoes.
Last but not least, there's the number and position of the studs. From years of experience, we know the best position for the studs to be placed so the foot is supported on slippery ground whether moving forwards or to the side.
With the BUGrip® sole, you can therefore not only walk forwards but also quickly start and stop as well as change directions quickly. Whether on asphalt or on sheer ice.  What's more, our shoes are — depending on the intended use — fitted with waterproof and water-repellent uppers and thermally insulating lining.
"Safe Grip. Free Mind." The ICEBUG concept is very successful in Sweden. Now the focus is on the DACH market. How can you persuade sports retailers in Germany, Austria and Switzerland to give ICEBUG a prominent place in their product range?
ICEBUG is unique not only with respect to one-of-a-kind technologies but also when it comes to recognizing that consumers have a need for this technology. As soon as customers become acquainted with this technology, we have an extremely high recommendation rate.
And that, in turn, benefits the market.
That's right. We're serving a niche that can be developed into a new sales category. And that means more business and sales. Together with retailers, we can create "wow" moments in stores. The retailer can provide a hands-on explanation of the benefits of our ICEBUG innovations — for example in the form of test events on ice or similar activities. I'm of the opinion that sports retailers have to consider new business areas and sale experiences nowadays — that's a universal development.
Maybe access to nature isn't always as easy in the DACH countries as in the North but, with a bit of creativity, outdoors can be anywhere — just beyond the front door and as a part of everyday life.
ICEBUG itself also organizes a series of events  where it's not all about winning. How would you describe the ICEBUG spirit in this context?
I believe that people who take part in our walking events quickly feel part of a special community. We organize the events the way we ourselves would want to experience nature and welcome everyone who wants to share this feeling with us. One example is the ICEBUG Xperience, a three-day walk along the west coast of Sweden. It's an athletic challenge for everyone, but the oldest participant was over 80 years old.
So everyone can join in and find their own rhythm. I think it's great to see how many happy faces cross the finish line at the end. That attitude is part of our mission: we want to enable people to lead a healthier and happier life.