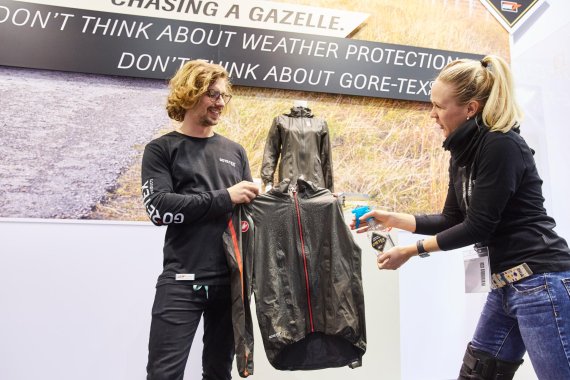 In 1983 the UN Commission on Environment and Development defined sustainability as "development that meets the needs of the present without compromising the ability of future generations to meet their own needs".
Small, flexible companies from the sporting goods industry have usually upheld the cause of ecological awareness right from the start; the industry giants are now following.
Gore Tex wishes to switch to PFC-free production in the future
Such as, for example, Gore Tex, which announced at ISPO Munich 2017 that its production will be PFC-free in the future. Columbia has already moved and is represented at the trade fair by the bluesign-certified pure white Out Dry Extreme Eco.
At Patagonia, environmental protection has been a tradition since the company was founded in 1973.
"Our first and greatest interest is in the wellbeing of our planet. We are all humans, who wish to experience unspoiled nature. Protecting these areas is much more important than any business. How does the saying go? Nobody can do business on a dead planet," says General Manager Ryan Gellert.
Patagonia calls for a rethink
Patagonia calls for a rethink, not only in the sense of nature, but also in the value chain in industry – in accordance with the motto "reduce, recycle, repair, resell" .
Through the sustainability project "Worn Wear" the Californian company also encourages the repair of damaged functional clothing, instead of a new purchase.
We are SpinDye melts plastics
High water consumption, a lot of chemistry – this is what the dyeing process used to look like. The Swedish company "We are SpinDye" sees this differently. The company melts plastics. The desired color pigments are then added to the undyed material.
Textile trends researchers predict that mixing materials will become a great trend. Very soon, for example, Merino will be combined with synthetic fibers – for the first time at ISPO MUNICH!
VIDEO: How to Develop Sustainable Sports Fashion