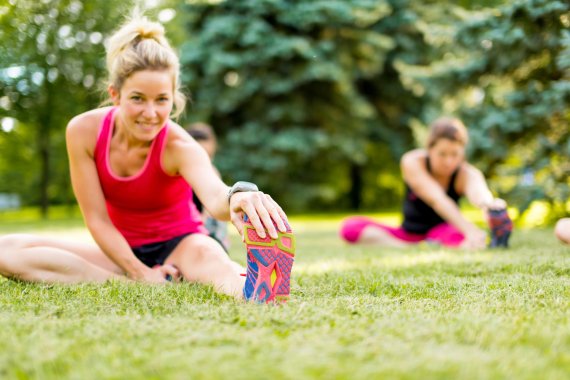 A switch to summer synthetics featured. Moisture management was the choice in synthetics, a key function in keeping you comfortable and dry, but a new tactility is emerging in the textile sector as 'cool touch' fabrics come to the forefront. At the recent ISPO TEXTRENDS jury meeting for Spring/Summer 2018, an array of this new functionality featured through the products submitted.
How do you get this cooling sensation?
A variety of products are emerging in the market from yarns through to finishes in generating this cooling effect. Combined with inherent moisture management and UV protection, the cooling element is the icing on the cake to activewear, not just for sports activities but for active living. What is key, these aren't fabrics that just keep you cool, they are cool-to-touch, psychologically giving a comfortable feel to the wearer.
On the yarn front Hyosung has developed MIPAN aqua-X a cool-to-touch nylon with UV protection and high sweat absorption, ensuring that the wearer is comfortable, cool, dry and protected from the sun. NILIT, the nylon 6.6 provider had developed NILIT Breeze in their yarn portfolio, that also offers a cooling effect during and after physical activity combined with UV protection and an ultra soft and smooth sensation. Used pure or blended, these cooling synthetics deliver a permanence to garments, in loose fit or body enhancing compression wear.
From fiber to fabric
Polartec, synonymous for their warm fleeces has launched Polartec DELTA, a perfect collection of fabrics destined for the yoga and active markets. The performance fabrics have a very natural but cool touch due to the unique blending of syntethics and cellulosics, a sure hit with the growth in the active sports sector. In addition, the cooling aspect is inherent to the fabric structure, inspired from car radiators, making the cooling performance a permanent aspect.
Concept III Textiles International has a partnership with Coolcore, a patented, chemical-free fabric technology utilizing a unique combination of fibers and cross-sections for three specific functions, wicking, moisture transportation and controlling the rate at which the moisture evaporates from the garment for the cooling effect. These components help to reduce the fabric's surface temperature up to 30 percent lower than skin temperature. Additionally, with the Coolcore technology being chemical-free, the performance benefits never wash out.
Cooling Finishes
Burlington has added a new cooling fabric to its range, MCS A.C the latest development on their core MCS base fabrics that offers moisture management and quick dry. The AC (advanced cooling) aspect is a finish applied at the fiber level in the form of microcapsules with a life span of 30 plus washes. The microcapsules consisting of sugar, water and alcohol burst and release the contents on friction and when you sweat, giving an immediate cool feel against the skin.
Dynamic cooling features at HeiQ with their Adaptive finish. Applied at the padding process of the textile manufacturing, Adaptive does give a cool touch to fabrics and is becoming a popular add-on in giving fabrics a performance aspect through layering technology. To touch, fabrics treated with Adaptive feel incredibly fresh and cool,  and due to being a finish can last over 30 washes plus. In addition, for active brands, Adaptive is a cost effective way of adding a higher level of performance to get that cool feel.