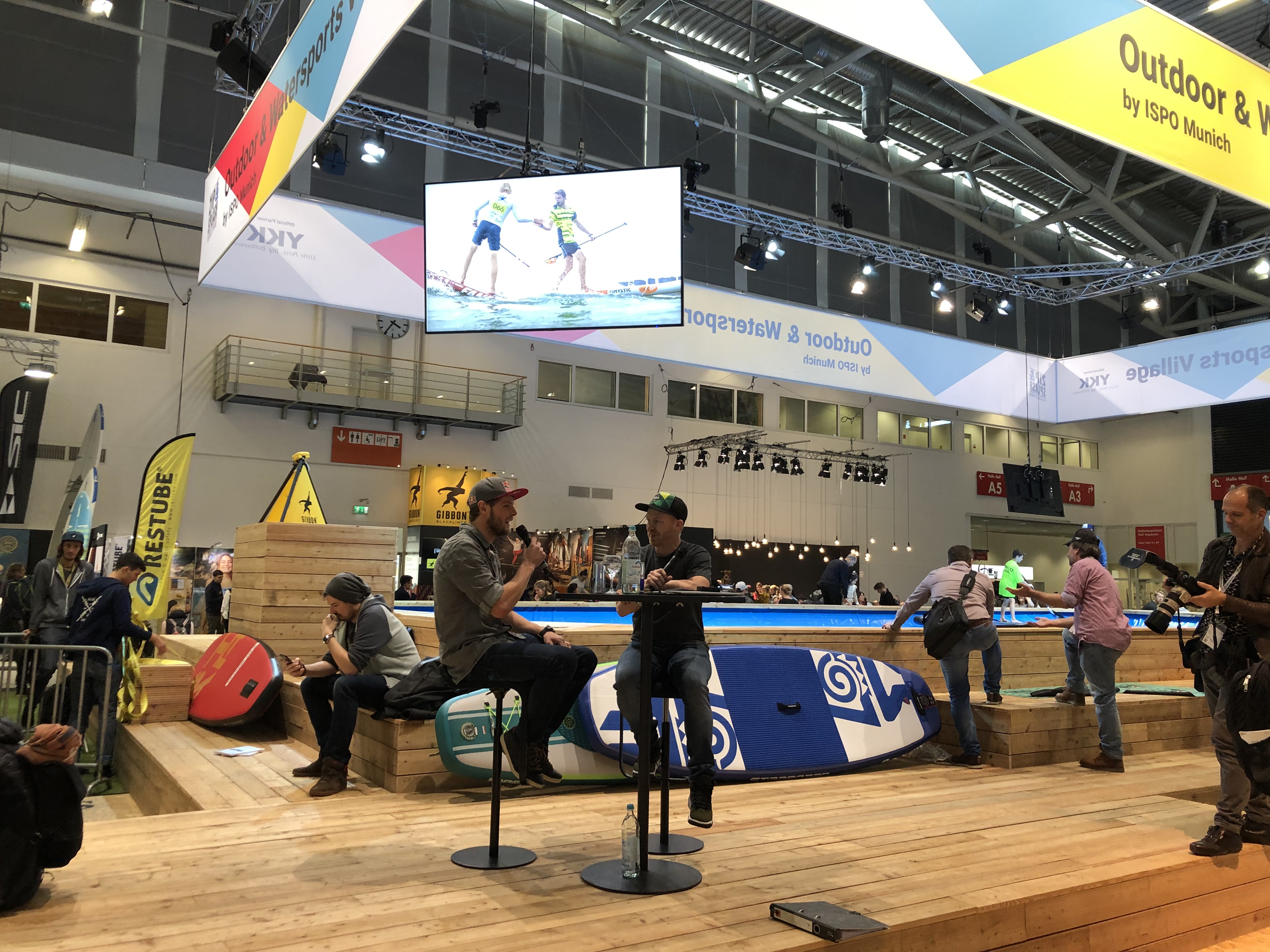 When Casper Steinfath told his fascinating story, the paddlers cavorted in the giant pool of the Outdoor & Watersports Village of ISPO Munich 2019. Suddenly there was a loud "splash" in the background - a paddler fell into the water. The world champion smiled. "The most important thing in Stand Up Paddling is balance," said the likeable Dane with a little wink.
Casper Steinfath is a legend in SUP sport. In March 2018, the SUP World Champion was the first paddler to cross the 147-kilometer wide Skagerrak. The strait between Denmark and Norway is one of the wildest waters in Europe and is known for its strong currents. The multiple world champion needed more than 18 hours for the crossing. The rough sea and temperatures around the freezing point made the venture a great adventure.
"The biggest challenge was the extreme cold. On my first attempt, my drinking bladder froze after the first few kilometres", Steinfath revealed, "I learned more from the failure than from any victory". With the lighthouse on the Norwegian mainland already in sight, the SUP World Champion had failed in the first attempt only ten kilometres before the finish of his dreams, due to the offshore current.
"In the second attempt, everything fit. The mental attitude was right and I was better prepared," Steinfath said. A detailed diet plan and a larger board were the keys to success for the multiple world champion.

The SUP legend is currently working with director Peter Altsted on a documentary about the crossing. It is especially important for the professional to be an inspiration for other paddlers and to inspire as many people as possible for his sport.
The release of the film is planned for the start of the season in May. The Red Bull documentary "Standing on water" about Steinfath's SUP career offers a nice foretaste.
Casper Steinfath's enthusiasm for his sport is clearly noticeable. And the spark is sparking. The professional gives beginners the following tips: "In the beginning, a large and stable board provides more riding fun and a lot of self-confidence. 10 foot x 32 inches is an ideal size. The fastest way to learn basic techniques is with a professional. Fast progress is thus guaranteed and fear can't even arise."
"Then it's best to spend as much time as possible on the water," said the professional. Surfing is the ideal complement to Stand Up Paddling and another of Steinfath's passions. "Surfing is a particularly effective workout for balance and physical fitness."
In winter, the SUP professional prefers to spend his time in the snow. Steinfath is also a passionate freerider. Just a few weeks ago, he used the off-season and was powdering in Japan.