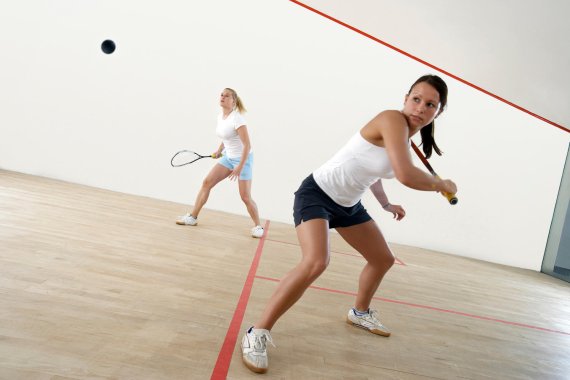 Here are some highlights where you can exploit your body and soul before and after visiting ISPO MUNICH:

Beachvolleyball at Beach38º

The beach38º offers everything you want when it comes to beach volleyball. Hidden in a backyard just behind the East train station are five courts (16x8meter) in a gigantic indoor hall with a ceiling height of 18meters. The white sand is heated and makes for tropical holiday vibes! Also on offer: soccer and beach tennis.

Table tennis at Schelling Salon

It's hard to believe but true – in this tavern you can play pool, cards, chess and table tennis! In the basement three table tennis tables are put next to each other in a pretty small room, only separated from each other by curtains. Add a low ceiling and it makes playing table tennis in this location a true challenge – and a real insider tip!

Tennis at Rothof

Six indoor courts attract enthusiastic tennis players to the Rothof in Bogenhausen. The green carpet flooring with granulate is like playing of clay. When the match is over you can go for a session in the gym or sauna.

Squash at Racket-Park

Fast, faster, the fastest – squash is said to be one of the fastest sports in the world. While the pros hit the ball at more than 200kmh, the speed in amateur matches is a bit slower but this doesn't mean less fun. In the Racket-Park in Haar you can go full speed: The facility has six courts with swing-beam wood floors – and a sports shop.

Badminton and spa area at Sportzentrum Martinsried

Here, a specific swing-beam floor protects the joints while playing badminton; another extremely fast sport. When the weather is nice the ceiling of the sports center can be opened – even in winter! You are asked to wear shoes with a bright sole but they can also be borrowed for a small fee on location. In Martinsried you can not only play badminton but also enjoy the spa area with some special features like hot and cold alternating baths that boost the immune system and metabolism. Indoor and outdoor sauna, steam bath or the frigidarium where snow comes out of the walls provide further relaxation and pleasure.

Indoor soccer at SoccArena in the Olympic Park
Four match courts (30x15m) and one speed court (26x13m) provide intense soccer encounters, mostly five a side. The blue-colored artificial turf is interspersed with granulate, while nets fence the individual soccer fields. Specials: the SoccArena Party, Buffet & BBQ and the SoccArena Business Kick. Of course the ball is never out of sight…

Kart racing at Kart Palast Funpark

Only 15km West of Munich, this indoor mobile paradise would even thrill Sebastian Vettel & Co.! We are talking about the Kart Palast Funpark, in Bergkirchen, located at the motorway exit Dachau/Fürstenfeldbruck (A8). Here, you can speed in modern electro karts at 65kmh along a 450meter long racetrack including short straights, tight turns and even pit lanes! In case you still want more, try your luck at bowling or adventure mini golf. One thing is for sure: You won't get bored in the Funpark!

Tennis at the Allwetteranlage

This facility offers everything you need when it comes to tennis! You can play on 14 indoor courts that fulfill the greatest demands and choose between three different types of flooring: Rebound Ace, carpet or clay. Tip: For the changing room in the pavement you need a 2-Euro coin as deposit.

More sports tips for climbing and swimming in Munich: 
Climbing – "Munich is a real hot spot"
New ID in CMS: 76228340