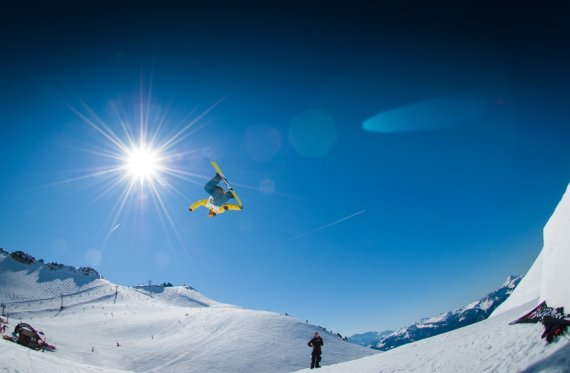 When you're hitting the slopes you have plenty of awesome wearable devices and kits to improve your skiing and snowboarding experience. It all started with special helmet-mounted cameras, but has now developed into an entire industry with exciting products. In previous years, skiing technology has often been focused on new forms of lightweight clothing fabric or new ski innovations, but now, we have plenty of wearable devices and perfect accessories specifically developed for winter sports like skiing and snowboarding.

The innovations span from different cameras and GPS-smartwatches to heads-up displays which are integrated into your goggles to track important performance metrics and achievements direct-to-eye. And further exciting products are on the way. It remains interesting which new developments will be submitted in the WT Innovation World Cup this year, ending on October 17th.
Garmin Fenix 3 watch
Let's start with probably the best ski watch out there, the Garmin Fenix 3. This GPS smartwatch automatically tracks individually runs while recording speed, distance and vertical drop data. The progression from the Garmin Fenix 2 adds an automatic run counter with auto pause support and as you're on the way back up the mountain, you can instantly see how your run compared to others on that day.

Through the fabric strap, you can wear it over your jacket and you can even use it as a remote control for Garmin's action cameras. The Fenix 3's main functions include an altimeter, barometer, compass, temperature gauge and, of course, GPS. It will also pair with your smartphone to show text messages, alerts, e-mails, weather and a host of other brilliant features. Now there's something to do on the ski lift other than enjoying the view.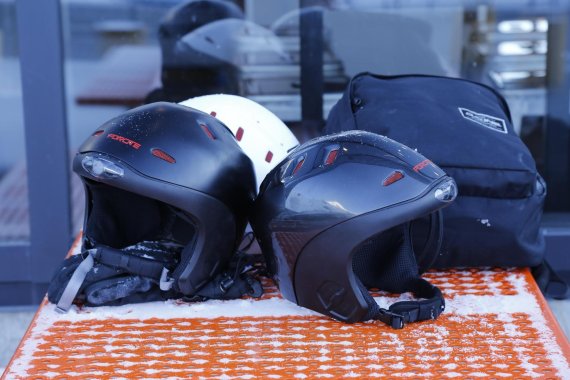 Oakley Airwave
Oakley offers a heads-up display that shows speed, altitude and jump analytics on a small 1-inch display. With integrated GPS users can record their routes and if their buddies are also wearing Airwaves or using the smartphone app, the display will direct the information straight to them. With the trip viewer, users can review their performance stats, like max speed, total vert and max air, in detail, run by run or for the whole day. Another neat feature is the ability to pair up the Airwave goggles with a Garmin VIRB action camera to catch the best moments.

Read More about the Top Five Winter Wearables.
But there's much more. With navigation you can pinpoint your location on a resort map, find the run or point-of-interest you're looking for. You can also view incoming calls and text messages  from your smartphone via the Low Energy Bluetooth connection. Apart from its amazing looks, this heads-up display offers a variety functions to improve your skiing experience.
Recon Snow 2 display
Former Innovation World Cup winner Recon also has a heads-up display on the offer especially designed for alpine sports with onboard processing power, a suite of sensors and networking capabilities to enrich, but never disrupt alpine experiences. The dual-core, Bluetooth and Wi-Fi enabled device sits neatly in the corner of the goggles and has a host of sensors that track important performance metrics and achievements direct-to-eye in real time, such as speed and distance, current altitude or vertical drop, while the Snow 2 HUD can also hook up to your phone to display calls, texts and music information.

Read More about the Ski Wearable That Can Coach You
It also offers navigation and friend tracking with expert guidance wherever you are on the mountain as well as smartphone connectivity. When you are back in the valley, you can manage, relive and share your alpine experiences with Recon Engage Mobile Apps and web platform. You see that these two heads-up displays offer amazing functions. Now you only have to choose one of them!
Alpine Helmet
Forcite provides Alpine helmet with a 4k built-in action camera, a walkie-talkie feature, headlights, GPS and even a pair of Bluetooth speakers for your music. The accompanying app will include auto-footage editing and stat overlay for videos. The app also analyses important performance metrics like top speed, altitude, airtime, and distance. Better yet, it will trim out the parts of your footage that are boring, and skip straight to all the backflips and a front side 360's you did on your last run.

The Forcite Alpine helmet also has OLED fog lights so you can still do your tricks even with poor weather conditions. Summing up one can say that the combination of hardware and software opens up numerous possibilities and new innovative features such as activity & performance tracking, sharing experiences to social media, helmet-to-helmet and back-to-base communication and even live streaming, all in one device!
Christian Stammel is CEO at WT | Wearable Technologies, a leading innovation and business development platform for wearables, and updating ISPO.com readers about latest trends on digitalization, wearable tech and IoT in sports, fitness and well-being. More information about WT at www.wearable-technologies.comhttp://www.wearable-technologies.com