(iOS 4.5 stars, Google 4.5 stars):
The Leipzig-based company says it is the bike-sharing market leader in Germany and Europe. It has been renting bikes since 2004, so it has a lot of experience. Nextbike is available in over 300 cities and more than 25 countries on four continents - partly in cooperation with transport companies such as the KVB in Cologne or the Bremen tramway network. According to consumer organisation Stiftung Warentest, Nextbike ranked first in 2019 with a score of 1.9, thanks to neat and safe bikes as well as convenient booking. In most cities, the quarter of an hour costs one euro in the basic tariff. For frequent riders, there's the 10-euro monthly subscription with cheaper prices.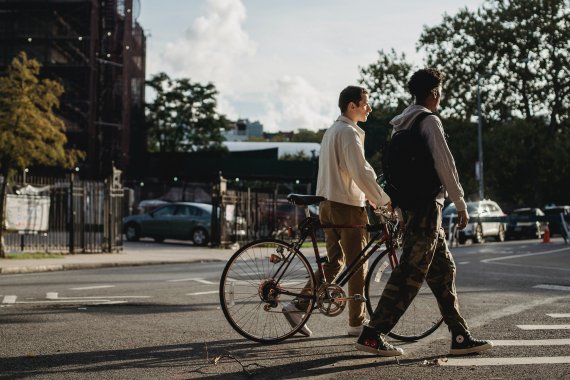 (iOS 4.4 stars, Google 3.8 stars):
Bike sharing from Berlin-based company Wind Mobility works completely stationless. The bikes can be rented and parked anywhere in the business area. Thanks to the "Internet of Things" (IoT), this is supposed to work particularly conveniently, without keys, cash, ID or deposit. Prices start at one euro for 20 minutes. However, the "Bykes" are much less widespread in Germany than Nextbike or Call a Bike. In addition, Stiftung Warentest criticized the safety of the bikes - and the fact that to this day, the terms and conditions state: "You are obliged to check the vehicle for visible defects before starting your journey."
(iOS 4.5 stars, Google 4.0 stars):
If you're not a donkey, borrow a bike. Under this motto, the Danes are active in over 50 European cities, including Berlin, Freiburg, Regensburg and Landshut. Prices vary from city to city. In Berlin, half an hour costs 1.50 euros. There is also the possibility to rent a Donkey bike for 14 days, for example. Disadvantages: There are fixed stations for borrowing and returning. And again, Stiftung Warentest is dissatisfied with safety and brakes - which users also note in the app stores.
(iOS 4.9 stars, Google 4.7 stars):
The Californian provider sends its bikes, e-scooters and e-mopeds on the road in over 150 cities worldwide. Among them are 16 German rental areas from Cologne to Hamburg, from Frankfurt to Stuttgart. In Berlin and Munich, Lime also offers e-bikes from Uber subsidiary Jump, which it acquired in 2020. However, at one euro for activation and 25 cents per minute, they are significantly more expensive than a normal bike. For renting and returning, there are either fixed stations or zones in the city, which are marked in the app. With Lime, Stiftung Warentest also criticizes the safety of the bikes. The star ratings are top, but there is some criticism of the technology of the vehicles and the process of returning them.
(iOS 4.5 stars, Google 1.9 stars):
Bike sharing with a difference - this is what Dutch company Swapfiets (translated: "exchange bike") also offers in Germany. Users do not return the bikes with the typical blue front wheel after one ride, but rent them for a longer period of time. If you don't have a bike at the moment, you "swap" your bike - and the provider takes care of any repairs. Swapfiets then brings a new bike as a replacement. This works in over ten German cities from Bremen to Berlin to Munich. Prices: From 16.90 euros a month for the normal Holland bike to 99 euros for a transport e-bike. In addition, there is a one-off fee of 19.50 euros at the start of the rental period. So for a few months of "swapping" you could buy a reasonably roadworthy bike. But the rental bike doesn't break down all the time. And if it is stolen, the Dutch provide a replacement for an excess of 60 euros - but only if the user has locked the two locks properly.
(iOS 2.1 stars, Google 2.1 stars):
Among app users, Deutsche Bahn's bike-sharing service is not necessarily the favorite. But thanks to safe bikes, Germany-wide distribution and decent data protection, the service comes in second behind Nextbike with a score of 2.3. However, like many users, the testers criticize the sometimes outdated and unkempt bikes as well as problems with renting and returning via app. The undisputed advantage is the large Germany-wide offer with over 16,000 bikes and now also e-bikes in over 70 cities. In the standard tariff with an annual fee of three euros, half an hour of riding costs one euro. Call a Bike is not cool and hip - but in many cities it is the best and easiest way to get around quickly.
(iOS 4.1 stars, Google 2.7 stars):
The fastest bike-sharing in the world comes from the supposedly leisurely Switzerland. And the magic number at Bond ("eBike on Demand") is not 007 - but 45! Because that's the speed of the electric S-pedelecs, which the company from near Zurich is now also offering in Germany, initially in Hamburg and Munich. 45 km/h, 50 kilometer range, 49 cents per kilometer - the numbers are impressive. And a driver's license is mandatory. Although the Zurich newspaper Tagesanzeiger speaks of the "Ferrari among bikes", there is still time for Swiss cosiness. According to the provider, every Bond bike comes with a "helmet in the basket". This is also mandatory. And, according to Bond, which was formerly called "Smide": "Your head is your capital - protect it!"