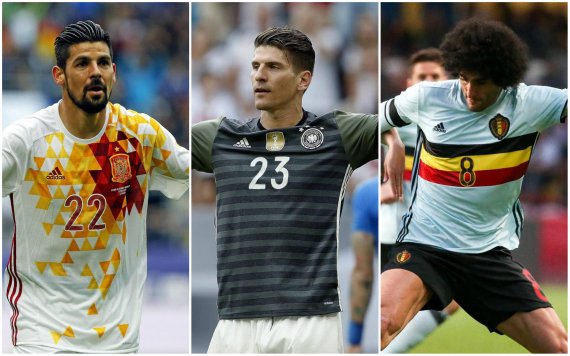 "Waldmeister" statt Weltmeister? Für die Auswärtstrikots der DFB-Auswahl gab es reichlich Spott, als sie im November 2015 vorgestellt wurden. Das Outfit in Khaki- und Grün-Tönen trifft längst nicht jedermanns Geschmack. Bei sämtlichen User-Umfragen im Internet schneidet das deutsche Auswärtstrikot schlecht ab; mindestens Dreiviertel der Fans finden es "hässlich". 

Bei der EM 2016 in Frankreich war die umstrittene Adidas-Kreation nicht zu sehen. Eine andere bekam umso mehr Häme ab: die Away-Kollektion der spanischen Nationalmannschaft. "Sieht aus, als wäre Real Madrid in Paella gefallen", wurde in den sozialen Netzwerken über die weißen Trikots mit den gelben, orangen und roten Dreiecke gelästert.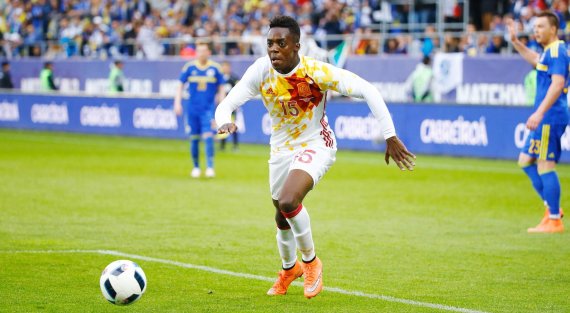 Da stellt man sich doch die Frage: Wer designt solche Trikots und warum? 

ISPO.COM hat mit dem Experten für Farben, Material und Trends von DFB-Ausrüster Adidas, Vincent Lecrosnier, über den tieferen Sinn hinter den Kreationen gesprochen. 
Herr Lecrosnier, Adidas hat zehn der 24 EM-Teams ausgerüstet. Wie ist man das Trikot-Design der Nationalmannschaften angegangen?
Vincent Lecrosnier: Die große Herausforderung für Adidas vor der EM war, dass man ein Trikot erstellt, das auf dem Feld gut aussieht und ein zweites, das einem Street-Approach gerecht wird, das also auf der Straße und in den Städten getragen wird. Deutschland hat zum Beispiel das Trikot mit den Grün-Khaki-Tönen.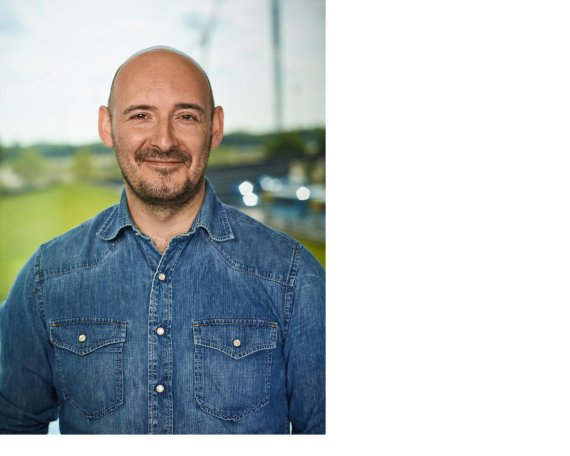 Und diese Farben sind der Look für die Städter?
Man muss verstehen, dass Fußball für viele Kinder und Jugendliche schon eine Art Lifestyle geworden ist. Deswegen muss man sagen: Was auf dem Feld passiert, ist wichtig – aber noch wichtiger ist, was neben dem Platz los ist. Das ist ein großer Teil des Marktes. Die Herangehensweise war, dass wir gesagt haben: "Alles klar, wir kreieren ein markantes Aussehen." Und Deutschland hat dann die Khaki-Farben mit Streifen bekommen, was definitiv eine Verbindung mit dem Ready-to-wear-Ansatz aufweist.
Ready to wear bedeutet "bereit zu tragen", es gibt keine Einzel- oder Sonderanfertigungen und es beschreibt einen modischen Look für die Straße. Wie sieht es bei anderen Teams aus?
Bei Russland ist ein großer Adler auf dem Trikot, was mehr ein grafischer Ansatz ist. Die Spanier haben auf dem zweiten Trikot Micro-Dreiecke, die aussehen wie ein großes Muster. Ich würde sagen, alle entsprechen einem modernen Street-Approach – das ist das Interessante.
"17-Jährige sind unser Kernmarkt"
Aber unterm Strich verkaufen sich doch die klassischen Trikots, die die Spieler auf dem Platz hauptsächlich tragen, immer noch am Besten, oder?
Das kann ich kaum beurteilen, weil ich die Zahlen nicht kenne. Aber ich glaube, dass das offizielle Trikot aus vielen Gründen das Trikot ist, das die Leute im Fokus haben. Denn wenn man in den finalen Runden des Turniers ist, weiß jeder, dass die Teams die traditionellen Trikots tragen. Das macht ja auch Sinn. Aber trotzdem sind die zweiten Sets sehr wichtig, denn sie vermitteln ein Gefühl, in welcher Saison man sich befindet. Wenn wir an die On-Field-Jerseys denken, dann kann man sagen, dass sie durch die Techniken immer durchdachter und raffinierter produziert sind. An den Nummern zum Beispiel sieht man, dass es nicht nur um den Druck geht, sondern auch, wie die Nummer im Trikot verarbeitet ist. Die Produktionstechniken sind Dinge, die die Marken in Zukunft weiter ausbauen werden.
Lesen Sie auch: Auf diese Fußballschuhe setzt die DFB-Auswahl
Ist das DFB-Trikot in den Khaki-Farben also stylischer?
Es ist jünger. Es ist super wichtig, mit der Zeit und den jungen Athleten und Konsumenten zu gehen. Das Nationaltrikot ist für jeden da, das ist klar. Aber der Kernmarkt ist ein 17-Jähriger, weil der mit der Zeit geht, modische Kleidung trägt, Social Media nutzt und damit zu einem Influencer, zu einem Creator wird.
Wie findet man konkret heraus, was 17-Jährigen gefällt?
Zunächst wird das von Marketing getrieben, dazu treffen wir uns mit Konsumenten. Außerdem erforschen wir die kommenden Styles und wir sprechen mit den wichtigsten Athleten. All diese Faktoren geben uns eine Übersicht über die Trends.  
Jedes Farbdetail muss abgesprochen werden 
Haben die Spieler bei ihren Arbeitsklamotten ein Mitspracherecht?
Wir haben Spieler wie Lionel Messi oder Paul Pogba, die können ins Design involviert werden: Wenn sie wollen und wenn sie dafür Zeit haben. Sie haben eigentlich immer einen kurzen Blick auf das Produkt. Wenn sie zum Beispiel eine Farbe nicht tragen wollen, dann steht im Vertrag, dass wir das zumindest noch mal diskutieren. Natürlich machen wir die Produkte immer für die Athleten. Es gibt viel Aberglaube unter den Athleten, deswegen müssen sie sich wirklich wohlfühlen mit den Produkten. Denn wenn dich etwas stört, man sich nicht wohlfühlt, dann hat es vielleicht einen negativen Einfluss auf dein Spiel. Deshalb respektieren und folgen wir den Wünschen der Spieler. Aber natürlich gibt es auch viel Input von außen. Man kann nicht sagen, dass sie zwei Monate am Prozess beteiligt sind, aber wir diskutieren mit ihnen. Wir gehen auch zu Klubs und lassen die Spieler die Schuhe testen und wollen dann das Feedback hören. Das Testing ist bei Adidas schon zur Obsession geworden.
Welche Einflüsse gibt es neben den Athleten noch?
Bei den offiziellen Trikots findet mit den Verbänden eine Validierung statt, denn zum Beispiel der deutsche Verband hat eine eigene Sicht der Dinge und kann uns unterstützen, die Werte von Deutschland, die des deutschen Fußballs zu finden. Eigentlich hat jedes Land eine starke eigene Meinung. Das heißt, jede Farbe, die wir einbringen wollen, müssen wir erst mit den Nationen diskutieren.
DFB-Auswärtstrikot: "Farbe ist super cool"
Bleiben wir bei den deutschen Trikots in Khaki: Welche Werte transportieren diese?
Das ist natürlich zunächst eine Farbe des Militärs. Aber heute sind wir in 2016, jetzt ist der Moment, etwas Neues zu probieren. Es ist wirklich nicht mehr nötig sich mit alten Bedeutungen der Farbe auseinanderzusetzen. Deshalb, finde ich, ist die Farbe einfach super cool. Ich meine, wir sollten den Blick nach vorne richten, nicht in die Vergangenheit. Das ist das Schöne an der Farbe, zu sagen: "Schau, es geht nicht um Militär, sondern darum, was auf der Straße modern ist."
Geben Sie bitte mal einen Ausblick: Welche Farben tragen Fußballer, Athleten und andere Sportler in den nächsten Jahren?
Ich würde sagen, nach dem großen Trend der natürlichen Farben und Schwarz-Weiß, wobei es sich sehr um Minimalismus und Eleganz gedreht hat, kommen jetzt eher die aussortierten Farben in Neon wieder zurück. Wenn ich mir den Markt so ansehe, sehe ich blau, rot, weiß – diese Farben kommen wieder.
Beschreiben Sie doch mal genauer, wie Sie als "Director Colors, Materials and Trends" bei Adidas die Trends ergründen?
Es gibt zwei klar getrennte Felder: Auf der einen Seite definiere ich mit meinem Team die Hauptrichtung, die Kernideen in Bezug auf Farben und Material, die den Flavor der Saison bestimmt. Wenn wir das getan haben, bilden wir eine Strategie und fragen uns, welche Farben wir verwenden. Der zweite Bereich ist das Teammanagement: Ich bin fokussiert auf Fußball, Tennis und Kinder-Sport. Ich verbringe also Zeit mit Farbdesignern, um vernünftige Strategien für diese Kategorien zu entwerfen. Zusammengefasst: Mein Job ist es, starke Farben, ein starkes Produkt und damit einen starken Umsatz zu erzielen. Involviert sind wir dabei hauptsächlich bei den Schuhen, aber auch bei der Kleidung.
Das sind die Mode-Trends zur Weltmeisterschaft 2018 in Russland.