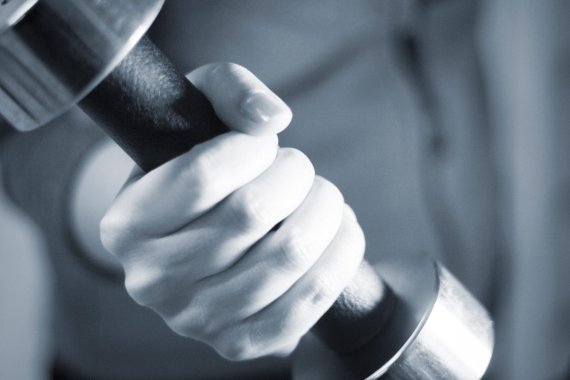 Schweißtreibendes Sprint-Training, akrobatisch anmutende Klettereinlagen, zentnerschweres Gewichte stemmen – Crossfit ist auf dem Vormarsch und wird nicht von ungefähr als härtester Sport der Welt bezeichnet. Kaum eine andere Form von Fitness- oder Krafttraining verlangt Körper und Geist so viel ab wie der aus den USA stammende Trend. Doch Schweiß und Anstrengung scheinen keinerlei abschreckende Wirkung zu haben, im Gegenteil: Neue Crossfit-Boxen schießen wie Pilze aus dem Boden – war der Sport bis vor einigen Jahren noch weitgehend unbekannt, verfügt inzwischen fast jede Stadt über eine eigene Crossfit-Halle, Tendenz weiter steigend.

Crossfit ist mehr als nur Training. Es ist eine Art Lebensphilosophie, bei der sich alles um die körperliche Leistungsfähigkeit dreht – etwas überzogen wurde in diesem Zusammenhang bereits der Begriff einer Sekte verwendet. Was aber macht den Sport so kultig und warum übt das dynamische Krafttraining eine solche Anziehungskraft auf die vor allem jungen Sportler aus?

Absoluter Fokus – das Training in der Crossfit-Box

Wer ins Fitness-Studio geht, kennt das: Das hier trainierende Publikum ist eine bunte Mischung aus ambitionierten Heranwachsenden, fitgebliebenen Senioren oder solchen, die es werden wollen, testosterongeladenen Kraftsportlern und schrägen Paradiesvögeln, die das Studio als Bühne nutzen. Dabei trainiert jeder für sich und nutzt Geräte, Laufbänder, freie Hanteln oder das eigene Körpergewicht, wie es ihm gefällt. Crossfit-Boxen sind da anders: Die Hallen haben fast immer einen fabrikähnlichen Charakter und versprühen einen rohen Charme. Hantelstangen, Kettlebells, Racks und Seile die von der Decke baumeln – Einrichtung und Equipment sind funktionell und minimalistisch ausgerichtet. Wohlfühlatmosphäre sucht man hier vergebens, es geht um Arbeit und Schweiß. Diese Atmosphäre bestätigt sich auch, wenn man die Crossfitter beim Training betrachtet. Hier wird gebeugt, gesprintet und gestoßen bis wirklich nichts mehr geht. Fast schon fanatisch ist der eigene Fokus auf das Erreichen einer bestimmten Leistung gerichtet. Und wenn ein neuer Rekord aufgestellt ist, wartet schon der nächste.

Extreme Motivation – das Training in der Gruppe

Auch das Training in den für das Crossfit typischen kleinen Gruppen motiviert und schweißt enorm zusammen. Wer regelmäßig gemeinsam bis an die Grenze der eigenen Belastbarkeit geht und sowohl Siege als auch Niederlagen miteinander teilt, entwickelt ein Gefühl, das verbindet.

Durch den ständigen Vergleich der eigenen Leistung mit denen der Trainingspartner befindet man sich zudem in einer Art dauerhaften, unterschwelligen Wettbewerb – der Zeitdruck beim Workout of the Day (WOD) sorgt zusätzlich dafür, dass die eigene Leistung immer gedanklich präsent ist.

Wo ein Fußballer oder Boxer sich auf ein Turnier vorbereitet, gilt es beim Crossfit bei nahezu jeder Trainingseinheit die eigene Leistung zu verbessern. Übertriebener Ehrgeiz kann dabei durchaus auch negative Folgen für die Gesundheit haben – Übertraining und Verletzungen an Sehnen und Gelenken sind beim Crossfit leider keine Seltenheit.

Gesundheit oder Leistung – Crossfit und Paläo

Wer intensiv Sport treibt, sollte sich auch dementsprechend ernähren. Beim Crossfit hat die Ernährung jedoch einen besonders hohen Stellenwert. Paläo-Diät oder Steinzeit-Kost nennt sich die spezielle Form der Ernährung, die mit dem dynamischen Krafttraining oft in einem Atemzug genannt wird. Brot, Milch, Zucker oder industriell hergestellte Produkte sind für Crossfitter ein absolutes No-Go. Ausschließlich natürliche und vor allem qualitativ hochwertige Kost kommt bei den Athleten auf den Teller. Fleisch, Fisch, Eier, Obst und Gemüse bilden die Grundlage dieser Ernährungsform – in erster Linie darauf ausgerichtet, den Körper mit allen notwendigen Nährstoffen zu versorgen, um die eigene Leistung zu steigern.

Diese spezielle Form der Ernährung einzuhalten, ist nicht immer einfach. So geht der Gedanke an die richtige Nahrung und damit auch an Training und Leistung weit über die Tore der Crossfit-Boxen hinaus und begleitet die Trainierenden in ihrem Alltag.