Alex Megos
Life, bio and achievements of the climbing professional
Alexander Megos is one of the best rock climbers in the world, and with his ambition and discipline he became the first climber to climb a 9a rated route on-sight - on the first attempt. Overnight, this made him famous and he has continued to climb relentlessly ever since. In the meantime, Megos has climbed the most difficult routes on the climbing scene and has thus climbed his way to the top of the world. He also qualified for the Tokyo Olympics, which were originally scheduled for 2020, and is competing there this year to win gold.
Climbing the most difficult routes at the first attempt is the specialty of exceptional climber Alex Megos - by now he is one of the strongest athletes on the rock worldwide. However, the start of his international career was more of a coincidence.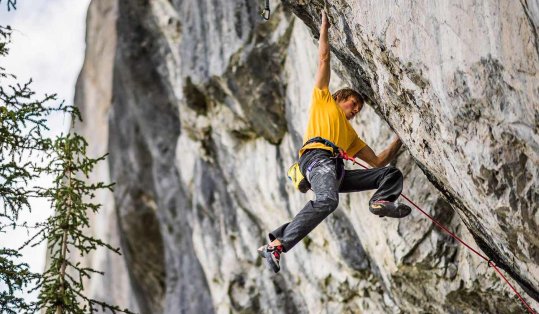 With his onsight ascent of the route "Estado Critico" in Siurana, Spain in 2013 with the difficulty grade 9a, the breakthrough of Mego's career came rather by chance. Originally, he wanted to climb a completely different route, but he couldn't find it, so he climbed the "Estado Critico" out of pure curiosity. This route had never been climbed before by any climber on the first attempt, which made Megos famous overnight in the climbing scene worldwide. As a result of this event, a steep career as a climbing professional and countless sponsor requests started for him.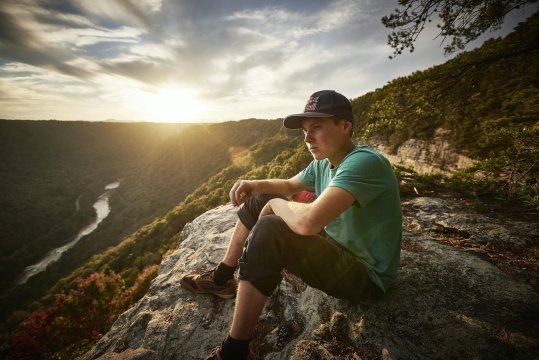 Megos has been an active participant in climbing competitions since 2006, winning the European (Youth) Championship title in 2009 and 2010, as well as a World (Youth) Championship runner-up title in 2011. He also won the individual competition of the EYC series in 2009. In 2017 he was, among other things, vice European champion in bouldering and also achieved his first lead World Cup victory in Briaçon in 2018. In 2017, he won the silver medal at the European Bouldering Championships in Munich and also took home silver at the IFSC Lead World Cup in Kranj. In 2018, he received the bronze medal at the IFSC Lead World Cup in Chamonix and shortly after won the gold medal at the World Cup in Braincon. Also in 2018, he earned the bronze medal at the Lead World Championships, and a year later, in 2019 he won the silver medal here. In addition, in 2019 he qualified for the 2020 Tokyo Olympics, which were postponed to this year.
| | |
| --- | --- |
| Year | Competition / Title |
| 2019 | Lead World Championships: 2nd place |
| 2018 | Lead World Championships: 3rd place |
| 2018 | IFSC Lead World Cup, Briancon: 1st place |
| 2018 | IFSC World Cup Lead, Chamonix: 3rd place |
| 2018 | European Bouldering Championships: 2nd place |
| 2017 | Master de Boulder, Chile |
| 2017 | CWIF: 1st place |
| 2015 | North Face Cup (Japan): 1st place |
| 2015 | CWIF (IFSC Promo Competition): 1st place |
| 2014 | La Sportiva Legends only: 2nd place |
| 2010 | European Champion (Youth) |
| 2009 | European champion (youth) |
| 2008 | German Champion (Youth) |
Alex Megos started climbing at the age of six and at the age of ten climbed 300 meters of multi-pitch with his father. He later began training at the Franconian state base in 2006 and shortly thereafter at the federal base for sport climbing in Erlangen-Nuremberg. There he also met his coaches, who are still with him today, Ludwig Korb and Patrick Matros. In 2007 Megos made his first 8a ascent and in 2009 his first 8c ascent. In 2011, he climbed "San Ku Kai," his first route of 9a difficulty. After graduating from high school in 2012, he decided to dedicate himself to rock climbing for the time being. Shortly thereafter, the first globally announced ascent of difficulty 9a followed in 2013 when Megos climbed the route "Estado Critico" in Siurana, Spain at the age of only 19. With this, he had achieved the world's first onsight ascent of a route with difficulty grade 9a.
In 2013 he climbed, among other things, with the so-called "Wheelchair" the most difficult boulder route and with R.E.D of difficulty 9a the most difficult route in Australia. This was followed by eight routes of difficulty 8c+ from mid-April to mid-June in 2014 and also the route "Modified" of 9a+, which is the most difficult in Franconian Switzerland. He also set a record after climbing a redpoint ascent of the "Action Directe" with his first attempt in just two hours. The years that followed were followed by countless other ascents, such as in 2015 the route "Supernova" in Franconian Switzerland, with which he introduced the first route of grade 9a/9b in the German-speaking world. He has also achieved first ascents such as the 20-pitch route "FLY" 8c in 2014 or the route "Perfecto Mundo" 9b+ in Margalef in 2018 so far in his career. Most recently, Megos qualified for the 2020 Summer Olympics.
"You just keep doing it now until it just works."
Alex Megos on the ascent of his most difficult route to date "Lucid Dreaming
| | |
| --- | --- |
| Sport: | Bouldering |
| Nationality: | German |
| Height | 175 cm |
| Birthplace: | Erlangen |
| Place of residence: | Erlangen |
| Birthday: | August 12. 1993 |
| Club: | Section Erlangen of the DAV |
| Coaches: | Patrick Matros and Ludwig Korb |
| Girlfriend: | Molly Thompson-Smith |
"When I'm in a negative state of mind, I always perform poorly. That's why I always try to be positive and believe in myself when I climb."
Alex Megos