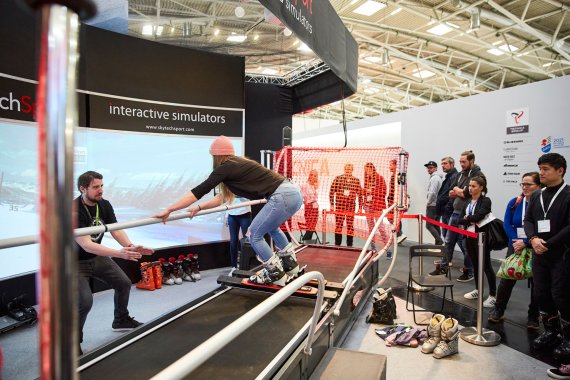 The last day of ISPO Munich 2020 sets the focus on the future of sports. The Trainee Day starts at 9:30 a.m. at the ISPO Academy Area at the West Entrance (EW.100). The all-day event offers trainees from the sporting goods industry the opportunity to visit the world's largest sporting goods trade fair and to participate in specialist presentations by industry partners.
The Trainee Day gives trainees an insight into the professional side of business, enables them to make useful business contacts and gather comprehensive information.
From the makers of the industry of the future to the potential sports of the future: No less than these are the goal of the Hackathon at ISPO Munich 2020. From 10 a.m. onwards, four teams will compete in Hall C6 (C6.20) in a contest to break completely new ground in sports by combining sensor technology, movement and transmission to a digital platform.
Each team consists of a programmer, a designer, an athlete and a project manager who is responsible for concept development. The teams will have the opportunity to test their developments live with visitors at the limbic active interactive wall directly at ISPO Munich 2020 and to immediately transfer the feedback to their next development steps. On Wednesday the teams will present their final developments.
At the same time, interested parties can also experience and try out eSports for themselves in the eSports Experience Area in Hall C6. Everyone interested gets an introduction to the special features of the individual games and can compete against other players. Professional gamers also provide tips and tricks for the individual eSports titles.
At 5 p.m. ISPO Munich 2020 will then close its doors after four eventful days. However, the next highlight, OutDoor by ISPO 2020 from 28 June to 1 July, is already in the starting blocks.
| Time | Event | Place |
| --- | --- | --- |
| 9:00-17:00 | "Handicraft instead of throw-away mania" - Vaude Upcycling Werkstatt | Hall A2, Sustainability Hub, A2.40 |
| 9:00-17:00 | Trainee Day | West Entrance, ISPO Academy, EW.100 |
| 10:00-17:00 | Hackathlon | Hall C6, Digital Sports Experience, C6.20 |
| 10:00-17:00 | eSports Experience Area | Hall C6, Digital Sports Experience, C6.20 |