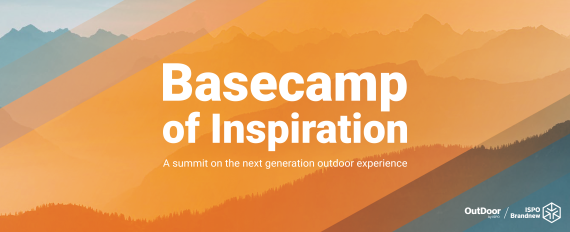 Participation is open to startups that have gone through a jury-based selection process. Potential candidates are former ISPO Brandnew participants between 2016 and 2019, or participants in our specific incubator / accelerator / innovation partner program.
Pitch us your experience concept. 
ISPO is looking to create a festival of diverse product and brand experiences: Pitch your ideas and story based on these five questions: 
What has happened to you after ISPO Brandnew? Tell us your story, your ups and downs, and how you continued to develop your company. 
How do you see your market / your segment evolve? 
What is your product vision for the next three years – how do you shape your market? 
Tell us which trend topic you want to apply for and why – or propose your own, exciting topic! 
And finally: What kind of brand or product experience would you bring to the Basecamp of Inspiration? What would you need to implement your experience concept? 
Startups can apply with a pitch deck or a simple self-produced video (max. duration 5 min, in English). Just talk to us in front of the camera – we do not expect a professionally produced video. 
The Basecamp of Inspiration is the chance to return to the trade show floor in Munich and benefit from another boost for your brand and products. Curated trend topics, exciting presentations, unique product experiences, and networking possibilities will shape a high-traffic area.
Besides the homebase space for your brand (approx. 10 sqm), you also receive your own stage time to present your thoughts and visions – digitally amplified by ispo.com. 
There will also be a space frequented by an international audience to demo your creative brand and product experience.
Another advantage is the active communication support through the OutDoor by ISPO media and press network, including:
Editorial on ispo.com on the Basecamp of Inspiration, the topics, companies, presentations, etc. before, during and after the show 
Communication via the OutDoor by ISPO PR department 
Your featured story in the upcoming ISPO Brandnew Newsletter 
Integration of media partners 
Distribution of video content on ispo.com and in social media channels
All this for an all-in package price of EUR 1,250.-.
In case you still have your ISPO Brandnew refund voucher, you can certainly redeem it for the Basecamp of Inspiration.
Opening of the online application: March 11, 2019
Deadline: April 16, 2019 

The curators of ISPO Brandnew and OutDoor by ISPO will look at all applications and select the most creative ones. Within the week after eastern every participant will get the information, if they got selected or not.