Gravelbikes - For Cyclists on and off Paved Roads
Gravel bikes are much more than a trend from the USA that has been spilling over to us for a few years now. It's a perfect mix of sport and adventure with technically adapted bikes that are fun and exciting on all types of terrain. "Gravel" is a term from the English language and means as much as gravel or gravel. This makes it clear where and on what these bikes are best used, namely on unpaved roads. But Garvel bikes are real all-rounders and are also great fun in the forest and on meadows, on gravel and asphalt.
These gravel bikes have been around since 2015, but they are now a fixed part of the range of well-known manufacturers in this country. Brands like Specialized and Trek, Cube and KTM or Alutech-Cycles, a manufacturer that configures its gravel bikes individually according to customer wishes, are also worth mentioning, as well as e-bike manufacturers like Giant, which equips its Revolt E with an Energypack Smart 375 Compact battery.
A typical gravel bike has a longer wheelbase than a cyclo-crosser and comes with disc brakes. Thanks to lower bottom brackets, it is more stable and has better directional stability. Because the rider sits more upright, he can also cover longer distances.
If you are now wondering what makes a gravel bike so special, you will find a few approaches to this. The focus is on the technical development of this bike, which is designed for long riding on paved, but not asphalted roads. There is a road handlebar and shift groups. The so-called lower handlebar is often flared, i.e. "flare", for off-road riding, which provides more comfort but also control.
An important feature are the disc brakes with a diameter of 160 millimeters.Most Gravelbikes have 28 inch wheels, which are suitable for tires up to 47 mm without mudguards. When riding, a rather upright riding position is typical, with the angle of the upper arms being less than 90 degrees. This relieves the hands on long distances.The bottom bracket sits very low to ensure more stability in rough terrain. To run straighter, there is more trail on the fork than on normal road bikes.
You could also link the fascination of gravel racing to the new awareness of sustainability and the environment. After all, one of the strongest arguments for gravel races becoming more and more popular is not only the increasingly powerful bikes, but also the general increase in cyclists. Many of these dislike riding on roads and see distracted motorists as not just another road user, but a potential hazard. On dirt roads and gravel paths, there is naturally less traffic. If you do encounter a motorist, he or she will be traveling much slower than on normal roads.
So since there is less concern for your own safety on a gravel bike, the sheer experience of the riding situation and the fun of riding is naturally more unclouded.
Gravel Races are also very beginner friendly, as many of these events are simply about being out in nature on your bike. While some may be racing for the podium and ambitious, for many others it may simply be about being out on two wheels with friends in previously unknown and special places. Many organisers offer different route options at their races, with something for every gravel biker.
Forests, meadows, roads and gravel paths - no problem for the Garvelbike! With Gravelbikes you can not only cycle comfortably over unpaved roads. They are real all-rounders that can take on forest, meadows, gravel and asphalt. ISPO.com presents the most important bike highlights.
The most important bike highlights
The two most important advantages of a gravel bike compared to a mountain bike are the lower wind resistance and the greater potential of hand positions. In addition, the gravel bike usually has no suspension or only partial suspension elements, but above all its weight is significantly lower. In addition, the tires are narrower than on mountain bikes.
What both types of bikes have in common, however, is that disc brakes are standard on both and that the tyres have a more or less distinct off-road profile.
Even though gravel biking is still in its infancy in many places in Germany, some events have long since become established. Those with a racing character are, for example, the Grave Ralley Series, which is a weekend event with many route options, but also a comprehensive supporting programme in the Freiburg area, in the Black Forest or in the Rhine valley. In Saxon Switzerland, the Bohemain Border Bash has made a name for itself as a gravel event.
If you are looking for bikepacking rides with your gravel bike, you will find the HanseGravel, for example. Here, 605 kilometres are covered from Hamburg to Szczecin in the footsteps of the Hanseatic League. You can ride the tour individually or start together on a fixed date in Hamburg.
The Bikepacking Trans Germany, on the other hand, is an independently organized tour that covers more than 1600 kilometers across Germany. It is possible to sign up for a joint Grand Depart.
The Mainfranken Graveller consists of a ride over 600 kilometres through four low mountain ranges, whereby the tour can be ridden independently on one's own or as part of an event.
The Eifel Graveller is also an unsupported bikepacking adventure, either over 850 kilometres or even 1500 kilometres, and requires good legs or fitness.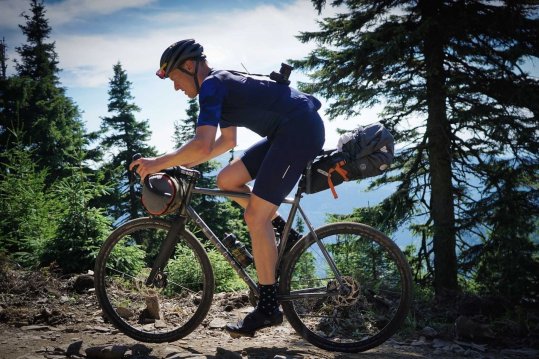 Basically, the new trendy bike is suitable for everyone who likes to ride through the countryside on two wheels. If you are an enthusiastic mountain biker, you can also take the Gravelbike out for a training ride on gravel or gentle forest trails. With a rear rack and mudguards, the bike quickly becomes a sporty touring bike and a real companion on bike tours lasting several days. If the Gravelbike has a hub dynamo and fixed lighting, it is suitable for everyday use on the way to the office.
The majority of manufacturers rely on carbon or steel, although some also use a mix of materials. Titanium frames are also available, but only in the high-priced segment.Aluminium frames are not as light as carbon frames, but they are similarly stiff and inexpensive to produce. Together with a carbon fork, these gravel bikes are more affordable, but don't sacrifice riding fun.
The lightest gravel bikes in terms of weight are made of carbon. In addition, it is possible to install special features such as lowered chainstays for greater tire clearance. However, the disadvantage of this material is that these bikes are very sensitive to material defects and riding comfort depends on the layup of the frame.
If you go for a gravel bike made of steel, you choose a very versatile and robust material. However, depending on the frame set, there is a great variety in terms of weight, robustness and stiffness of the bike. So gravel bikes made of this material are right for a wide audience, from a heavy model to razor-thin and very noble bikes, the most different manufacturers have everything in their assortment.
Titanium is considered the most expensive material for the frame, but it impresses with its properties. Namely, the lighter weight than steel, the complete resistance to corrosion and the noble appearance. However, it is just as robust as steel and has better damping properties.