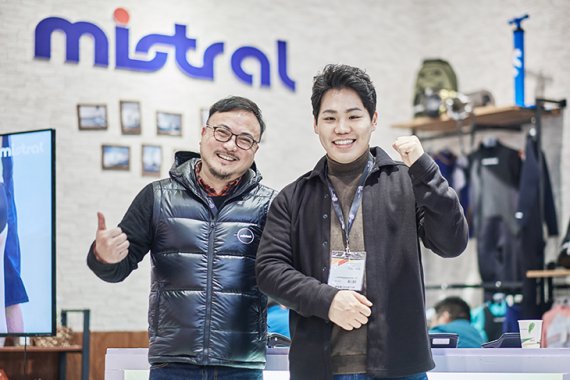 "We decided to come to ISPO Shanghai to expand our presence in the Chinese market. There is a huge potential in the youth and the government is supporting this development as well. We want to be part of this development and one of the first ski brands in China. Together with ISPO we want to explore and develop this market."
Tomas Tauchman, General Manager, Alpine Pro
"We are in the Chinese market for nine years. China is one of our key markets by now. ISPO Shanghai is very important for us to meet our contacts. This is essential for business success in China. We shared this experience at this year's ISPO Market Introduction Program. These kind of platforms are important in terms of exchange knowledge, create new ideas and to grow globally as a brand."
Alex Koska, Managing Director, Fjällräven
"It's our second time at ISPO Shanghai. As we found good contacts here last time, we've decided to come back. The networking opportunities are great and we're looking forward to the next trade show in 2018."
Wayne Howarth, Brand Manager, Gola Sport
"We are at ISPO Shanghai for the first time. Our aim is to find distributors we can work with. The Chinese market is growing enormously. People are living a healthier lifestyle and they want to buy good and high quality sport products and equipment. ISPO Shanghai is a good platform to show our products and hopefully entering the market."
Vojtech Burianek, CEO, Haven
"For us, ISPO Shanghai is the biggest, most high-end sports exhibition in China, which is very desirable. There are many brands presenting. We will also exhibit at ISPO Beijing, so it is obvious that we are having a close cooperation. We met many contacts at the exhibition."
Max Liang, Sales Manager, KIZER
"We can see a big improvement compared to the trade show last year. The new hall structure with its three theme words work very well. In addition, we can see a huge potential for some focus areas like Wearable Technology here at ISPO Shanghai 2017."
Soo-hoon Chae, General Director, Korea Outdoor & Sports Industry Association
"Given that we are already in the Shanghai market, it will be a beneficial time for us along with ISPO Shanghai. Moreover, ISPO Shanghai has been quite good for us, because we've connected with a number of potential clients for us. We are very satisfied with ISPO Shanghai."
Ron F. Tong, CEO Asia, LORNA JANE
"LP has supported ISPO Shanghai since its first opening. The visitor quality and number has both grown a lot this year. There are a lot of department store groups and VIP groups at the exhibition. I believe that LP will have a closer cooperation with ISPO in the future to create more business opportunities."
Jenny Shih, Asia-Pacific Marketing Director, LP
"We have met a lot of new clients as well as old friends at ISPO Shanghai this year, by which we could reach the desired goal. We are looking forward to cooperating much further with ISPO in the future."
Zichao Ni, Sales Director, Rich Loafer (Marmot)
"ISPO is very important for us. We have participated in ISPO MUNICH, ISPO Beijing and ISPO Shanghai in a row. We think ISPO Shanghai is particularly aware of its brand image and the promotion of the sports spirit. So it is an exact match of our brand concept. Participation at ISPO Shanghai is very helpful for our brand and product promotion."
Fiona Wang, Vice President &Marketing Director, ORPC
"REHBAND's participation at ISPO Shanghai last year was considered to be a new start for our brand in the domestic market in China. It's because we had a particularly successful year since then. This is our second exhibition and we feel like growing together with ISPO Shanghai. The exhibition has grown rapidly. We will continue to support ISPO Shanghai next year and the years to come."
Peng Gao, Marketing Manager, REHBAND
"We have exhibited at ISPO Shanghai since its first opening. The exhibition is very popular. The visitor flow is great this year. We will continue to support ISPO Shanghai in the future."
Amy Xu, Project Manager, Shanghai Easigo Outdoor Equipment
"We have exhibited at ISPO for many years. Our exhibition this year at ISPO Shanghai is a new attempt to promote SHUHUA's concept "make sports simpler" to more people in China. I believe we will have more cooperation in the future and we plan to exhibit again next year."
Xiaosong Gao, Deputy General Manager, SHUHUA CO.
"It is actually very naturally for us to choose ISPO Shanghai in China, because we've been a partner of ISPO for decades. We have a strong connection with ISPO and we believe the bond will become even stronger in the future. We are all overwhelmed by the atmosphere and think this is what ISPO stands for."
Dean Qi, CEO, SIGG OUTDOORS INVESTMENT
"ISPO Shanghai stands for professional and trendy outdoor experiences, which is exactly the essence for us. We hope ISPO Shanghai is going to grow in the future and we will certainly give it our best support."
Raphael Wang, Marketing Centre, Sino Lithium (Suzhou) Electric Technology Co.
"We trust the ISPO brand very much. At ISPO Shanghai 2017, we have met many new faces as well as old friends. It is truly a great event for the entire industry. We think the result is very satisfactory."
Victor Chen, Market Center, Thaiwoo Lifestyle Properties
"We believe that, for the outdoor world, ISPO Shanghai is a leading platform in China. The exhibition is known all over the world and attracts visitors from China as well as other parts of Asia. There are many support programs this year: buyers groups, customer groups and Tmall online show. We have collected many customers and the result looks promising."
Pinghua Dai, General Manager, TRESPASS
"ISPO Shanghai is a very good platform for brands, agents and distributors to communicate. We have participated in every ISPO Shanghai. Each time we meet new contacts and find new opportunities. The exhibition this year is very popular."
Cassie Zhang, Channel Manager for Consumer and Home, Sui Sheng Fitness (Anita, CEP, Triggerpoint)