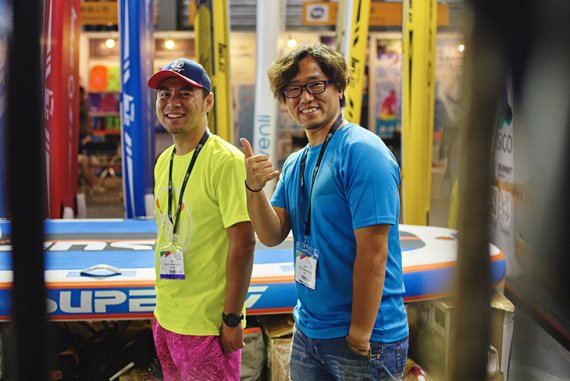 Mr. Melvyn Jones, International Sales Director of Deuter
"There is a great potential in China for outdoor sports. The industry is growing extremely quickly and brings a lot of opportunities. ISPO Shanghai is a great platform for us, and it is obvious that extending our brand in the Chinese outdoor industry is positive for us."
Mr. Remigio Brunelli, Executive Director of Beijing Tecnica Sport Equipment Co., Ltd.
"We are happy to be here for the 5th ISPO Shanghai. The atmosphere is great. We can see more and more European companies, as well as new brands in the show. I hope ISPO Shanghai can continue this direction, working closely with the brands to show that sport is not only a physical activity but also a leisure, healthy and socialized activity."
Mr. Marco Redini, General Manager of UYN
"This is our first time to present our brand at ISPO Shanghai. I must say it is very impressive. The people here show a lot of interests to our new brand. I think ISPO Shanghai is a good platform for European brands to connect to China."
Ms. Jia Liling, Deputy General Manager of Beijing Sanfo Outdoor Sporting Goods Co., Ltd.
"At ISPO Shanghai, we can see the new trend of cross-border integration in the outdoor sports market, as well as many international brands. ISPO Shanghai 2019 has made great breakthroughs. In addition to product exhibition and trade exchanges, many new sports categories and brand presentations have joined in. There is also the interactive experience for the retailers and consumers. The atmosphere is very good. A lot of visitors are here and they all gave positive feedbacks. I hope ISPO Shanghai can become even better and continue to promote new trends and the development of fashion and sports goods."
Ms. Fiona Lu, General Manager of Changzhou Jinbaige Trading Co., Ltd.
"ISPO Shanghai 2019 shows that the running industry is developing very vigorously. People's awareness and desire for sports equipment is gradually growing. Such changes are very gratifying. ISPO has always been a great platform to find out new products and industry trends. This year we see a variety of activities and new distribution channels. They clearly exhibited the booming atmosphere in the industry. I hope we can grow together with ISPO as a loyal partner."
Mr. Zhang Kai, General Manager of Shanghai Youdong Sports Goods Co., Ltd.
"ISPO Shanghai 2019 is very popular. The exhibition brings together all kinds of trendy and cool sports such as yoga, fitness, water sports and other. It also promotes outdoor sports among the public. I think this is the most important contribution ISPO Shanghai has made and it is exactly what we want. We think that ISPO Shanghai 2019 has given us great opportunities to meet and establish contact to new customers."
Mr. Zhang Xiaoyu, Fire Maple General Manager of Zhejiang Lufeng Outdoor Products Co., Ltd.
"The success of this year's ISPO Shanghai is beyond expectations. Outdoor industry distributors have been shrinking and the sales channels are changing. In order to give a better showcase platform for the brands, ISPO arranged a lot of activities, especially in the promotion of outdoor culture, which successfully connected more people to outdoor sports. It also helped the outdoor industry form a new cooperation with trendy sports and young customers. The visitor flow is also very encouraging."
Mr. Zhang Zhenlei, Marketing Director of Guangzhou BOSMA Photoelectric Technology Co., Ltd.
"At ISPO Shanghai, we can see that the outdoor sports industry is making steady growth, and people's interest in outdoor and nature is increasing. We hope to see more water and summer sports and activities at ISPO Shanghai."
Mr. Cai Shanxue, YORROTANG Director of Shandong Shengquan New Material Co., Ltd.
"In the past two years, the domestic fashion sports brands have been on the rise, especially the design of functions and style. ISPO is an important global trade platform, and ISPO Shanghai has assisted the development of sports brands. I hope that ISPO Shanghai can get better and better and put more attention and supports to the fashion sports brands."
Mr. Lai Gang, General Manager of Beijing Sports Extreme Trading Co., Ltd.
"It is our first time to participate in such large-scale industry exhibition as ISPO Shanghai. Through ISPO Shanghai, we found that many industry practitioners know about our brand. The exhibiting experience has also made tangible improvements. Many potential customers visited our booth with purchase plans. We are very happy about ISPO Shanghai 2019."
Mr. Zhao Jun, General Manager of Hangzhou Fuxing Industry and Trade Co., Ltd.
"We participated in the first ISPO Shanghai in 2015, and this year we come back again. We can see that there are many more participants than before. From the feedback from the visitors here, it is also clear that people are paying more attention to skiing and outdoor sports. In addition, the invited e-commerce, dealers, and related industry professionals have enriched the visitors' composition, which is beneficial to the development of the industry and strengthens our confidence in working with ISPO."
Ms. Wang Quanhong, General Manager of Changchun Golden Tent Outdoor Co., Ltd.
"ISPO Shanghai 2019 offers much better services than other similar trade shows. It was planned and organized very well in all the details. So ISPO Shanghai 2019 can really help distributors and retailers develop their business. I hope that ISPO Shanghai will continue to expand the existing exhibition range, and at the same time enhance the quality and capability of the staff, so we can benefit from even better ISPOs."
Ms. Xu Lijing, Secretary-General of Golden Snowflake Ski Industry Alliance
"As the Winter Olympic Games gains momentum, the Chinese market, whether in the South or the North, is paying more attention on skiing. The future of the ski industry cannot be underestimated. As an important step for the ski industry to develop in East China, participating in ISPO Shanghai 2019 is very satisfying. We want to continue our cooperation and build a bridge for the North and the South market in China, so as to attract more people to know about the snow sports market and become part of it."
Ms. Li Rong, Brand Manager of Shanghai Ninehills Outdoor Sporting Goods Co., Ltd.
"The visitors of ISPO Shanghai are very motivated. The theme of this exhibition is well defined and the exhibition is managed well. I hope ISPO will make continuous development in the future."
Mr. Tang Jian, General Manager of Nanjing Houpai Sporting Goods Co., Ltd.
"At ISPO Shanghai 2019, we can see that, apart from the traditional outdoor products, there are a lot of products that are more suitable for the young. The concept of ISPO is successful and is holding a leading position in the market. ISPO provided a stronger sense of participation for outdoor sports enthusiasts. I hope that in the future, I will be able to see more cooperation between the outdoor and other trendy sports such as fitness, skiing, and action sports at ISPO."
Mr. Yu Zhenqi, Marketing Director of Shenzhen Firefox Outdoor Products Co., Ltd.
"ISPO Shanghai 2019 is making new progresses, with a wide range of exhibits and new products. We have learned a lot, for there are many new accessories such as functional laces and customized soles. The atmosphere is very active and the entire show is impressive. The on-site staff were helpful and offered valuable services and guidance. The overall atmosphere was good."
Claus Bretschneider, Founder, Breddys, Austria
"ISPO Shanghai is a springboard to the Chinese market. For this reason, we are taking part for the second time as part of ISPO Brandnew. This year we were very impressed by the new stand concept at the Startup Village. Our aim was to find the right distributor. Thanks to the open stand area and the many interested visitors we came one step closer to our goal. What makes ISPO Shanghai special is the opportunity to experience live the trends of tomorrow. The successful ISPO and Tmall Fashion Show revealed the direction we will be taking in the future – not just in China, but maybe in Europe, too."
Ricky Cheng, Channel Manager of Greater China, Donghui Leisure & Sports Goods, Aqua Marina, China
"Aqua Marina participates in a lot of exhibitions in China and other countries, but ISPO Shanghai is especially important. The visitor flow is great. Our customers also look forward to meeting us at this exhibition. ISPO Shanghai is a great way to promote our products."
Wayne Howarth, Brand Manager, Jacobson Group, Gola, Great Britain
"I think this year's trade show was very well organized and the quality of visitors has improved. We met quite a lot of new people and new contacts. The show helped us to build new relationships with them. Our impression is that the interest in sports is growing in China and we would like to influence the Chinese market with Gola's concept. ISPO in China is an appropriate platform to achieve this goal."
Gao Jian, General Manager of UA Department, Harbin Shenge Sports, China
"I think ISPO Shanghai is a very high-profile international exhibition. On one side, we can get to know new brands and product categories, and on the other side, we can meet some old friends. There have been a lot of improvements this year, as well as an upgrade in the size of the exhibition and the diversity of products. We found a lot of new highlights this year."
Alex Koska, Vice President & Global Sales Director, Fenix Outdoor, Sweden
"It is our fourth time to join ISPO Shanghai. For us it is very important to be in China, because the market here is fast-growing. ISPO is a market place where we can not only meet the retailers, media, customers but also people who are interested in sports. We have a long partnership with ISPO. It creates a platform for everyone to come."
Zhang Yong, Marketing Manager, Beijing Ruiji Longfeng International, Marmot, China
"We've started the cooperation with ISPO since 2010 and it is the second time we participate in ISPO Shanghai. This year we brought the environmental program of Marmot to Shanghai. ISPO has very positive influence on the development of the outdoor sports industry in China. It is far more than a trade show as it offers many extra opportunities to expose its exhibitors and offers very important supports to the industry in every aspect. We plan to establish long-term cooperation with ISPO to achieve win-win results."
Qin Tao, Business Development Manager China, Lorna Jane, Australien
"We appreciate that there are more fashion-related elements this year, for example the women sports stage is very creative. We have met a lot of distributors who are interested in us and want to join Lorna Jane. ISPO Shanghai is a great platform that enables us to reach more fitness clubs as well as online and offline distributors. We look forward to further cooperation with ISPO Shanghai and the fashion show."
Dr. Djavid Salehi, Sales Manager Northern Europe / Far East / Australia, HAIX, Germany
"This was the first time we were represented at ISPO Shanghai. We were impressed by the number of presentations and networking opportunities – we'd never experienced that before at another trade fair. Thanks to the Retail Tour presentations, we were able to get professional expertise on-site. Now we are considering exhibiting at ISPO Beijing."
Matthis Sarnighausen, CFO, Arys, Germany
"We have already established ourselves on the Japanese and South Korean markets with our clothing label. Now our aim is to include China in our successful Asian expansion. Over the past three days, ISPO Shanghai has shown us that it's the right platform for this development. We learned a lot about the needs of Chinese consumers thanks to the many interested visitors at our stand."
Wang Shigang, Vice General Manager, Thaiwoo Snow Resort, China
"It is very clear that the professional visitors of ISPO are getting to know more about Thaiwoo. Through ISPO Shanghai, they know that Thaiwoo is more than winter sports. We have received a lot of cooperation proposals this year. We will continue to send our information to the sports fans through ISPO."
Su Xiao, Brand Marketing Manager, Yvette Sports Development, China
"We felt that the atmosphere is cheering this year, and we are satisfied with the results. In particular, the organizers have prepared a lot of making the whole exhibition dynamic. We are looking forward to further cooperation with ISPO Shanghai."
Shen Xiaofeng, General Manager, Easigo Sports and Technology, China
"This year there were more visitors and the show is well organized. We are exhibiting at ISPO Shanghai since 2015, and we are aware of the efforts ISPO has made, especially in Water Sports. I think it is the best water sports platform in China, and we will continue our cooperation with ISPO Shanghai, as always."
Wang Xuanlv, Brand Director, Hanjiang Sports Technology, China
"The overall results we made this year at ISPO Shanghai are great. We are happy to exhibit along with all those important brands in road running. We networked with many offline distributors. We hope in the future HanDragon can meet even more distributors and retailers. We surely want to exhibit again at ISPO Shanghai."
Bao Yonglin, General Sales Manager, Beijing Tecnica Sports Goods, China
"Tecnica has exhibited at ISPO Shanghai since 2016. This year Tecnica brought a variety of products, including tailored outdoor shoes, trail running shoes and MICO sports underwear. ISPO Shanghai is a multi-faceted, trend-setting exhibition. We are willing to continue our cooperation in the future."
Fang Yongqing, Sales Manager, Kunshan Do-win Sports Goods, China
"There are a lot of professional visitors, and the results are beyond our expectations. We would appreciate to continue our cooperation with ISPO Shanghai in the future."
Zhong Zhaoxin, Marketing Director, McKinley / Patagonia Outdoor Goods, China
"Patagonia is exhibiting its sustainability concepts at ISPO Shanghai 2018. We can feel the enthusiasm of the visitors towards outdoor sports. We also find out that their demands are increasing. We look forward to further cooperation with ISPO."
"We decided to come to ISPO Shanghai to expand our presence in the Chinese market. There is a huge potential in the youth and the government is supporting this development as well. We want to be part of this development and one of the first ski brands in China. Together with ISPO we want to explore and develop this market."
Tomas Tauchman, General Manager, Alpine Pro
"We are in the Chinese market for nine years. China is one of our key markets by now. ISPO Shanghai is very important for us to meet our contacts. This is essential for business success in China. We shared this experience at this year's ISPO Market Introduction Program. These kind of platforms are important in terms of exchange knowledge, create new ideas and to grow globally as a brand."
Alex Koska, Managing Director, Fjällräven
"It's our second time at ISPO Shanghai. As we found good contacts here last time, we've decided to come back. The networking opportunities are great and we're looking forward to the next trade show in 2018."
Wayne Howarth, Brand Manager, Gola Sport
"We are at ISPO Shanghai for the first time. Our aim is to find distributors we can work with. The Chinese market is growing enormously. People are living a healthier lifestyle and they want to buy good and high quality sport products and equipment. ISPO Shanghai is a good platform to show our products and hopefully entering the market."
Vojtech Burianek, CEO, Haven
"For us, ISPO Shanghai is the biggest, most high-end sports exhibition in China, which is very desirable. There are many brands presenting. We will also exhibit at ISPO Beijing, so it is obvious that we are having a close cooperation. We met many contacts at the exhibition."
Max Liang, Sales Manager, KIZER
"We can see a big improvement compared to the trade show last year. The new hall structure with its three theme words work very well. In addition, we can see a huge potential for some focus areas like Wearable Technology here at ISPO Shanghai 2017."
Soo-hoon Chae, General Director, Korea Outdoor & Sports Industry Association
"Given that we are already in the Shanghai market, it will be a beneficial time for us along with ISPO Shanghai. Moreover, ISPO Shanghai has been quite good for us, because we've connected with a number of potential clients for us. We are very satisfied with ISPO Shanghai."
Ron F. Tong, CEO Asia, LORNA JANE
"LP has supported ISPO Shanghai since its first opening. The visitor quality and number has both grown a lot this year. There are a lot of department store groups and VIP groups at the exhibition. I believe that LP will have a closer cooperation with ISPO in the future to create more business opportunities."
Jenny Shih, Asia-Pacific Marketing Director, LP
"We have met a lot of new clients as well as old friends at ISPO Shanghai this year, by which we could reach the desired goal. We are looking forward to cooperating much further with ISPO in the future."
Zichao Ni, Sales Director, Rich Loafer (Marmot)
"ISPO is very important for us. We have participated in ISPO MUNICH, ISPO Beijing and ISPO Shanghai in a row. We think ISPO Shanghai is particularly aware of its brand image and the promotion of the sports spirit. So it is an exact match of our brand concept. Participation at ISPO Shanghai is very helpful for our brand and product promotion."
Fiona Wang, Vice President &Marketing Director, ORPC
"REHBAND's participation at ISPO Shanghai last year was considered to be a new start for our brand in the domestic market in China. It's because we had a particularly successful year since then. This is our second exhibition and we feel like growing together with ISPO Shanghai. The exhibition has grown rapidly. We will continue to support ISPO Shanghai next year and the years to come."
Peng Gao, Marketing Manager, REHBAND
"We have exhibited at ISPO Shanghai since its first opening. The exhibition is very popular. The visitor flow is great this year. We will continue to support ISPO Shanghai in the future."
Amy Xu, Project Manager, Shanghai Easigo Outdoor Equipment
"We have exhibited at ISPO for many years. Our exhibition this year at ISPO Shanghai is a new attempt to promote SHUHUA's concept "make sports simpler" to more people in China. I believe we will have more cooperation in the future and we plan to exhibit again next year."
Xiaosong Gao, Deputy General Manager, SHUHUA CO.
"It is actually very naturally for us to choose ISPO Shanghai in China, because we've been a partner of ISPO for decades. We have a strong connection with ISPO and we believe the bond will become even stronger in the future. We are all overwhelmed by the atmosphere and think this is what ISPO stands for."
Dean Qi, CEO, SIGG OUTDOORS INVESTMENT
"ISPO Shanghai stands for professional and trendy outdoor experiences, which is exactly the essence for us. We hope ISPO Shanghai is going to grow in the future and we will certainly give it our best support."
Raphael Wang, Marketing Centre, Sino Lithium (Suzhou) Electric Technology Co.
"We trust the ISPO brand very much. At ISPO Shanghai 2017, we have met many new faces as well as old friends. It is truly a great event for the entire industry. We think the result is very satisfactory."
Victor Chen, Market Center, Thaiwoo Lifestyle Properties
"We believe that, for the outdoor world, ISPO Shanghai is a leading platform in China. The exhibition is known all over the world and attracts visitors from China as well as other parts of Asia. There are many support programs this year: buyers groups, customer groups and Tmall online show. We have collected many customers and the result looks promising."
Pinghua Dai, General Manager, TRESPASS
"ISPO Shanghai is a very good platform for brands, agents and distributors to communicate. We have participated in every ISPO Shanghai. Each time we meet new contacts and find new opportunities. The exhibition this year is very popular."
Cassie Zhang, Channel Manager for Consumer and Home, Sui Sheng Fitness (Anita, CEP, Triggerpoint)