ISPO Brandnew | Winner Urban Outdoor | mvdham
mvdham jackets are more than just jackets: Inspired by extreme outdoor clothing, the Berlin label is aims to create apparel for active city dwellers using only natural fibers. Take the  LAPALUE for example, a padded two-layer fabric developed in-house and made solely out of silk and wool. URBAN OUTDOOR jackets and coats from mvdham not only look good, they are functional through and through. They're cut in such a way that you can wear several layers underneath them, protecting them from wind and bad weather when you're riding a bike. The mvdham brand aims to combine functionality, quality design and sustainability, and relies as much as possible on local producers and suppliers in the production of their jackets. It was the materials they use in particular that won over the ISPO Brandnew judges, who saw mvdham as a worthy winner in the Urban Outdoor category.
Foundation: Germany, 2018
to the mvdham Urban Outdoor Jackets
"It's all about the message behind the product. Of course, we're talking about beautifully designed pieces that are functional and stylish, but equally important, are the particular materials that mvdham uses. I like it when companies break new ground, develop existing concepts and implement them sustainably."
Mari Thomas, Managing Director & Founder of MAAREE and former ISPO Brandnew Winner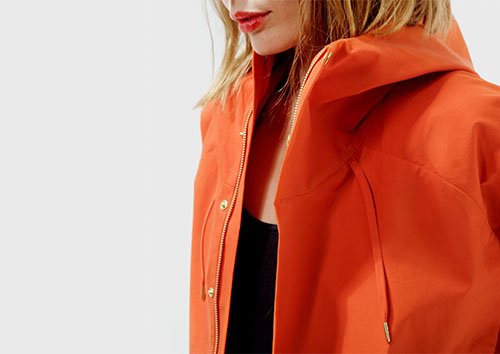 mvdham is just starting out, but it's already offering a sophisticated product line. ISPO Brandnew is the new berlin label's first big appearance.
Miriam van der Ham is a fashion designer in the outdoor and fashion industry. She is currently developing her functional clothing from natural fibers as a one-woman startup.
mvdham
Weisestraße 31
12049 Berlin
Germany 
For enquiries please contact
Mrs. Miriam van der Ham
mail@mvdham.com
or visit mvdham at the ISPO Munich
Booth: B4.BN55
to mvdham