No one has shaped skateboarding like Tony Hawk. The US American is the pioneer of the modern vert style and advanced to become the first world star of skating in the 1990s - including his own Tony Hawk Pro Skater video game series and film appearances (Jackass, Triple X). But Tony Hawk has also left his mark on the scene away from the halfpipe: with his Birdhouse skateboard brand and his Tony Hawk Foundation, with which he builds skateparks in disadvantaged neighborhoods.
Tony Hawk in numbers
0
Estimated assets in US dollars (2021)
Tony Hawk in numbers
0
Estimated assets in US dollars (2021)
Tony Hawk in numbers
0
Estimated assets in US dollars (2021)
Tony Hawk was born on May 12, 1968 in San Diego, California. Even as a child he was difficult to control: hyperactive and with almost boundless energy, which sometimes turned into aggressiveness, highly gifted and impatient. His mother took him to psychologists several times.
Until Hawk discovered skateboarding at the age of nine. Now he could live out all his energy on the board until his rather lanky body could master the most daring tricks. His father, a former Navy officer, even built his youngest son his own halfpipe in his backyard in California.
The rise was rapid: at fourteen, Tony became part of the Powell Peralta professional team and showed his tricks in the famous Bone Brigade videos. At 16, he was already the world's best. Numerous victories, videos and a business empire born from the skateboarding scene followed. He became skateboarding world champion eleven times in a row, won 73 out of 103 professional competitions, won six gold medals at the X-Games, was on the cover of "People", "Esquire", "Rolling Stone" and the "New Yorker".
Hawk has four children and is married for the fourth time. His son Riley is also a professional skateboarder.
Hawk is considered a pioneer of the so-called vert style and is at home in the halfpipe. But also street style his tricks could be seen. No other skateboarder has invented as many tricks and jumps as he has, almost a hundred in total. His most difficult trick is the "900": a two-and-a-half turn around the body's longitudinal axis. He succeeded for the first time 20 years ago, the first person ever to do it. Even in his forties, he was still able to do it, until he officially gave up the trick with one last video.
Since Tony Hawk retired from the competition scene in 2003, he still skates privately, in videos and at events. And also active in the skateboarding scene, for example, hosted the X-Games. On an invitation from Barack Obama Tony Hawk showed some tricks and was the first person who was officially allowed to skateboard in the White House.
Based on Hawk's Skateboarding, the video game series Tony Hawk's Pro Skater first appeared in 1999. The games shaped an entire generation worldwide, who suddenly skated like Hawk on the computer or console. Since then, the series has released 18 titles, including ten of the main series, four spin-offs and four remakes.
Tony Hawk's Pro Skater 1 and 2 Remastered from 2020 even allow gamers to experience the adventures in 4K quality and takes you back to the 2000s thanks to the legendary original soundtrack.
When it comes to digital, Hawk still has affinity at a more mature age, has millions of followers on social media, and regularly shares insights into his life and his unique take on the skateboarding scene.
"The Olympics need skateboarding more than we need them." Skateboarding at the Tokyo Olympics
Tony Hawk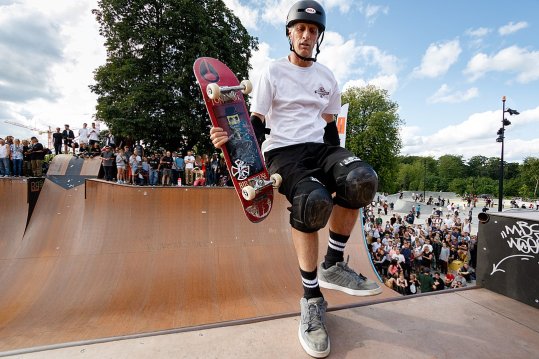 Tony Hawk is not only the most decorated, but also by far the richest professional skateboarder in history. His net worth is an estimated $140 million.
But even he first had to learn how to go from being a skateboarder to a successful businessman. He bought his first house when he was still in school, but when the skate boom of the nineties slowed down and the end of his active career approached, he had to think about another source of income. This is history today, because in 1999 the first Tony Pro Skater video game came out.
In addition, Tony Hawk owns Birdhouse (based on his nickname Birdman), not only his own skateboard brand, but also other successful companies with Hawk Clothing and 900 Films.
With the help of his success and fame, Tony Hawk is also committed to the sport of skateboarding itself, as well as its legalization and dissemination. In order to make skateboarding possible for children and young people in disadvantaged areas and regions and to create meeting places in the communities, he founded the Tony Hawk Foundation in 2002.
Since its inception, the non-profit foundation has funded and enabled the construction of skateparks in low-income communities and has supported more than 600 skatepark projects in the United States, in addition to raising funds for the international project Skateistan.
"For me, skateboarding is an art form, a way of life and a sport."
Tony Hawk
| | |
| --- | --- |
| Sport: | Skateboard |
| Stand: | Goofy |
| Height: | 191 cm |
| Nationality: | USA |
| Birthday: | May 12, 1968 |
| Born in: | San Diego, USA |
| Place of residence: | Encinitas |
| Estimated net worth: | $140 million |
| Retired since: | 2003 |
| Followers on Instagram: | 7 million |
| Partner: | Catherine Goodman |
| Children: | Riley, Gupi, Kadence Clover, Keegan |