Reinhold Messner is a successful mountaineer who has turned his passion into his profession. He discovered his love of mountaineering as a child and climbed his first three-thousand-meter peak with his father at the age of five. After completing his engineering studies, he worked for a year as a teacher of mathematics at a secondary school before deciding to devote himself entirely to mountaineering. Shortly after, he was already climbing the highest mountains in the world. Reinhold Messner was the first person to climb the summits of all 14 eight-thousanders. In 1978, together with Peter Habeler, he even managed to climb the famous Mount Everest. In none of these mountain tours Reinhold Messner wanted to resort to the help of bottled oxygen. For his successes, Messner has already received several prizes and awards in his life, including the "Royal Geographic Society" or the "Patron's Medal" for his contribution to mountaineering and mountain areas.
0
Mountain tours between 1950 and 1964
0
Mountain tours between 1950 and 1964
0
Mountain tours between 1950 and 1964
Reinhold Messner is not only considered a true role model as one of the most successful mountaineers, but one can also learn a lot from him in terms of political and social commitment. For example, Messner attaches particular importance to environmental protection and was even a representative of the Green Party in Italy. With the establishment of his Foundation and the total of six museums built Reinhold Messner also takes social responsibility and supports, for example, mountain peoples in the Himalayas and the Andes.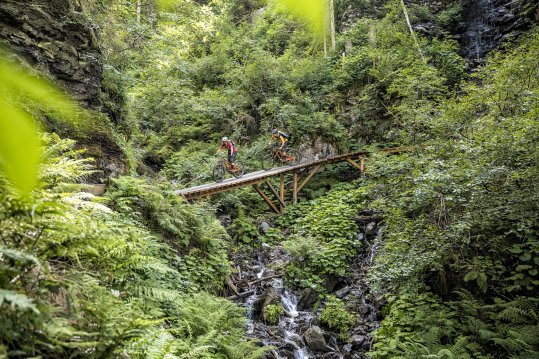 Since the 1980s Reinhold Messner has been actively involved in environmental protection and was elected to the European Parliament for five years for the Green Party of South Tyrol "Verdi Grüne Verc". Subsequently, he was the representative of the Italian Green Party "Federazione dei Verdi" there from 1999 to 2004.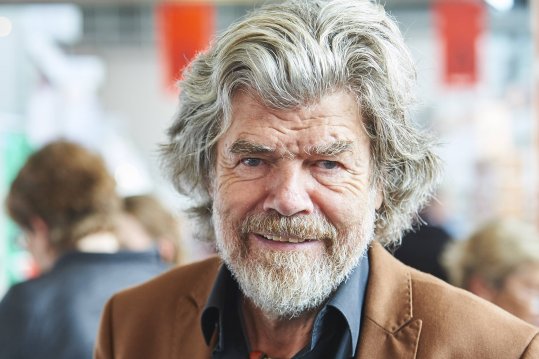 After 2004, Reinhold Messner spent more than 20 years building up his "Messner Mountain Foundation", with which he is committed to mountain peoples worldwide, supporting them through school projects, for example, and at the same time calling on society to assume social responsibility.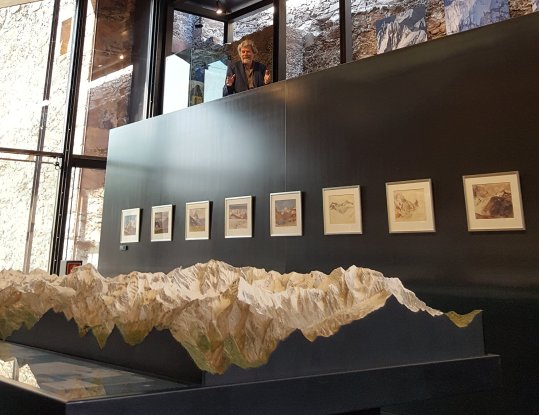 At the same time he also took care of the construction of his mountain museums, the "Messner Mountain Museums". The first and at the same time the headquarters of the project he opened on June 11, 2006 in Sigmundskron Castle. The museum is intended to link the history of South Tyrol with the culture of the Himalayan region. A total of six museums at different locations, with the "MMM Firmian" as the center, focus in their themes on man and mountain.
In 1949 Reinhold Messner made his first three-thousand-meter tour on the Saß Rigas in the Dolomites. Between 1950 and 1964, around 500 mountain tours followed in the Eastern Alps, mainly in the Dolomites. He made his first first ascent in 1965 on the direct Ortler north face of the so-called "Eiswulst". In the years that followed, he made many more first ascents and, in 1978, climbed Mount Everest without the aid of an oxygen mask. Further mountain tours were followed by his trip to Bhutan and Pamir in 1987 and his Yeti-Tibet expedition in 1988. In 1994, Messner participated in a cleanup operation in northern India/Gangotri. Later in 1997, Reinhold Messner also began his first film work on Ol Doinyo Lengai in northern Tanzania, for his film "Ama Dablam - the holy mountain". Many other film works followed in the years to come, for example also in 1999 in San Francisco Peaks and other places in the USA. After countless other trips and climbs, Reinhold Messner last opened the sixth of his "Messner Mountain Museums" in 2015: The "MMM Corones" on the summit of the Kronplatz in South Tyrol at an altitude of 2,275 meters.
Messner was the first person to climb all fourteen eight-thousanders without the support of oxygen. In addition, his tours always count among the first 20 ascents of a peak in each case.
| | |
| --- | --- |
| Year | Mountain (vertical meters) |
| 1970 | Nanga Parbat (8125) |
| 1972 | Manaslu (8163) |
| 1975 | Hidden Peak (8080) |
| 1978 | Mount Everest (8848), Nanga Parbat (8125) |
| 1979 | K2 (8611) |
| 1980 | Mount Everest (8848) |
| 1981 | Shishapangma (8027) |
| 1982 | Kangchendzönga (8586), Gasherbrum II (8034), Broad Peak (8051) |
| 1983 | Cho Oyu (8188) |
| 1984 | Hidden Peak (8080), Gasherbrum II (8034) |
| 1985 | Annapurna (8091), Dhaulagiri (8167) |
| 1986 | Makalu (8485), Lhotse (8516) |
"The wonderful things are the things you do in life, not the things you own."
Reinhold Messner
Reinhold Messner was born on September 17, 1944 in Bressanone. Together with his eight siblings, he grew up in Villnöß in South Tyrol. Initially, Messner studied surveying and architecture at the University of Padua. After his studies, he worked for a year as a math teacher at a secondary school until his passion for mountaineering finally swept him away. It was clear to him at an early age that he wanted to become an adventurer. Today Messner is the father of four children from two marriages. In 2021 he married his third wife Diane Schumacher.
Reinhold Messner has received several prizes and awards in recent years. Among other things, he was Italy`s Sportsman of the Year in 1986 (La Gazzetta dello Sport) and also received awards such as the NatureLife environmental prize in 2010 and the Order of Merit of the Italian Republic in 2014. His contribution to mountain areas and mountaineering as a whole earned Messner the so-called "Patron`s Medal" of the "Royal Geographic Society", which is the highest possible award that can be received from the British Royal Family.
"The mountains that need to be moved are in our consciousness".
Reinhold Messner
| | |
| --- | --- |
| Sport: | Mountaineering |
| Height: | 178cm |
| Nationality: | Italy |
| Birthday: | September 17, 1944 |
| Born in: | Bressanone, South Tyrol |
| Hometown: | Merano |
| First ascent | at the age of 5 with his father |
| Estimated net worth: | 30 million euros |
| Followers on Instagram: | 83 thousand |
| Partner: | Diane Schumacher |