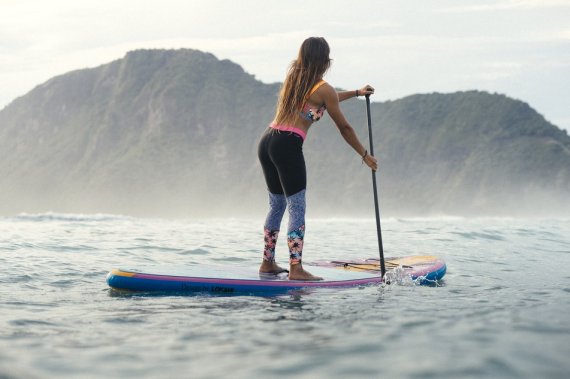 Since stand-up paddling has evolved from a trend into an established sport, the spectrum of SUP fans has also expanded. But there's no one board that's suited for paddling in still waters, surfing, and white-water rafting at the same time. Accordingly, SUP boards are divided into individual classes.
Manufacturers offer their boards in all kinds of variations. Here is an overview of the individual categories:
SUP racing boards aren't for beginners. Why? Because due to their construction – a high, steep rail boosting the drive – they gain momentum quickly, and thus are preferred by SUP fans who are athletically ambitious and like to participate in races. Racing boards are built with a sandwich design, optionally with carbon or wood. Racing boards often have a rocker bracing system (similar to those in ski or snowboard construction), which increases their stiffness and prevent the boards from bending. This system consists of two slats that are inserted into the pockets provided on the side of the SUP.
If you're inexperienced you'll easily lose your balance on the long boards, and it's almost impossible to turn quickly. The hard boards are usually made out of carbon for additional weight savings.
Key information:
Board width: Between 21.5 and 26 inches
Board width: 12.6 or 14.0 feet
Price range: Between €800 and €1,400
Mistral Vortex Air 14.0 iSUP approx. €1,399; STX Race SUP 12.6 x 30.6 approx. €700
Clearly, if you're going on longer SUP tours, you'll need a long, stable board. After all, the longer a board is, the easier it is to move forward. To make it easier to transport your luggage on the way, there are often extra elastic bands or luggage nets.
Key information:
Board width: Between 29.5 and 32 inches
Board length: Approx. 10 to 12 feet
Price range: Approx. €900 to €2,000
Fanatic Ray Air Premium 11.6 approx. €1,249; Starboard Whopper Pine Trek Hardboard approx. €1,849
When going downriver, you should have your SUP board under control at all times. In other words, white-water SUP is generally not for beginners. Because of the conditions in often turbulent waters, the boards need to be highly stable, robust, and equipped with special features: In shape, the boards resemble an all-rounder, but are also equipped with an extra-wide tail for stability in the surfing stance. The rather small fins are mostly offset to the middle of the board. Omnidirectional handles ensure that the board is within easy reach almost everywhere in the event of a fall. In general, whitewater fans should never paddle alone. They need to be informed and trained beforehand, only take off with all of their safety equipment, and approach difficulties slowly.
Key information:
Board width: Between 33 and 36 inches
Board length: Between 8.6 and 11.0 feet
Price range: Starts at approx. €900
Starboard River Deluxe iSUP approx. €1,479; Red Paddle Wild iSUP (complete set with backpack, leash, pump, and paddle) approx. €1,200
SUP boards in this category generally have stable all-rounder shapes with additional features, such as a continuous EVA pad or an extra holder for the paddle. The carrying handle can be found on the sides of these boards, so the "floating mat" can be used without restrictions. The SUP boards are slightly wider and longer, so you don't sway when practicing sun salutation and the like. A rubber net at the front end of the board is ideal for safely storing small luggage like water bottles.
Key information:
Board width: Between 29 and 35 inches
Board length: Between 10.2 and 11.6 feet
Price range: Between €800 and €1,300
Protest Air (women's SUP) approx. €900; Jobe SUP Sonora approx. €1,249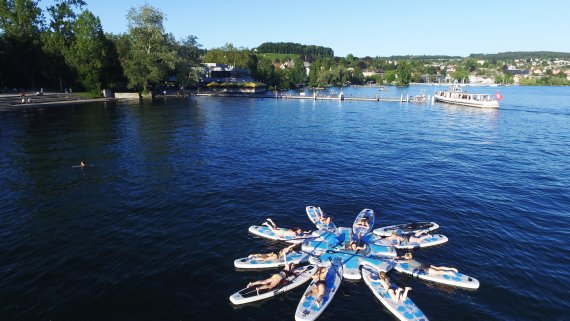 If you're looking for action on the sea, we recommend a SUP board from the Surf category. The longboards' thick shape makes surfing easier and provides optimal stability and faster propulsion. Right in the waves, on the other hand, you should preferably go with a short, agile board. Hardboards are generally recommended for this category, but there are also inflatables that meet the requirements. Nevertheless, you have to make sure that the inflatables are as thin and stable as possible and equipped with either fins or foil.
Still quite new are the foil boards, where SUP surfboards are extended by a hydrofoil, a so-called underwater wing. When the board reaches a certain speed, it lifts off, the hull no longer touching the water.
Key information:
Board width: Between 23 and 30 inches
Board length: Between 6.9 and 9.0 feet
Price range: Between €800 and €1,500
Red Paddle iSUP 10.6 Ride approx. €999; Starboard Surf Deluxe approx. €1,350
So-called team boards ensure versatile team events and group fun.
They're available in different sizes depending on the manufacturer, and on how many people need to have space. SUP team boards are usually available for four to ten stand-up paddlers.
At Starboard, for instance, it's divided into two board types: the 23.0 x 33.5 Starship Team (10 people, approx. €3,299) and the 15.0 x 48 Starship Family (6 people, approx. €3,499).
SUP boards for kids are not only shorter and lighter, they're also narrower than adult boards. That way the little ones can learn a clean basic stroke, have fun turning the board, and even carry it themselves.
A continuous EVA pad supports the verve of kids who are always moving around the whole board and don't just want to stand in the middle like most adults.
Key information:
Board width: Between 25 and 28 inches
Board length: Between 8 and 10.6 feet
Price range: €500 to €1,200
Fanatic Ripper Air 7.10 approx. €699;  Indiana iSUP 8.6 Kids (set with backpack, pump, and paddle) approx. €700