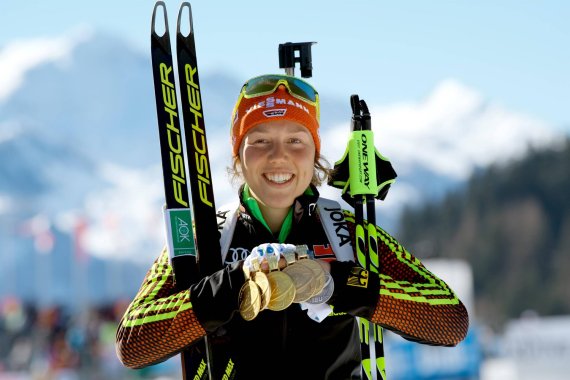 Step by step, things are going up for Laura Dahlmeier. After placing 35th in the 2013 Biathlon Overall World Cup, the likeably unexcited winter athlete worked her way upwards through 15th (2014), eighth (2015), and sixth (2016) all the way to first place. The 23-year-old from Garmisch-Partenkirchen in Bavaria has the best chance to end the 2016/2017 season as overall winner after the last World Cup race in Oslo.
Looking for a sports job? You can find the current job openings in the sports business here >>>
By now she's a repeated world champion: Laura Dahlmeier really swept the board at the World Cup Biathlon in Hochfilzen: gold with Germany's Mixed Relay, silver in Sprint, gold in Pursuit, Gold in Individual, gold with the women's Relay, and gold in Mass Start. An inconceivable performance!
Things are going well athletically, but Laura Dahlmeier doesn't need to worry about financial matters, either. Her official website lists ten companies as "Partners." ISPO.com spoke with the 23-year-old about the sports business.

Laura Dahlmeier in an interview  
ISPO.com: Ms. Dahlmeier, for years biathlon has been the most popular winter sport by far in Germany, and your renown has grown tremendously with your successes. How important is it to you that your income increases as well?
Laura Dahlmeier: Money should never be the main motivation, but you do earn good money from participating in biathlons. And I think that's right because, with the media and sponsors, a lot is required of you. You have to take care that your personal life doesn't suffer. What people want most of all is to get a photo of me lying at home on the sofa. That's something I am not going to give them!
Dahlmeier: "I don't live in the lap of luxury"
Are you the kind of person who saves money or do you like to spend?
There have been a few moments when I have been willing to spend a little – often when I'm looking for flights for a vacation, for example. But I don't live in the lap of luxury. I'm not the type of woman who says, "Now that I've won the world cup, the first thing I'm going to do is go shopping." I have my own place in my parents' house and I can always go over there to have a meal with them. It's the perfect arrangement! (laughs)
That means you can save a little bit for later as well?
I'll be about 30 when I retire. I haven't had that much education, which means I would have to start from scratch. It's a completely different life from those who head into a career straight after school or university. So it's a good idea to build up a bit of a financial buffer now while I'm earning money.
Satisfying sponsors' expectations – when possible
How big are the sponsors' demands on you?
Naturally, they want to fit in as many meetings with me as they possibly can. My main sponsor Viessman – along with my other partners, including DKB, Kornspitz, Joka (Waffe), and Adidas – is always inviting me to discussions and events, especially during world cups.
Of course, they also like it when I share things on social media. I try to satisfy them as much as I can. A post on Instagram here, a post on Facebook there – I always have to take care that my athletic achievements don't suffer.
Read more about the business behind biathlon here >>>
In soccer, they earn substantially more than in biathlon. Would you ever swap places with FC Bayern star Robert Lewandowski?
Not even for one second. Many soccer stars just don't have a private life any more. They go to the supermarket and the whole shop freaks out. People are becoming more and more interested in my life, but still only up to a point. I love that they are cheering me on, but naturally I also want to keep some of my private life.


You are often compared to Magdalena Neuner. Does this annoy you?
It's an honor to be compared with Magdalena, and there are some parallels. But I am my own person, and my role model at the moment is Martin Fourcade.
About Laura Dahlmeier:
What is Laura Dahlmeier's actual job? Professional athlete, sure, but also a customs staff sergeant in the Austrian Federal Armed Forces. Since August 2011, after finishing studying at the St. Irmengard Gymnasium school in Garmisch-Partenkirchen, Bavaria, Laura Dahlmeier has been a member of the Zoll Ski Team. "It's the best thing for me – I don't do any studying on the side and I can train at home in Mittenwald and Kaltenbrunn," Dahlmeier said in an interview with DSV.
The top biathlete is one of 25 members of the Zoll Ski Team for the 2016/2017 winter season. Officers in mid-level customs service receive a starting salary of €2,150 gross.

On Friday, 17.05.2019 Laura Dahlmeier announced the end of her career. With just 25 years and seven world champion titles she turns her back on professional biathlon. "It's time to say goodbye", she begins her farewell on her website. 
In her emotional farewell post on Facebook she continues to write:
"After an unbelievably tough season full of ups and downs, I no longer feel the one hundred percent passion required for professional sport...I'm looking forward to what's waiting now - see you out there!"