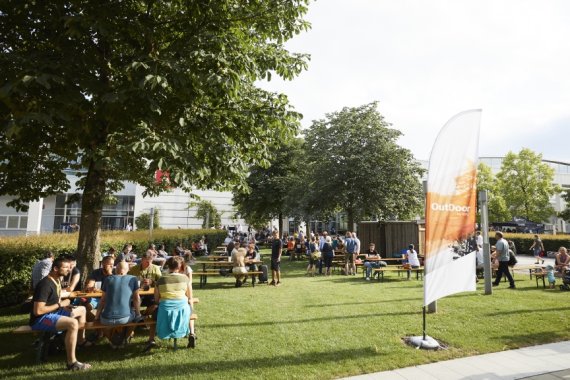 Site under construction:
The updated version of the "HangOut Area" page will be available in spring 2021. 
The information below refers to the OutDoor by ISPO 2019.  
Many outdoor enthusiasts are attracted to nature; they want adventure, adrenaline, and physical challenges. But they also want to relax, be with friends, enjoy nature, cook outdoors, and sleep under the stars. We want to offer customers, outdoor enthusiasts, and the industry a place where this becomes possible.
The HangOut area is the perfect environment for brands with cooking utensils and cutlery, slack lines, glamping tents, camping accessories, outdoor games and essential products for the great outdoors. To join the HangOut it's essential to offer activities and product experiences in the exhibition area. Pop Up tents and similar constructions are not allowed. Fire and other activities with risks of fire are not allowed.
Interactive exhibition space

Attractive booths that can be used as meeting places

More attention and visibility for the community

Easier and more attractive for buyers to gain a quick overview

Communication and marketing support in all OutDoor channels

Targeted invitations to retailers
Start online exhibitor application and click on the option "Concept Booths" in the category "Booth". Select "HangOut" and fill out the non-binding registration form

You will receive the contract documents

Agreement for individual brand entry
Activation space in the Atrium (9m², 20m² or 60m²)

Included

1 running meter branding space with a prominent position in the hall (graphic files need to be delivered by exhibitor)

Included

AUMA, waste disposal fee, media & communication fees  

Included

Exhibitor passes (according to stand size)    

Included

Guest tickets

Unlimited via Altogether to Munich

Beachflags (according to stand size)

Included

Costs

9m²   = 1,950€
20m² = 2,930€
60m² = 6,490€

Electrical connection

Not included, please get in touch with the team before booking