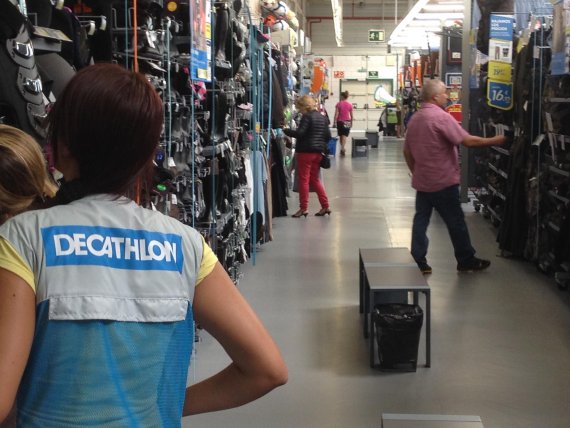 Die Gastautorinnen sind arbeiten bei rpc – The Retail Performance Company und begleiten Kunden aus dem Handel auf dem Weg durch die Digitalisierung. Sie sprechen auch auf dem ISPO Digitize Summit.
Decathlon, München. Ein neues Sportgeschäft mit riesigem Sortiment mitten in der Innenstadt von München? Eigentlich kaum denkbar, große Flächen in exponierter Lage – unbezahlbar. Und es gibt den Standort trotzdem. Vor Ort wird nur eine Auswahl an Produkten gezeigt, das komplette Sortiment ist online verfügbar. Der Kauf kann im Laden getätigt werden, die Ware wird direkt nach Hause geschickt.
Eine perfekt gestaltete digitale Customer-Journey, die an die Bedürfnisse des Großstadtkunden angepasst ist: ohne Auto zu erreichen, im Produktfokus Sport als Ausgleich zum stressigen Job und dann auch noch shoppen, ohne Einkäufe tragen zu müssen.
Doch nicht nur die Kundenbedürfnisse werden damit getroffen, sondern auch und vor allem zieht Decathlon daraus Mehrwerte: Die Ware wird erlebbar gemacht, eine breite Masse an Kunden wird erreicht und die Lagerhaltungskosten vor Ort sind dank digitaler Regalverlängerung gering. Hinter dem Nutzen und den Vorteilen steht eine ausgeklügelte Strategie. Hier werden nicht simpel technische Touchpoints aneinandergereiht, sondern sinnvoll verknüpft und effektiv gemanagt.
Um Berührungspunkte managen zu können, muss sich ein Unternehmen über Sinn, Zweck und Ziel jedes einzelnen Elementes klar sein. Und das bereits im Vorfeld. Ein Hebelmodell hilft bei der Strukturierung und bei der Entscheidung für oder auch gegen die Einführung einzelner Touchpoints.
Entscheidend dabei sind erstens die Bedürfnisse des Kunden, zweitens die Kennzahlen, die das Unternehmen damit optimieren möchte, und drittens die Verknüpfung beider zu einer optimalen Customer-Journey mit maximaler Kundenzufriedenheit.
Der Mittelpunkt jeder Überlegung ist der Kunde. Wie sieht der idealtypische Kunde aus? Gibt es Klassen oder Gruppen von Kunden, die sich zusammenziehen lassen, die sich ähnlich verhalten, ähnliche Bedürfnisse haben? Die einfachste Form der Differenzierung ist eine Unterteilung in den klassischen Online-Shopper, den klassischen Offline-Shopper und eine Mischform aus beiden.
Idealerweise werden diese Kundensegmente im nächsten Schritt mit Daten von echten Kunden angereichert. Sei es aus Kundenbefragungen oder aus bestehenden Datenanalysen. Dabei wird schnell klar, ob die Kundenkategorien passen und wie sich die Kunden prozentual auf sie verteilen. Also auf welchem Kundensegment aktuell der Fokus liegt und auch wo noch Potenziale sein könnten.
Um in der Analyse weiter voranzukommen, hilft vor allem die Bildung und Zuordnung von Kundenbedürfniskategorien. Häufig sind hier Schlagwörter wie "einfach/convenient", "schnell/Sofortness", "personalisiert" oder "anfass- und probierbar" zu finden.
Und die Fragen: Warum kommt ein Kunde in den physischen Standort? Warum bestellt er das Produkt nicht direkt online, sondern macht sich die Mühe, in das Geschäft zu kommen? Welche Erwartungshaltung hat er, wenn er den Store betritt? Und wie muss das Erlebnis vor Ort gestaltet sein, damit seine Erwartungen nicht nur erfüllt, sondern übertroffen werden?
Diese Fragestellungen unterstützen ein exploratives und sukzessives Vorgehen. Es werden wertvolle Informationen darüber gewonnen, wie die Interaktion mit dem Kunden aussehen sollte. Die digitalen Touchpoints sollen helfen, dass er sich wohl und gut betreut fühlt, sodass er nicht nur einmal kauft, sondern wiederkommt und letztendlich Stammkunde von Marke und Geschäft wird
Neben der Kundensicht ist die Analyse der Bedürfnisse des Unternehmens ein wesentlicher Bestandteil eines strategischen Hebelmodells. Die Ziele müssen klar festgelegt werden: Sollen Frequenz und/oder Umsatz gesteigert werden? Mehr Interessenten und/oder Kunden generiert werden? Soll die Kundenzufriedenheit in Form von Customer-Satisfaction-Index oder Net-Promotor-Score gesteigert werden? Oder stehen Effizienz-, Ablaufoptimierungen, Kostensenkungen im Vordergrund?
Die Zielrichtung entscheidet über alle weiteren Aktivitäten. Wenn im Fokus zum Beispiel die Frequenzoptimierung am Point of Sale steht, wären Online- oder App-Aktivitäten eine mögliche Maßnahme, um Kunden mit attraktiven Angeboten zum Geschäft zu führen. Aufmerksamkeitsstarke interaktive Schaufenster können zusätzlich Passanten zum spontanen Besuch animieren.
Diese ganzheitliche Sichtweise stellt sicher, dass keine "falschen" Touchpoints ausgewählt und umgesetzt werden. Denn häufig läuft man Gefahr, Technologien einzusetzen, die auf den ersten Blick digital und schick wirken. In der Implementierung werden sie aber nicht vom Kunden genutzt und bieten auch keinen wirklichen Wert für das Unternehmen.
Bringt es zum Beispiel einen Mehrwert, einen digitalen Self-Service-Bestell-Screen im Standort vor Ort zu haben? Wohl eher nicht, wenn der Kunde dieselbe Funktion danebenstehend über das Smartphone nutzen kann, mit einer deutlich besseren und komfortablen Nutzbarkeit und Privatsphäre
Letzter Schritt des Hebelmodells ist die Verknüpfung der einzelnen Touchpoints zu einer ganzheitlichen Customer-Journey. Hier ein Beispiel für einen perfekt gestalteten Ablauf: Das im Rhein-Neckar-Gebiet ansässige Familienunternehmen Engelhorn stellt auch über die Region hinweg eine der besten Einkaufsadressen für Mode und Accessoires sowie für Sportartikel und Sportfashion dar. Das Sortiment erstreckt sich dabei von preislich-attraktiv bis hin zu luxuriös
Der dazugehörige Online-Shop wurde schon vor einigen Jahren gelauncht – mit dem Ziel: für die Kunden einzigartige Erlebnisse am physischen Point of Sale auch in den digitalen PoS zu übertragen. Es sollen also beide Points of Sale so miteinander verzahnt werden, dass für die Kunden nahtlose Erlebnisse mit Mehrwert entstehen. Das Sortiment wird damit auch einer nicht nur in Mannheim und Umgebung ansässigen Klientel zugänglich.
Ein Beispiel für eine idealtypische Kundin ist die "sportliche Fashion-Trendsetterin". Sie ist sowohl regional als auch überregional viel unterwegs und hat daher nicht immer Zeit, in das physische Geschäft zu gehen. Dort würde sie sich eigentlich gerne die neuesten Produkte der Marken live ansehen, erleben und sogar kaufen, die sie zuvor in Modezeitschriften oder im Fashion-Blog von Engelhorn gesehen hat. In der "Awareness"-Phase haben diese Marketing-Maßnahmen also bereits das Interesse der Kundin geweckt.
Unsere Kundin zückt daher in der "Search"-Phase auf einer ihrer Reisen im Zug ihr Mobiltelefon, schaut sich den Blog-Beitrag zu den aktuellen Sneaker-Trends erneut an und klickt auf ein paar abgebildete Schuhe. Sogleich landet sie auf der entsprechenden Produktdetailseite des Engelhorn-Online-Shops, auf der sie die Schuhe in einer 360°-Ansicht von allen Seiten begutachten kann. Sie sieht sofort, dass ihre Größe noch vorrätig ist.
In der "Consideration"-Phase schaut sie sich noch weitere von der Seite empfohlene und zu den Schuhen passende Produkte an, wie zum Beispiel Taschen und Schals. Während sie eine Tasche auf ihre persönliche Wunschliste setzt und den Link zur Tasche in ihrem sozialen Umfeld direkt über Facebook teilt, legt sie die Sneakers in den Warenkorb und tätigt den Kauf in der "Purchase"-Phase.
Da sie auf ihrer Rückreise in Mannheim vorbeikommt und ausnahmsweise Zeit für einen Abstecher ins Geschäft hat, wählt sie die Option "Click & Collect", um die Schuhe vor Ort abzuholen. Im Geschäft angekommen, wird sie bei der Abholung vom Service-Personal empfangen, die Schuhe werden ihr übergeben. Auch an der Tasche auf ihrer Wunschliste ist sie immer noch interessiert.
Nach einem kurzen Bummel durch die Stockwerke des Geschäfts entschließt sie sich, noch einen Kaffee im Terrassenlokal des Modehauses zu trinken und über die Dächer Mannheims zu schauen. Anschließend besucht sie das ebenfalls zu Engelhorn gehörende gegenüberliegende Sporthaus. Als begeisterte Hobby-Kletterin fällt ihr sofort die Kletterwand auf, die Kunden nutzen können, um Kletterausrüstungen auszuprobieren.
Sie nimmt sich vor, die Wand bei ihrem nächsten Besuch auch einmal zu testen. Zurück zu Hause sieht sie, dass ihre Freundinnen ihr positives Feedback auf ihre Veröffentlichung rund um die gewünschte Tasche auf Facebook gegeben haben. Daher bestellt sie die Tasche online, diese wird drei Tage später zu ihr nach Hause geliefert.
Zusammenfassend war das für die Kundin eine perfekte Kundenerfahrung, zumal sie als treue Kundin in der "Loyalty"-Phase auch im Anschluss zu speziellen Verkaufsaktionen und Events ins Engelhorn-Haus eingeladen wird, was ihr sehr entgegenkommt und Freude bereitet. Die Beispiele Engelhorn und Decathlon sollen Inspirationen sein. Beide Unternehmen machen es vorbildlich, denken kundenzentrisch und transformieren sich nach und nach. Ihre digitalen Touchpoints sind keine technischen Spielereien, sondern bieten dem Kunden und dem Unternehmen einen echten Mehrwert.