Yoga's popularity continues unabated. Ever more yoga innovations are emerging and becoming part of a modern lifestyle. At the yoga area at expo ISPO Munich, you will have the opportunity to discover the exciting opportunities this sport offers your business.
At ISPO Munich, the Body & Mind Zone in Hall A5 is dedicated to this fitness trend. Here you will find all the equipment required for this popular sports trend – no matter whether it's the latest sportswear, yoga mats or other apparatus to more effectively engage in this sport and thus improve one's health. During numerous events, brands and big names will tell you about the latest developments in the world of yoga – from new types of yoga and nutrition, through to innovations in training.
The ever-growing number of new types of yoga, yoga studios, yoga festivals and yoga-related weekend breaks and holidays – from trips to the Teutoberg Forest to luxurious yoga retreats in the mountains or by the sea – shows that the range on offer is bigger than ever and the demand for it constant.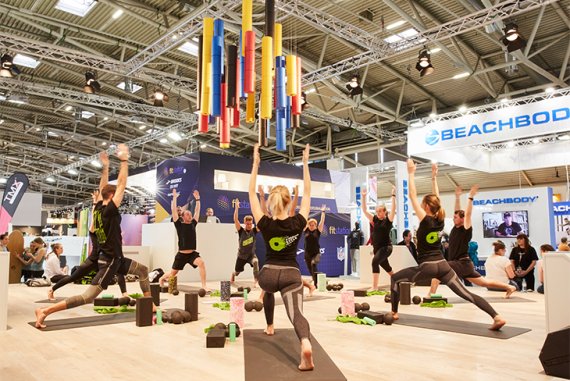 At ISPO Munich, all yoga-related items can be found in our Health & Fitness Halls A5 and A6. This is where exhibitors showcase the latest trends and innovations for yoga enthusiasts – from modern yogawear, through to accessories such as yoga wheels, blocks, belts, bags and mats, this is where aficionados will find everything they need for the perfect workout. Distributors, retailers and representatives of procurement associations can find out what customers will be looking for in the coming season when it comes to their favourite sport of yoga. ISPO Munich offers a comprehensive overview of the market.
In the Yoga Zone, you can witness the latest trends live and get your business in shape to receive them. Which yoga clothing will prove popular? Which mats are the best? What new accessories are available? What is a Yoga Board, BEboard or Blackroll? Do you know these products, do you have them in stock, are you already using them on your courses? With a visit to the yoga expo, you will discover all the latest innovations.
At ISPO Munich, a series of talks will give you the opportunity for discussions with international experts, to learn new things, and to meet internationally famous industry insiders. No matter whether it's Yoga Board training, SUP yoga or acro yoga – at ISPO Munich, you can expect plenty of yoga innovations during our numerous events.
Find out now about yoga conferences at ISPO Munich.
Retailers of yoga clothing, yoga mats and yoga accessories

Distributors for retail chains and department stores with yoga departments

Operators of hotels, resorts and facilities offering yoga

Yoga instructors

Gyms

Yoga coaches
The entire spectrum of yoga – in the Yoga Hall A5 at ISPO Munich in the Health & Fitness Zone. We look forward to seeing you!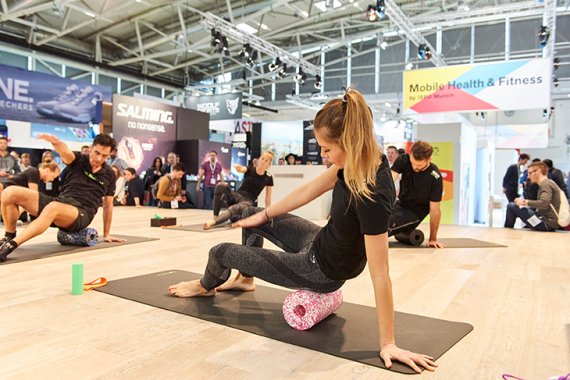 At ISPO Munich, you too can become an exhibitor at the world's largest multi-segment sports business expo and present your products to around 85,000 visitors from 120 countries. Here you can gain a comprehensive overview of the market, find suitable business partners and gather valuable know-how for your business. You will experience the latest innovations and future trends from up close, giving you a head start in setting your business on the right course. Our international industry meetup brings together all sports business professionals – from Snow Sports and Urban through to Yoga and Vision.