Climbing has grown from a solitary mountain sport into a highly popular pastime. Thanks to modern indoor climbing and bouldering gyms, even cities that are nowhere near the mountains offer an easy introduction to this popular sport, which feature as a discipline at the 2020 Olympics.
In the Climbing Zone at ISPO Munich, you will find conveniently brought together in one place everything that your business needs to appeal to the modern free climber, mountain climber and boulderer. The world's largest sports expo has featured the climbing trend for years now and made it a key focal point.
There are four halls dedicated to the Outdoor theme. This is also where you will find everything relating to the latest trends in climbing. There will also be interesting talks by major brands and big names in the sport to inform you of the latest developments for greater climbing enjoyment – insider tips, the right equipment and clothing, climbing holidays, sustainability and more.
Thanks to indoor climbing gyms, people can climb any place, any time. The number of competitive climbers and members of the German Alpine Association (DAV) has therefore more than doubled in recent years – and that's not even to mention the number of indoor bouldering and climbing gyms shooting up everywhere in Germany. These have grown from around 20 in the 1980s to far more than 400 currently. Climbing is on the up, and will remain so for the foreseeable future – not matter whether that's indoors or up a mountain.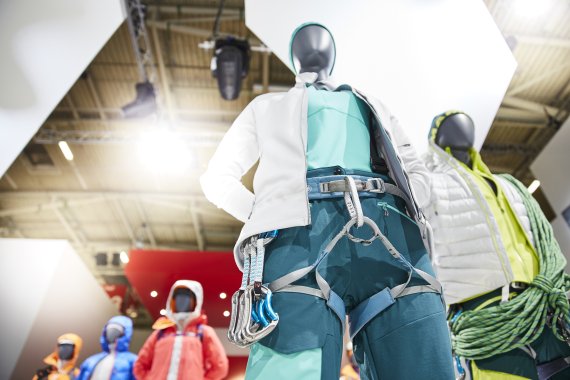 In our Outdoor halls A1-A4 the expo exhibitors will present their innovations – from state-of-the-art functional clothing, mountaineering ropes, carabiner clips and climbing belts through to crampons, mountaineering helmets and ice axes. Distributors, retailers and representatives of procurement associations, mountain guides, climbing coaches and outdoor travel operators can here find out what customers will be looking for in the coming season when it comes to their favourite sport. ISPO Munich offers you a comprehensive overview of the market.
Are you ready for when your customers ask you for a fingerboard or daisy chain for climbing? Or for the right gear for ice climbing or top rope climbing? In the Climbing Zone, located in the Outdoor halls at ISPO Munich, you will find truly everything needed for indoor and outdoor climbing. Which clothing offers the best protection against wind and weather while providing great breathability? Which climbing ropes, backup devices, carabiner clips and slings offer the greatest safety when climbing? What climbing products are available for children? A visit to the climbing expo will prepare you for any question and provide you with all the right products.
At ISPO Munich, you as an outdoor expert will also find out the top destinations for wonderful climbing holidays next year. No matter whether your customers are seeking a total adrenaline rush in the Italian Dolomites, or wish to climb on the Greek island of Kalymnos. Here you will find all the information and inspiration for exciting climbing trips and experiences.
There is virtually no other sport in which sustainability features so prominently. This is also why companies specialising in the great outdoors are highlighting this important topic. Customers' pronounced environmental awareness must be reflected by more sustainable and environmentally friendly equipment and clothing as well as by companies' conduct towards the environment.
At the Corporate Social Responsibility (CSR) Hub and Sustainability Kiosk in Hall A4, you can learn all about this topic and find out about trends and sustainable concepts.
At ISPO Munich, a series of climbing-related events and talks will give you the opportunity for discussions with international experts, to learn new things, and to meet internationally famous industry insiders. No matter whether it's vertical fitness with a daily Zlagboard contest or an interview with Moritz Hans, Last Man Standing Ninja Warrior 2017 and professional climber – at ISPO Munich, you will gain lots of interesting insights.
Find out more now about climbing-related events at ISPO Munich.
Retailers of clothing, equipment and accessories for climbing, mountaineering and bouldering

Trainers and coaches in outdoor sports

Mountain guides

Providers of outdoor and climbing-related holidays

Expo visitors interested in climbing
The entire spectrum of climbing at the expo – in the Outdoor Zone in Halls A1–A4 at ISPO Munich. We look forward to seeing you!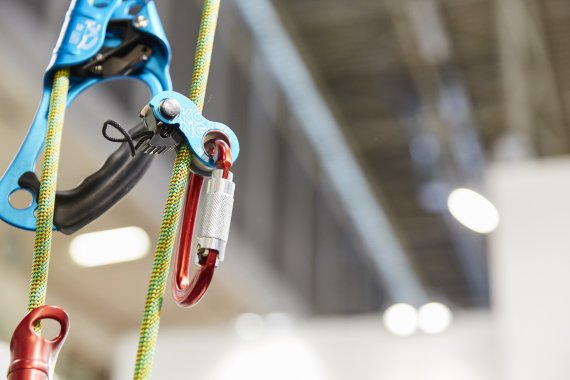 At ISPO Munich, you too can become an exhibitor at the world's largest multi-segment sports business expo and present your products to around 85,000 visitors from 120 countries. Here you can gain a comprehensive overview of the market, find suitable business partners and gather valuable know-how for your business. You will experience the latest innovations and future trends from up close, giving you a head start in setting your business on the right course. Our international industry meetup brings together all sports business professionals – from Snow Sports and Urban through to Yoga and Vision.